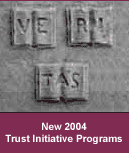 PRESS RELEASE:
Harvard School of Public Health Announces 4 Executive Education Programs on Trust in Health Care

PRESS RELEASE
Contact: Frances Pratt
617-384-8692
fpratt@hsph.harvard.edu

BOSTON MA USA -- HEALTHCARE UPDATE NEWS SERVICE(TM) -- NOVEMBER 14, 2003: Trust is the number one predictor of patient loyalty to a physician practice, while distrust is correlated with disenrollment from managed care. In addition, trust factors are most powerful in becoming an employer of choice.

According to a recent Harris Interactive poll, when questioned about whom they trust to make the right decision about their health care, 43% of respondents said physicians. Only 22% said hospitals. Just 8% said managed care plans.

Harvard School of Public Health announces 4 executive education programs for health care professionals to learn how to transform distrust into trust and how to measure and manage trust in both clinical and organizational settings. Participants will discover practical strategies for leveraging earned trust equity into a trusted reputation.

The Public's Health: A Matter of Trust -- Building Clinical and Organizational Trust - http://www.hsph.harvard.edu/trustinhealthcare


Trust Leadership in Nursing: How Nursing's Legacy of Trust Can Improve Health Care
January 29-30, 2004
Long Island, New York
The Trust Crisis in Managed Care and How to Reverse It
March 10-12, 2004
Boston Massachusetts
Restoring Trust to Advance Mission and Improve Margin in Your Health Care Organization
February 25-27, 2004
Boston Massachusetts
Mobilizing Trust to Reduce Disparities in Health Care and Caring
April 28-30, 2004
Boston Massachusetts
In each of these programs, expert faculty from Harvard and the health care industry will help you seize opportunities for better performance through improved trust. The emphasis is on practical applications as participants tackle the realities of trust-building and develop strategies and tactics that can be used in their organizations. Through lectures, case studies, interactive discussions, panel discussions, and workshops, participants speed along the learning curve of trust and see how to earn a measurable return from an investment in trust-building.

To register or for more information, please visit: Harvard School of Public Health Trust Initiative

CUSTOM PROGRAMS:
The Harvard Trust Initiative will gladly tailor a trust program to your specific needs. For more information, please contact Suzanne Turner at (617) 384-8679 or suturner@hsph.harvard.edu or David A. Shore, Director of the Trust Initiative at (617) 432-0966 or dshore@hsph.harvard.edu. FOR E-MAIL ADDRESS CHANGE, ADD OR DELETE REQUESTS:
For changes or additions, please email your request to: webmaster@HealthCareUpdateNewsService.com.

For removal of your e-mail address, please click the link below for "SafeUnsubscribe" to automatically remove your address from the list.