Exhibits, Advertising and Sponsorships Available!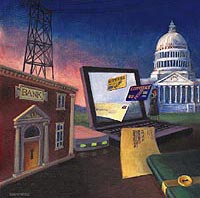 The most important privacy and data security conference of the new year, The Privacy & Data Security Summit and Expo, will be held February 18-20, 2004 at the Washington Renaissance Hotel, Washington, DC. Privacy leaders from around the nation will gather to present the effective answers to the daily operational challenges met while implementing privacy programs across our organizations.

The Summit is sponsored by the International Association of Privacy Professionals. The IAPP provides a voice for over 1,000 privacy professionals around the world and is the world's largest association of privacy and security professionals. Privacy professionals from AOL, Eastman Kodak Company, EDS, FleetBoston Financial, IBM, Marriott International, MasterCard International, Microsoft, Oracle, Pharmacia, Sovereign Bank and Nationwide Insurance serve on the IAPP board of directors.

Information about the Privacy & Data Security Summit can be found at www.privacyassociation.org. To download a pdf of the sponsor/exhibitor/advertising prospectus:
http://www.privacyassociation.org/docs/PrivSum04pr-fnl.pdf.

Exhibit Cost: $1,600 includes an 8' x 10' pipe/draped booth space, 6' table and 2 chairs and one complementary registration to attend the educational sessions.

Special Discounted Savings for Extended Marketing Opportunites see the prospectus for pricing.

CONTACT: WHO SHOULD ATTEND:
Chief Executive Officers
Chief Operating Officers
Chief Privacy Officers
Chief Security Officers
Chief Technology Officer
Chief Financial Officers
Compliance Officers
Corporate Counsel
Attorneys
Medical Directors
Financial Services Executives
E-Commerce Executives
Hospital Executives
Marketing Managers
Data Managers
Ethics Officers
Consultants
Government Agency Employees
Risk Managers
Information Technology Department Managers
HIPAA Project Managers
GLB Project Managers
Journalists
Executives Recruiters
Government Contractors
ACTIVITIES IN THE EXHIBIT HALL WILL INCLUDE:
Continental Breakfasts
Morning and Afternoon Beverage Breaks
2 Networking Luncheons
OPPORTUNITIES AVAILABLE TO SPONSOR:
Three Educational Grantor Levels which include complimentary registrations and exhibit space
Conference Bags
Box Luncheon in the exhibit hall
Conference Program Binder
Day Notepad
Badge-Holder Lanyard
Schedule at a Glance
ADVERTISING OPPORTUNITIES:
Advertising in the Program Materials
Door Drop Ads
SET-UP:
Wednesday, February 18, 2004
1:00 p.m. - 5:00 p.m.
EXHIBIT VIEWING HOURS:
Thursday, February 19, 2004
7:00 a.m. - 4:00 p.m.
Friday, February 20, 2004
7:00 a.m. - 1:30 p.m.
TEARDOWN:
Friday, February 20, 2004
1:30 p.m. - 3:00 p.m.
EXHIBIT COST:

Register now to exhibit or sponsor by calling Joni Lipson at (800) 266-6501 or direct line: (215) 599-6626, or visit the website at www.privacyassociation.org

FEATURED SPEAKERS INCLUDE:
Orson Swindle, Federal Trade Commission, Washington, DC
Richard Thomas, Data Protection Agency, Cheshire, UK
Jennifer Stoddart, Privacy Commissioner of Canada, Ottawa, Canada
Jose Luis Pinar Manas, Agencia de Protecton de Datos, Madrid, Spain
Nuala O'Connor Kelly, Department of Homeland Security, Washington, DC
Ann Cavoukian, PhD., Information and Privacy, Ontario, Canada
Bob Barr, Consultant, ACLU: Former U.S. Representative 7th District of Georgia: 21st Century Liberties Chair for Freedom and Privacy, American Conservative Union, Atlanta, GA
Michael Geist, Technology Counsel, Osler, Hoskin & Harcourt and Canada Research Chair in Interest and E-commerce Law, University of Ottawa,Ottawa, Ontario, Canada
Joanne McNabb, MA, Chief, California Office of Privacy Protection, Sacramento, CA
Dr. Larry Ponemon, Chairman and Founder, Ponemon Institute, Tucson, AZ
Peter P. Swire, Esq., Professor, Moritz College of Law, Ohio State University, Consultant, Morrison & Foerster LLP, Formerly Chief Counselor for Privacy, U.S. Office of Management and Budget, Washington, DC
Peter Cullen, Microsoft, Redmond, WA
Howard Schmidt, Chief Information Security Officer, eBay, San Jose, CA
Jennifer Stoddart, Privacy Commissioner of Canada, Ottawa, Canada
Raymond Tang (Invited), Commissioner, Officer of Privacy Commissioner for Personal Data, Wanchai, Hong Kong