PRESS RELEASE
Contact: Matthew Hay
Rx Compliance Report
800-290-8987 phone
rxcompliance@aol.com

ALEXANDRIA VA USA -- HEALTHCARE UPDATE NEWS SERVICETM - NOVEMBER 10, 2003: "Off-label promotion is an area that will get increasing scrutiny from prosecutors around the country," warns Michael Loucks, Chief of the Health Care Fraud Unit, Asst US Attorney, in Boston. Loucks and other federal prosecutors explain how much of this attention is being driven by expanded use of the False Claims Act under new fraud theories, in the latest issue of Rx Compliance Report, Oct. 31, 2003.

While traditional FDA concerns in this area continue to loom large, the scope of investigations is expanding considerably, says Virginia Gibson, Asst US Attorney, Chief, Civil Div, Eastern District of Pennsylvania. "The issue that really concerns us today is more the promotion and marketing of pharmaceutical products," she asserts.

DETAILED ANALYSIS OF EXPANDING FRAUD & ABUSE INVESTIGATIONS:

The October Special Issue on Off-Label Promotion includes detailed analysis by Loucks, Gibson, and others into what the government is now looking for in its investigations in this area.

Also included in a special 10-page section on off-label promotion are these stories:
Leading defense counsel Paul Kalb outlines emerging fraud theories for off-label promotion
In-house counsel at Abbott offers detailed advice on managing risk associated with off-label promotion
Advertising expert John Kamp explains how allegations in a California plaintiff's case would make journal article company sponsored commercial speech
ALSO FEATURED IN THE OCTOBER ISSUE ARE THESE STORIES:
Senior Wyeth counsel outlines keys to effective internal policy development
Veteran outside counsel Leigh-Ann Patterson and Dina Michels explain what every in-house counsel needs to know about HIPAA's restrictions on promotional activities
U.S. Sentencing Commission proposes tighter compliance guidelines
WHAT'S AHEAD IN THE NOVEMBER ISSUE:
HHS Acting Principal Deputy Inspector General Dara Corrigan, FDA Commissioner Mark McClellan, Centers for Medicare and Medicaid Services Administrator Tom Scully, and a host of others, update industry leaders at the Fourth Annual Pharmaceutical Regulatory Compliance Congress and Best Practices Forum, Nov. 12-14, 2003, in Washington DC, www.PharmaCongress.com.

ABOUT RX COMPLIANCE REPORT: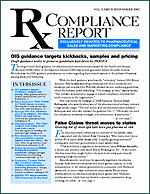 Rx Compliance Report is the only news source devoted exclusively to the government's expanding crackdown on pharmaceutical sales and marketing. The HHS OIG recently reported "a ton" of open investigations into pharmaceutical sales and marketing that it says will take years to resolve. Every month, Rx Compliance Report reports on these investigations and offers practical firsthand advice from industry executives, government officials and outside experts on how to respond to this menacing trend, through effective compliance programs, sales force training, monitoring and auditing.
Rx Compliance Report focuses on the non-FDA entities now leading these fraud and abuse investigations. These include the US Dept of Justice, HHS Office of Inspector General, state Attorneys General, state Medicaid Fraud Control Units, and the Federal Trade Commission.
WHO SUBSCRIBES:
Rx Compliance Report's subscribers include legal, regulatory, and compliance executives from nearly every major pharmaceutical company, as well as emerging pharma and biotech companies, national law firms, ad agencies and industry consultants.
KEY FEATURES:
Each month, it provides up-to-date information and practical advice in these key areas:
Compliance program development
Sales force training
Monitoring and auditing
Drug pricing (Best price, AWP, Medicaid drug rebates)
False Claims Act strategic defenses
Sarbanes-Oxley
HIPAA
Off-label promotion
Sample accountability/PDMA
Continuing medical education
Direct-to-consumer advertising
Internet promotion
TO SUBSCRIBE:
To become a charter annual subscriber to Rx Compliance Report, please phone customer service at 800-290-8987 phone (inside US) or visit:
http://www.biomedical-market-news.com/
FOR FURTHER INFORMATION, PLEASE CONTACT:
Matthew Hay
107 S West St PM 320
Alexandria VA USA 22314
800-290-8987 phone
703-317-9206 fax
rxcompliance@aol.com
FOR E-MAIL ADDRESS CHANGE, ADD OR DELETE REQUESTS:

For changes or additions, please email your request to: webmaster@HealthCareUpdateNewsService.com.

For removal of your e-mail address, please click the link below for "SafeUnsubscribe" to automatically remove your address from the list.