PRESS RELEASE
Contact: Matthew Hay
Rx Compliance Report
800-290-8987 phone
rxcompliance@aol.com

ALEXANDRIA VA USA -- HEALTHCARE UPDATE NEWS SERVICETM - DECEMBER 22, 2003: The U.S. Department of Justice last week charged the former executive vice president of Medco with causing the submission of false claims to the government by conducting a cover-up of intentional destruction of patient prescriptions and making misleading statements when questioned by investigators, reports the latest issue of Rx Compliance Report, published Dec. 22.

The December issue also reports that numerous state Attorneys General are now heavily involved in the growing case against Medco. Ironically, however, the new Medicare drug benefit "hands the keys" to PBMs, says John Rector, a senior Washington lobbyist for independent pharmacy.

NEW MEDICARE BENEFIT WILL TURN COMPLIANCE "UPSIDE DOWN"

The new Medicare drug benefit will dramatically alter the pharma compliance and pricing landscape by transferring discretion for therapeutic class and formulary decisions to drug plans, says Bill Sarraille, a partner with Sidley Austin. "The world of compliance is going to be turned upside down," he says. "In a lot of ways, pharmaceutical manufacturers will be seeking to use compliance issues as a sword against the plans."

The new drug benefit will also raise the already high profile of the HHS OIG by expanding its role in the area of drug pricing policy. "The lines between policy and enforcement will be increasingly blurred," says Sarraille, in the Dec. issue.

SAVE THE DATE FOR THE NATIONAL MEDICARE PERSCRIPTION DRUG CONGRESS:
National Medicare Prescription Drug Congress
The Leading Forum on the New Medicare Prescription Drug Coverage Legislation and Its Implications for Pharmaceutical Manufacturers, PBMs, Health Plans and Providers
February 25 - 27, 2004
Hyatt Regency on Capitol Hill
Washington, DC
DEC. ISSUE ALSO FEATURES SELF-REPORTING AND PREEMPTION:

Also included in the December issue are these stories:
Experts size up the controversy over NIH officials acting as pharma consultants
Former OIG Deputy Inspector General Jack Hartwig, Assistant U.S. Attorney Craig Margolis and defense attorney Janice Symchic discuss potential pitfalls of self-reporting and the latest developments in the area of preemption
Former state prosecutor Carolyn McElroy gives a detailed rundown of the latest hot spots in the government's drug pricing investigations
NOV. ISSUE FEATURES DRUG PRICING & RISK ASSESSMENT:
Subscribe to Rx Compliance Report by Dec. 31, and you will also receive the 20-page November issue including these highlights:
John Guthrie, Director, Ohio Medicaid Fraud Control Unit, reports on various investigations into drug pricing that involve off-label promotion. Also reviewed are Medicaid drug rebates, PBMs, Hatch-Waxman and DTC advertising
Sidley Austin attorney Scott Bass recommends a new brand of risk assessment. This comes in the wake of emerging fraud theories such as product liability and state unfair practice laws
Former federal prosecutor Marc Farley offers detailed advice on how to implement the OIG's compliance guidance, with specific steps to mitigate the risk posed by consultants, advisory boards, grants and PBMs
Former HHS Inspector General Richard Kusserow cites six critical factors in the selection of a hotline vendor as part of a corporate compliance program
OCT. ISSUE FEATURES A SPECIAL REPORT ON OFF-LABEL PROMOTION:
You will also receive the highly popular Oct. issue featuring a 10-page special report on off-label promotion. Included are these highlights:
US Attorneys explain the expanding role of the False Claims Act in off-label investigations
Leading defense counsel Paul Kalb outlines emerging fraud theories for off-label promotion
Senior industry executives offer advice on how to perform effective off-label compliance training
Industry veteran John Kamp explains how allegations in a California plaintiff's case against Pfizer could make journal articles company-sponsored commercial speech
The Oct. issue also includes these in-depth stories:
Wyeth VP & Chief Regulatory Counsel Geoffrey Levitt suggests keys to effective internal policy development for continuing medical education
Veteran outside counsel Leigh-Ann Patterson and Dina Michels explain what every in-house counsel needs to know about HIPAA's restrictions on promotional activities
ABOUT RX COMPLIANCE REPORT: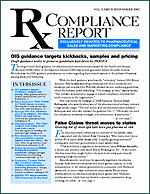 Rx Compliance Report is the only news source devoted exclusively to the government's investigations into pharma sales and marketing practices. Every month, it provides detailed analysis into these investigations and offers practical firsthand advice on how to respond through effective compliance programs, sales force training, monitoring and auditing.
WHO SUBSCRIBES:
Rx Compliance Report's readers include legal, regulatory, and compliance officers from nearly every major pharmaceutical company, as well as numerous emerging pharma and biotech companies, national law firms, ad agencies and industry consultants.
SPECIAL OFFER EXPIRES DEC. 31:
To take advantage of this special offer and receive 15 issues for the price of a one-year annual subscription (12 issues), call: 800-290-8987, or visit: http://mailiwant.com/links.jsp?linkid=10064&subid=220103&campid=133127.
FOR FURTHER INFORMATION, PLEASE CONTACT:
Matthew Hay
107 S West St PM 320
Alexandria VA USA 22314
800-290-8987 phone
703-317-9206 fax
rxcompliance@aol.com
FOR E-MAIL ADDRESS CHANGE, ADD OR DELETE REQUESTS:

For changes or additions, please email your request to: webmaster@HealthCareUpdateNewsService.com.

For removal of your e-mail address, please click the link below for "SafeUnsubscribe" to automatically remove your address from the list.