PRESS RELEASE
Contact: Matthew Feigenbaum
Train for HIPAA VP Sales
888-228-5021 phone
mfeigenbaum@trainforhipaa.com



WASHINGTON DC USA -- HEALTHCARE UPDATE NEWS SERVICE (TM) - SEPTEMBER 16, 2003: Over 500 attendees at the Seventh National HIPAA HIPAA were polled regarding their view of what would take place on the October 16, 2003 HIPAA transactions and code sets implementation date with the following results: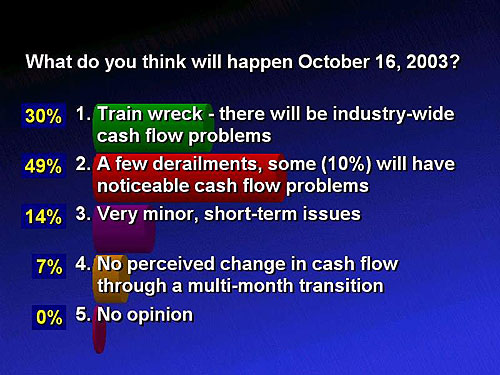 These real time audience response results were generated by MERIDIA Audience Response, www.meridiaARS.com. MERIDIA is an interactive meeting consulting company which specializes in providing an audience with instant feedback throughout the conference.

HIPAA SUMMIT FACULTY MATERIALS AVAILABLE ON WEBSITE:

All HIPAA Summit faculty materials are now available in downloadable format posted under speaker name on the Agenda pages at www.hipaasummit.com.

TRAIN FOR HIPAA OFFERS HIPAA TRANSACTIONS AND CODES SETS IMPLEMENTATION CURRICULUM:

Train for HIPAA has entered into an agreement with EDI Partners, http://www.EDIPartners.com, a business unit of ICC, http://www.ICC.net, and ECIntegrity, Inc., http://www.ECIntegrity.com, to prepare HIPAA Transactions, Code Sets and Identifiers courses. These courses are being prepared by Gary Beatty and Dan Petrosky, leaders in EDI education since 1993. Their onsite EDI training courses have been offered since January of 2000 and have been attended by over 3,000 healthcare professionals.

The following courses are currently posted on the Train for HIPAA website:
Introduction to EDI and Transaction and Code Set Standards
Regarding HIPAA Implementation Guides: ANSI X12 Standards I
Regarding HIPAA Implementation Guides: Introduction to ANSI X12 Standards II
Introduction to EDI Envelopes
Introduction to Financial EDI
The following courses are soon to come:
Exercise: Building a Sample 835 Health Care Claim Payment/Advice
Exercise: Building a Sample 837 Professional Health Care Claim
Exercise: Building Envelopes Around a Transaction
EDI Acknowledgments
HIPAA Implementation Guide Change Process Overview
TRAIN FOR HIPAA TRANSACTIONS TESTING CURRICULUM:
The Basics of HIPAA Transaction Testing
Claredi: Outbound Testing and Certification
Claredi: Inbound Testing and Certification
Test Data Generation Using EDISIM from Foresight
TRAIN FOR HIPAA:

Train for HIPAA is a member of the Train for Compliance, www.TrainforCompliance.com, family of healthcare regulation and compliance training websites which includes www.TrainforHealthCareCompliance.com. Train for HIPAA offers the full continuum of HIPAA workforce training solutions. Train for HIPAA is an affiliate of the HIPAA Summit Conference Series, www.HIPAASummit.com, the HIPAA Colloquium at Harvard University: www.HIPAAColloquium.com, and HIPAA Audioconferences: www.HIPAAAudioconferences.com.

TWO WAYS TO REGISTER FOR TRAIN FOR HIPAA TRAINING:

There are two ways to access Train for HIPAA's curriculum. Individuals can register for Train for HIPAA courses at http://www.trainforhipaa.com/registration.html, or institutions can license Train for HIPAA courses for their workforce.

Organizations, both large and small, can arrange to offer Train for HIPAA's curriculum to their workforce by entering into a license agreement with Train for HIPAA for that content. Such license agreements are usually one year in duration with provision for annual renewal. Under such a license agreement, Train for HIPAA can either offer the courses through Train for HIPAA's own learning management system (LMS) which provides full administrative and student tracking capability, or Train for HIPAA can deliver the courses for posting on your institution's LMS.

FOR MORE INFORMATION ON TRAIN FOR HIPAA:

Go to the Train for HIPAA website, http://www.TrainforHIPAA.com, or contact Matthew Feigenbaum at 888-228-5021, via email at mfeigenbaum@trainforhipaa.com, or write to::
Train for HIPAA Office
7790 Barberry Ave
Yucca Valley CA USA 92284
FOR E-MAIL ADDRESS CHANGE, ADD OR DELETE REQUESTS:

Please email your request to: webmaster@TrainforHIPAA.com.