PRESS RELEASE
Contact: Physician's EHR
Phone: 919-859-9907
Email: laurie@physiciansehr.com
Website: www.physiciansehr.com



Trends in Case and Disease Management:
Optimizing Claims and Clinical Information through EHRs and Web Portals to Promote Quality-Based Care for Chronic Patient Populations
June 29, 2006 | 1:00 - 2:30pm EST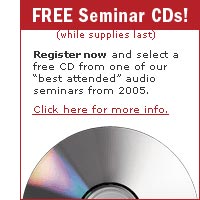 RESEARCH TRIANGLE PARK, NC USA -- HEALTHCARE UPDATE NEWS SERVICE(TM) -- JUNE 15, 2006: Health information increasingly is at the clinician's fingertips through technology, tipping the scales in favor of doctor-patient improved communication and quality care. In this 90-minute audio seminar, learn how claims and clinical information through EHR and Web portals can improve and integrate patient care. Also, learn how advanced medical management interventions, predictive modeling results, and reporting tools are now supporting the patient by reducing mortality, decreasing healthcare costs for employers, and improving patient outcomes.
But there are risks if the balance of clinical influence tips from physicians to disparate third parties seeking to control costs in chronic patient populations. What are the "pros" and "cons" of these latest trends? How will this affect patient relationships within your practice? And what should health plans or physicians do if patients refuse to comply with clinician recommendations?
In this 90-minute audio seminar, you will learn:
The latest trends in case and disease management interventions, and how theses processes are establishing a new foothold in improving patient care.
The changing face of clinical decision support tools: what it is, what it means to the clinician, and to the patient, and where it's headed?
How data warehouse and reporting tools are supporting and changing the way chronically ill patients are managed;
How payor-based online records can support front-line providers that are treating patients?
What the advantages are when clinicians rely on predictive modeling analysis, claims-based information, and other data sources to support their patient treatment goals.
What are the best methodologies to use to engage the patient when the patient is initially non-compliant? How does the patient's family, the employer, the plan administrator, or the doctor come into play?
If these medical management innovations and new sources of data are just helpful for large networks and health plans? If there is more, what's in it for the small to midsize physician practices?
FACULTY:

Garry Carneal, JD, MA, President of InforMed Medical Management Services joined InforMed after a highly successful term as President of URAC, the nationally known Utilization Review and Medical Management accreditation organization. During his tenure at URAC, Garry expanded URAC's mission from a small boutique accreditation firm to one of the premier health quality organizations in the United States.

Garry's previous work experience include serving as Vice President of the American Association of Health Plans, Legislative Counsel for Health Policy at the National Association of Insurance Commissioners, Associate Council for the Group Health Association of America, and as an attorney at Epstein, Becker and Green. He earned his undergraduate degree from Washington and Lee University, his MA from Yale University and JD from The University of Virginia.

Mary Ellen Gervais, RN, MS, CCM, is Vice President, Project Development, for Medical Management and Rehabilitation Services (MMARS), a national company that since 1997 has provided comprehensive case management and disease management services across the age spectrum and for a variety of insurance providers. MMARS was one of the first case management companies to be accredited by URAC as an accredited case management organization.

Carolyn P. Hartley, Moderator is Editor-in-Chief, Publisher of The Physician's eHealth Report and is also President, CEO, Physicians EHR, LLC. She is co-author of "EHR Implementation: A Step by Step Guide for the Medical Practice", and co-author of the forthcoming handbook, "The Technical and Financial Guide to EHR Implementation."

INTENDED AUDIENCES:
Health Care Providers
Case Management, Utilization Management and Quality Improvement organizations
Pharmaceutical Marketing and Sales Reps
EHR Vendors
Healthcare Executives
Benefits Managers
WHAT IS AN AUDIO SEMINAR?

Audio seminars are live events that include session handouts and briefing materials, an interactive question-and-answer period, and access for an unlimited number of participants at each call-in site.

CONTINUING EDUCATION CREDITS:

You will receive a certificate of attendance for 1.5 hours which you can submit to your accrediting board for approval for credit.

You will also receive PowerPoint slides for use as critical points when educating your internal audiences on optimizing claims and clinical information through EHRs and Web Portals.

WHEN: June 29, 2006 1:00 p.m. to 2:30 p.m. EST

WHERE: Your Office

Free CDs while supplies last!

Register now and select a free CD from one of our "best attended" 2005 audio seminars from the following list:
Real-World Strategies for Obtaining Funding for EHRs
Real Manage Business and Legal Hurdles in Connecting Communities
Real Organizational Readiness Strategies for Medicare Part D and ePrescribing
Managing Business Processes in NPI Registration
Consumer Privacy & Security Concerns in ePrescribing
To get your FREE CD by purchasing the current Audio Seminar online, click here.
Already registered for this seminar? No problem. Send us an e-mail with your name, address, telephone number and your FREE CD of choice. Please allow 3-4 weeks for delivery.
REGISTRATION:
We Offer Three Convenient Ways To Register:
Go online by clicking here. Or, go to www.physiciansehr.com and select Trends in Case and Disease Management from the main page.
Call Laurie O'Brien at (816) 309-3896.
Fax your order to (561) 355-8430. To download the order form, click here.
COST:

Audio Seminar ONLY
Audio Seminar registration and briefing materials, $199 per call-in line on orders placed on or before June 25. After June 25, orders increase to $229.00.

Audio Seminar and CD
Audio Seminar and briefing materials per call-in line plus a CD set of the seminar that can be used for education and training, $229 per call-in line on orders placed on or before June 25. After June 25, orders increase to $259.00.

Click here to save $100 on the three-part Healthcare Informatics Colloquium series!
"Trends in Case and Disease Management" is Part 2 of a 3-part series of audio seminars. Purchase all 3 audio seminars online for $499.

CAN'T MAKE THE DATE, BUT WISH YOU COULD ATTEND?
CD recordings of the seminar and briefing materials are available for $199.

FOR MORE INFORMATION:

Go to www.physiciansehr.com, or contact laurie@physiciansehr.com, call us at 919-859-9907 or mail:
Physicians EHR, LLC
515 Keisler Drive
Suite 101
Cary, NC 27518