PRESS RELEASE
Contact: Amy Fisher
Director of Marketing
Phone: (703) 876-5148
Email: afisher@fcw.com
Website: http://subscribe.101com.com/ghit/magazine/NewFree/?c=6CEX09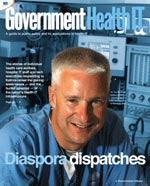 FALLS CHURCH VA, USA -- HIT/HIPAA UPDATE NEWS SERVICE(TM) -- JUNE 20, 2006: Your position within the health care services community qualifies you to receive a complimentary charter subscription to Government Health IT Magazine - the newest publication from the Publishers of Federal Computer Week.
Government Health IT is the definitive source for news and information on how government is driving the adoption of information technology in healthcare. Offering in-depth analysis and insight into the policy, technology and funding initiatives leading change within this market, your subscription to Government Health IT will provide you with the tools and resources you need to make smart purchasing decisions.
You cannot afford to miss this FREE Charter Subscription offer - reserve your subscription today!