PRESS RELEASE
Phone: 800-684-4549
Email: registration@hcconferences.com
Website: www.HIPAASummit.com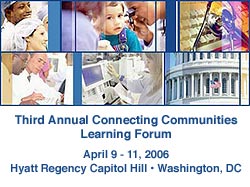 WASHINGTON DC USA -- HIT/HIPAA UPDATE NEWS SERVICE (TM) -- JANUARY 12, 2006: The HIPAA Summit, www.HIPAASummit.com, which will be held at the Hyatt Regency on Capitol Hill on April 7 - 11, 2006 in Washington, DC, announced today that it is offering the International Association of Privacy Professionals Certified Information Privacy Professional (CIPP) training and examinations. The Summit will be collocated with the Third Annual Connecting Communities for Better Health Learning Forum and Exhibition, http://ccbh.ehealthinitiative.org. The HIPAA Summit is sponsored by over 50 major associations and publications.

IAPP CIPP TRAINING AND CERTIFICATION EXAMINATIONS:

The International Association of Privacy Professionals (IAPP) now offers Certified Information Privacy Professional (CIPP) training and the CIPP certification examination. The CIPP is the industry's first-ever, broad-based privacy certification program. It is offered exclusively by the IAPP and is made possible through generous grants from Hewlett Packard and Microsoft. The CIPP is an entry-level certification program that stresses the fundamentals of privacy: understanding the concepts and applications of law and operational best practices as well as the privacy implications of emerging technologies. It also establishes educational and testing standards for the privacy profession. The following individuals may wish to consider CIPP certification:
Seasoned executives who want to validate their existing skill set with a standard privacy credential.
Corporate privacy managers chartered with bringing their staff up to a consistent level of privacy education.
Professionals entirely new to the business of privacy who seek to establish a knowledge foundation in information privacy.
Federal and State government employees who wish to be certified in government privacy.
Vertical specialists in financial services or healthcare privacy who seek to broaden their expertise and value into a general information privacy scope.
Lawyers and consultants who desire to further professionalize their services.
CIPP TRAINING OFFERED ON FRIDAY, APRIL 7, 2006:

The International Association of Privacy Professionals (IAPP) will offer a full day of Certified Information Privacy Professional (CIPP) training on Friday, April 7, 2006. The following issues will be addressed:
8:00 am Introduction to IAPP Privacy Certification
8:30 am Privacy Law and Compliance
10:30 am Workplace Privacy
1:00 pm Information Security
2:15 pm Web Privacy and Security
3:45 pm Data Sharing and Transfer
5:00 pm Government Privacy
THE CIPP CERTIFICATION EXAM OFFERED ON SATURDAY, APRIL 8, 2006:

The IAPP will offer the Certified Information Privacy Professional (CIPP) exam on Saturday, April 8, 2006. The examination consists of 175 multiple choice and true/false questions across five subject matter areas: Privacy Law and Compliance, Information Security, Web Privacy and Security, Data Sharing and Transfer, and Workplace Privacy.

You must be an IAPP member in order to take the CIPP examination. Training for the exam is recommended, but not required.

KEYNOTE SPEAKERS:


William R. Braithwaite, MD, Ph.D.
"Doctor HIPAA", Senior Vice President and Chief Medical Officer, eHealth Initiative, Former Senior Advisor on Health Information Policy, Department of Health and Human Services, Washington, DC

Richard M. Campanelli, Esq.
Counselor for Human Service Policy, Office of the Secretary, Department of Health and Human Services, Former Director, Office for Civil Rights, Washington, DC

Gary G. Christoph, CISM, CHS
Chief Informatics Officer, Teradata Government Systems, Inc., Former Chief Operating Officer, National Institutes of Health Center for Information Technology, Former Chief Information Officer, Centers for Medicare and Medicaid Services, Columbia, MD

J. Trevor Hughes, CIPP
Executive Director, International Association of Privacy Professionals, York, ME

Michael O. Leavitt (Invited)
Secretary of Health and Human Services, Department of Health and Human Services, Former Governor of Utah, Washington, DC

Mark McClellan, MD, Ph.D. (Invited)
Administrator, Centers for Medicare and Medicaid Services, Former Commissioner, Food and Drug Administration, Baltimore, MD

Kepa Zubeldia, MD
President and Chief Executive Officer, Claredi, Former Chair AFEHCT, Former Member, NCVHS and Co Chair, WEDI Security Policy Advisory Group, Kaysville, UT

Karen Trudel
Deputy Director, The Office of E-Health Standards and Services, Centers for Medicare and Medicaid Services, Baltimore, MD

Winston Wilkinson, Esq.
Director, Office for Civil Rights, Department of Health and Human Services, Washington, DC

HIPAA SUMMIT CO CHAIRS:
Alan S. Goldberg, JD, LLM
Partner, Goulston & Storrs, Adjunct Professor of Law, University of Maryland School of Law and Suffolk University Law School and Past President, American Health Lawyers Association, Washington, DC

Steven S. Lazarus, Ph.D., FHIMSS
President, Boundary Information Group and Past Chair, WEDI, Denver, CO

Janet Marchibroda
Chief Executive Officer, eHealth Initiative and Foundation and Executive Director, Connecting for Health, Washington, DC

John C. Parmigiani
President, John C. Parmigiani and Associates, LLC, Former Director of Enterprise Standards, HCFA, Ellicott City, MD

FEATURED FACULTY:
Margret Amatayakul, RHIA, CPEHR, CPHIT, CHPS, FHIMSS
President, Margret\A Consulting, LLC and Member, Board of Examiners, Health IT Certification, LLC, Schaumburg, IL

W. Holt Anderson
Executive Director, North Carolina, Healthcare Information and Communications Alliance, Inc., Research Triangle Park, NC

Chris Apgar, CISSP
President, Apgar & Associates, LLC, Portland, OR

Stephanie Argoitia, MSW, JD
Manager, HIPAA Privacy Office, University of Utah Healthcare, Salt Lake City, UT

Peter T. Barry
President, Peter T. Barry Company, Naples, FL

Gary A. Beatty
President, EC Integrity, Inc. and Past Chair, X12N Insurance Subcommittee, Stewartville, MN

Fran Carroll
Corporate Compliance and Privacy Officer, Joint Commission on Accreditation of Healthcare Organizations, Oakbrook Terrace, IL

Yang Chu, CIPP, CISSP, CISM
Senior Manager, Deloitte & Touche, San Francisco, CA

Greg Cislo
HIPAA Compliance Corporate Team, Perot Systems Corporation, Plano, TX Steve Roop, Vice President of Strategy, Vontu, San Francisco, CA

Andrea S. Danes
Director, Business Development, FOX Systems, Inc., Scottsdale, AZ

Barry Dickman, MHSA
Complaint and Resolution Component Liaison, Department of Veterans Affairs, Veterans Health Administration HIPAA PMO, Washington, DC

Lydia Duckworth, CISSP
Security Component Liaison, Department of Veterans Affairs, Veterans Health Administration HIPAA PMO, Washington, DC

Margaret P. Eisenhauer, Esq., CIPP
Founder, Privacy and Information Management Services, Margaret P. Eisenhauer PC, Atlanta, GA

David A. Feinberg, CDP
President, Rensis Corporation, Seattle, WA

Rachel Foerster
Chief Executive Officer, Rachel Foerster & Associates, Beach Park, IL

Catherine Graeff
Senior Vice President, National Council on Prescription Drug Programs, Scottsdale, AZ

Thomas Grove
Ryerson Management Associates, Akron, OH

Kimberly D. Harris-Salamone, Ph.D.
Manager, Project Services, FOX Systems, Inc., Scottsdale, AZ

Barry S. Herrin, Esq.
Partner, Smith Moore LLP, Atlanta, GA

Gerald M. Hinkley, Esq.
Partner, Davis Wright Tremaine, San Francisco, CA

Heather L. Humphrey
Director, Privacy Compliance, Baxter Healthcare Corporation, Deerfield, IL

Rhonda A. Hurwitz
Director of Legal Affairs, Risk Management, and Corporate Compliance, Sibley Memorial Hospital, Washington, DC

Kevin D. Hutchinson
President and Chief Executive Officer, SureScripts, Alexandria, VA




Sam Jenkins
Chief Privacy Officer, TRICARE Management Activity (TMA), Falls Church, VA

James Jordan III, Esq., CIPP
Founder, Jordan Legal Counsel, PC, Lilburn, GA

Charles N. Kahn III
President, Federation of American Hospitals, Washington, DC

Martin Keane, CIPP
Senior Consultant, Privacy Risk and Compliance, PricewaterhouseCoopers LLP, McLean, VA

Catherine Gorman Klug
Corporate Director, Privacy and Data Security, Meridian Health, Neptune City, NJ

Gail Kocher
Tech Business Analyst, HIPAA Knowledge Center, Highmark, Inc., Camp Hill, PA

Peter Kosmala
Assistant Director, International Association of Privacy Professionals, York, ME

Linda McCardel
Senior Analyst, Interactive Solutions Group, MPHI, Okemos, MI

Krish Muralidhar
Professor, University of Kentucky, Gatton College of Business & Economics, Lexington, KY

Jean Narcisi
Director, Office of Electronic Medical Systems, American Medical Association, Chicago, IL

Jennie Orrico, Esq.
Senior Counsel, Baxter Healthcare Corporation, Deerfield, IL

Dan Petrosky
Founding Member, EDI Partners, Minneapolis, MN

Pat Peyton (Invited)
Health Insurance Specialist, Centers for Medicare and Medicaid Services (CMS), Baltimore, MD

Fred Richards
Chief Technical Officer, HTP, Inc., Columbus, OH

Caroline Samuels, MD
Managing Member, CSMed LLC, Director of Ambulatory Care, Internal Medicine Residency Program, Prince George's Hospital Center, Author, HIMSS EHR Selector, Bethesda, MD

Rathindra Sarathy
Professor, Oklahoma State University, Spears College of Business, Stillwater, OK

Dr. Stuart Shapiro, CIPP/G, CISSP
Lead Information Security Scientist, MITRE Corporation, Bedford, MA

Mollie Shields-Uehling
President and Chief Executive Officer, SAFE-BioPharma Association, Providence, RI

Suzanne D. Stewart
EDI Coordinator, Aurora Health Care, Milwaukee, WI

John Tooker, MD, MBA, FACP
Executive Vice President and Chief Executive Officer, American College of Physicians, Philadelphia, PA

Brian Tretick, CIPP
Principal, Ernst & Young, Takoma Park, MD

Rebecca L. Williams, RN, JD
Partner and Co chair, HIPAA Task Force, Davis Wright Tremaine LLP, Chair, Preemption Sub-workgroup, Workgroup for Electronic Data Interchange, Seattle, WA


SPONSORED BY:
American Academy of Professional Coders
American Association of Healthcare Administrative Management
American Association of Medical Transcription
American Association of Preferred Provider Organizations
American Medical Group Association
Association for Electronic Health Care Transactions
Association of Healthcare Internal Auditors, Inc.
Association of Medical Directors of Information Systems
Association of Telehealth Service Providers
Blue Cross and Blue Shield Association
Catholic Health Association
Cyber Security Industry Alliance (CSIA)
Disease Management Association of America
eHealth Initiative
Electronic Healthcare Network Accreditation Commission
Federation of American Hospitals
Health Level Seven
Health Technology Center
Healthcare Leadership Council
Hi-Ethics
Integrated Healthcare Association



International Association of Privacy Professionals
Internet Healthcare Coalition
IPA Association of America
MCOL
Medical Device Manufacturers Association
Medical Group Management Association
Medical Records Institute
Medical Transcription Industry Alliance
National Association of Claim Processing Professionals
National Association of Medical Staff Services
National Business Coalition on Health
National Council for Prescription Drug Programs
North Carolina Healthcare Information and Communications Alliance
Phoenix Health Systems
Professional Association of Health Care Office Management
Southern HIPAA Administrative Regional Process
URAC
Washington Business Group on Health
Workgroup for Electronic Data Interchange
Work Group for the Computerization of Behavioral Health and Human Services Records

CO-SPONSORED BY:
Advance for Health Information Executives
Advance for Health Information Professionals
AIS HIPAA Patient Privacy Guide
AIS Report on Patient Privacy
AIS Report on Medicare Compliance
Aspen Publishers' Health Information Management Manual
Aspen Publishers' HIPAA: A Guide to Health Care Privacy and Security Law
AHA News
BNA's Privacy and Security Law Report
BNA's Health Care Fraud Report
BNA's Health Law Reporter
Briefings on Coding Compliance Strategies
Briefings on HIPAA
CCH INCORPORATED
eHealth Insider
Employer's Guide to Health Insurance Portability and Accountability Act
Employer's Guide to HIPAA Privacy Requirements
e-Healthcare Market Reporter
FierceBiotech
For the Record Magazine
Group Practice Journal
Guide to Medical Privacy and HIPAA
Health Affairs Journal
Health Data Management
Health Information Compliance Insider
Health Information Privacy Alert
Health Law Update
Health Management Technology
Healthcare Compliance Portfolio
Healthcare Financial Management
Healthcare Forum Journal



Healthcare Informatics
Healthcare Intelligence Network
Healthcare Publishing News
Healthcare Risk Management Report
HealthLeaders
HIPAA and ehealth for Facility Management
HIPAA and eHealth for Physician Practices
HIPAA Desk Reference
HIPAA Implementation Newsletter
HIPAA Privacy Staff Trainer
Hospital Litigation & Liability Alert
Hospitals & Health Networks
Ingenix
Inside Healthcare Computing
Inside HIPAA Compliance
Interactive Healthcare Report
Internet Medicine
Jenks Healthcare Business Report
Journal of Health Care Compliance
Journal of Health Policy
Politics & Law
Managed Care Report
Managed Healthcare
Market Report
MD Computing
Millin's Health Fraud Monitor
Modern Healthcare
Modern Physician
Physician Practice Compliance Alert
Physician Practice Compliance Report
Practical Guidance on HIPAA and eHealth
Privacy Law Adviser
Privacy Officers' Advisor
Strategies for Health Care Compliance
Medical Education Collaborative
A Nonprofit Education Organization

EXHIBIT & SPONSORSHIP INFORMATION:

For sponsorship and exhibit information contact Joni Lipson, Exhibit Manager, 215-599-6626 phone, 215-545-8107 fax, joni.lipson@rmpinc.com.

REGISTRATION INFORMATION:

For further registration information, go to www.HIPAASummit.com, call 800-684-4549, email registration@hcconferences.com or write:
HIPAA Summit Office
7790 Barberry Ave.
Yucca Valley, CA USA 92284