PRESS RELEASE
Phone: 800-684-4549
Email: registration@hcconferences.com
Website: www.HIPAASummit.com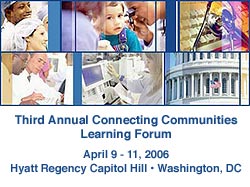 WASHINGTON DC USA -- HIT/HIPAA UPDATE NEWS SERVICE (TM) -- FEBRUARY 22, 2006: The Twelfth National HIPAA Summit, www.HIPAASummit.com, which will be held at the Hyatt Regency on Capitol Hill on April 7 - 11, 2006 in Washington, DC, announced today that it offers a variety of healthcare continuing education credits. The Summit will be collocated with the Third Annual Connecting Communities for Better Health Learning Forum and Exhibition, http://ccbh.ehealthinitiative.org. The HIPAA Summit is sponsored by over 50 major associations and publications.

HEALTHCARE CONTINUING EDUCATION CREDITS:


This activity jointly sponsored by Medical Education Collaborative and Healthcare Conference Administrators.


American Academy of Professional Coders - This program has been submitted to The American Academy of Professional Coders for review of Continuing Education Units.

ACCME - This activity has been planned and implemented in accordance with the Essential Areas and Policies of the Accreditation Council for Continuing Medical Education through the joint sponsorship of Medical Education Collaborative, Inc. (MEC) and Healthcare Conference Administrators, LLC. The Medical Education Collaborative is accredited by the ACCME to provide continuing medical education for physicians. Medical Education Collaborative designates this educational activity for a maximum of 18.75 category 1 cred-its towards the AMA Physician's Recognition Award. Each physician should claim only those credits that he/she actually spent in the activity.

ACHE - Medical Education Collaborative (MEC) is authorized to award 18.75 hours of preapproved Category II (non-ACHE) continuing education credit for this program toward advancement or recertification in the American College of Healthcare Executives. Participants in this program wishing to have the continuing education hours applied toward Category II credit should list their attendance when applying for advancement or recertification in ACHE.

ACMPE - This program may qualify for continuing education credit in the American College of Medical Practice Executives (ACMPE). To apply for ACMPE credit, submit a generic credit hour form with a copy of the brochure. Forms will be available on-site.
ACPE - Approved for 18.75 contact hours (1.875 CEUs) of credit for pharmacists. Approval of this course for pharmacists is under a cosponsorship agreement between Medical Education Collaborative, Inc. (MEC) and Healthcare Conference Administrators, LLC. MEC is accredited by the Accreditation Council for Pharmacy Education as a provider of continuing pharmacy education. ACPE # 815-999-06-012-L03.
AHIMA - This program is pending prior approval for 18.75 CE Credits for use in fulfilling the continuing education requirements of the American Health Information Management Association (AHIMA).
ANCC (Nursing Credit) - Approved for 22.5 contact hours of continuing education for RNs, LPNs, LVNs and NPs. This program is cosponsored with Medical Education Collaborative, Inc. (MEC) and Healthcare Conference Administrators, LLC. MEC is accredited as a provider of continuing nursing education by the American Nurses Credentialing Center's Commission on Accreditation.
CA BRN - Provider approved by the California Board of Registered Nursing, Provider Number CEP 12990, for 22.5 contact hours.
CISSP/SSCP - This program may qualify for security professions (CISSP) or security practi-tioner (SSCP) continuing education credit. CISSPs and SSCPs may apply for CPE credit for participating in the conference online at www.isc2.org.
HCCB - This program is pending prior approval for 22.5 HCCB continuing education credits for compliance certification.
HIMSS - This program is pending prior approval for 22.5 contact hours for renewal of the CPHIMS and/or CHS/CHPS credentials.
MCLE - Required sponsor documentation has been forwarded to and credit requested from most MCLE states with general requirements for all lawyers. We have requested a total of 22.5 CLE hours from most MCLE states. Lawyers seeking credit in Pennsylvania must pay fees of $1.50 per credit hour directly to the PA CLE Board. Medical Education Collaborative pays applicable fees in other states where the sponsor is required to do so, and in states where a late fee may become applicable. Please be aware that each state has its own rules and regu-lations, including its definition of CLE; therefore, certain programs may not receive credit in some states. For information on approved credit hours for your state, please contact Medical Education Collaborative at 303-420-3252, ext 37 starting two to three weeks prior to the program date. MEC is a State Bar of California approved MCLE provider. Please note: those seeking MCLE credit from Kansas and Virginia will be required to apply individually to their respective bars - no credit for these states can be issued by MEC.
NASBA - Medical Education Collaborative is registered with the National Association of State Boards of Accountancy (NASBA) as a sponsor of continuing professional education on the National Registry of CPE Sponsors. State boards of accountancy have final authority on the acceptance of individual courses for CPE credit. Complaints regarding registered sponsors may be addressed to the National Registry of CPE Sponsors, 150 Fourth Avenue North, Suite 700, Nashville, TN 37219-2417. Web site: www.nasba.org. A maximum of 22.5 credits based on a 50-minute hour will be granted. Recommended experience level for this course is intermediate to advanced.
No prerequisites or advance requirements exist for this activity. This is a group-live activity. For more information regarding administrative policies such as complaint or refund, call MEC at (866) 420-3252 x37.
Participants must attend at least one program session and complete an evaluation plus an application for credit in order to receive a certificate. Certificates will be mailed within 6-8 weeks.
Please note: credits include preconference symposia on April 9th but do NOT include Special Preconference Certification Training Sessions held on April 7th.
KEYNOTE SPEAKERS:
William R. Braithwaite, MD, Ph.D.
"Doctor HIPAA", Senior Vice President and Chief Medical Officer, eHealth Initiative, Former Senior Advisor on Health Information Policy, Department of Health and Human Services, Washington, DC

Richard M. Campanelli, Esq.
Counselor for Human Service Policy, Office of the Secretary, Department of Health and Human Services, Former Director, Office for Civil Rights, Washington, DC

Gary G. Christoph, CISM, CHS
Chief Informatics Officer, Teradata Government Systems, Inc., Former Chief Operating Officer, National Institutes of Health Center for Information Technology, Former Chief Information Officer, Centers for Medicare and Medicaid Services, Columbia, MD

J. Trevor Hughes, Esq., CIPP
Executive Director, International Association of Privacy Professionals, York, ME

Michael O. Leavitt (Invited)
Secretary of Health and Human Services, Department of Health and Human Services, Former Governor of Utah, Washington, DC

Winston Wilkinson, Esq.
Director, Office for Civil Rights, Department of Health and Human Services, Washington, DC

Kepa Zubeldia, MD
President and Chief Executive Officer, Claredi, Former Chair AFEHCT, Former Member, NCVHS and Co Chair, WEDI Security Policy Advisory Group, Kaysville, UT

Karen Trudel
Deputy Director, The Office of E-Health Standards and Services, Centers for Medicare and Medicaid Services, Baltimore, MD

HIPAA SUMMIT CO CHAIRS:
Alan S. Goldberg, JD, LLM
Partner, Goulston & Storrs, Adjunct Professor of Law, University of Maryland School of Law and Suffolk University Law School and Past President, American Health Lawyers Association, Washington, DC

Steven S. Lazarus, Ph.D., FHIMSS
President, Boundary Information Group and Past Chair, WEDI, Denver, CO

Janet Marchibroda
Chief Executive Officer, eHealth Initiative and Foundation and Executive Director, Connecting for Health, Washington, DC

John C. Parmigiani
President, John C. Parmigiani and Associates, LLC, Former Director of Enterprise Standards, HCFA, Ellicott City, MD

FEATURED FACULTY:
For a complete list of the Pay for Performance expert faculty, please visit the HIPAA Summit website.
SPONSORED BY:
American Academy of Professional Coders
American Association of Healthcare Administrative Management
American Association of Medical Transcription
American Association of Preferred Provider Organizations
American Medical Group Association
Association for Electronic Health Care Transactions
Association of Healthcare Internal Auditors, Inc.
Association of Medical Directors of Information Systems
Association of Telehealth Service Providers
Blue Cross and Blue Shield Association
Catholic Health Association
Cyber Security Industry Alliance (CSIA)
Disease Management Association of America
eHealth Initiative
Electronic Healthcare Network Accreditation Commission
Federation of American Hospitals
Health Level Seven
Health Technology Center
Healthcare Leadership Council
Hi-Ethics
Integrated Healthcare Association



International Association of Privacy Professionals
Internet Healthcare Coalition
IPA Association of America
MCOL
Medical Device Manufacturers Association
Medical Group Management Association
Medical Records Institute
Medical Transcription Industry Alliance
National Association of Claim Processing Professionals
National Association of Medical Staff Services
National Business Coalition on Health
National Council for Prescription Drug Programs
North Carolina Healthcare Information and Communications Alliance
Phoenix Health Systems
Professional Association of Health Care Office Management
Southern HIPAA Administrative Regional Process
URAC
Washington Business Group on Health
Workgroup for Electronic Data Interchange
Work Group for the Computerization of Behavioral Health and Human Services Records

CO-SPONSORED BY:
Advance for Health Information Executives
Advance for Health Information Professionals
AIS HIPAA Patient Privacy Guide
AIS Report on Patient Privacy
AIS Report on Medicare Compliance
Aspen Publishers' Health Information Management Manual
Aspen Publishers' HIPAA: A Guide to Health Care Privacy and Security Law
AHA News
BNA's Privacy and Security Law Report
BNA's Health Care Fraud Report
BNA's Health Law Reporter
Briefings on Coding Compliance Strategies
Briefings on HIPAA
CCH INCORPORATED
eHealth Insider
Employer's Guide to Health Insurance Portability and Accountability Act
Employer's Guide to HIPAA Privacy Requirements
e-Healthcare Market Reporter
FierceBiotech
For the Record Magazine
Group Practice Journal
Guide to Medical Privacy and HIPAA
Health Affairs Journal
Health Data Management
Health Information Compliance Insider
Health Information Privacy Alert
Health Law Update
Health Management Technology
Healthcare Compliance Portfolio
Healthcare Financial Management
Healthcare Forum Journal



Healthcare Informatics
Healthcare Intelligence Network
Healthcare Publishing News
Healthcare Risk Management Report
HealthLeaders
HIPAA and ehealth for Facility Management
HIPAA and eHealth for Physician Practices
HIPAA Desk Reference
HIPAA Implementation Newsletter
HIPAA Privacy Staff Trainer
Hospital Litigation & Liability Alert
Hospitals & Health Networks
Ingenix
Inside Healthcare Computing
Inside HIPAA Compliance
Interactive Healthcare Report
Internet Medicine
Jenks Healthcare Business Report
Journal of Health Care Compliance
Journal of Health Policy
Politics & Law
Managed Care Report
Managed Healthcare
Market Report
MD Computing
Millin's Health Fraud Monitor
Modern Healthcare
Modern Physician
Physician Practice Compliance Alert
Physician Practice Compliance Report
Practical Guidance on HIPAA and eHealth
Privacy Law Adviser
Privacy Officers' Advisor
Strategies for Health Care Compliance
Medical Education Collaborative
A Nonprofit Education Organization
CPEHR AND CPHIT TRAINING AND EXAMINATION OFFERED AT HIT SUMMIT:

The HIPAA Summit will offer Health IT Certification, www.HealthITCertification.com, Certified Professional in Electronic Health Records (CPEHR) and Certified Professional in Health Information Technology (CPHIT) training and the CPEHR and CPHIT certification examinations.

CIPP TRAINING AND EXAMINATION OFFERED AT HIPAA SUMMIT:

The HIPAA Summit will offer International Association of Privacy Professional, www.PrivacyAssociation.org, Certified Information Privacy Professional (CIPP) training and the CIPP certification examination.

EXHIBIT & SPONSORSHIP INFORMATION:

For sponsorship and exhibit information contact Joni Lipson, Exhibit Manager, 215-599-6626 phone, 215-545-8107 fax, joni.lipson@rmpinc.com.

REGISTRATION INFORMATION:

For further registration information, go to www.HIPAASummit.com, call 800-684-4549, email registration@hcconferences.com or write:
HIPAA Summit Office
7790 Barberry Ave.
Yucca Valley, CA USA 92284