PRESS RELEASE
Phone: 800-684-4549
Email: registration@hcconferences.com
Website: www.HIPAASummit.com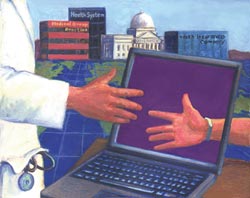 WASHINGTON DC USA -- HEALTHCARE UPDATE NEWS SERVICE (TM) -- AUGUST 9, 2006: The Thirteenth National HIPAA Summit, www.HIPAASummit.com, which will be held at the Hyatt Regency on Capitol Hill on September 24 - 27, 2006 in Washington, DC, announced today that it will feature a special post conference session on Implementing Phase I CORE Operating Rules to Achieve Electronic Transactions for Eligibility and Benefits (270/271). The Summit will be collocated with the Third Health Information Technology Summit, www.HITSummit.com. The HIPAA Summit is sponsored by over 50 major associations and publications.

SPECIAL POST CONFERENCE SESSION ON CORE PHASE I OPERATING RULES:

On Wednesday, September 27, 2006, the following post conference session will be featured:

Implementing Phase I CORE Operating Rules to Achieve Electronic Transactions for Eligibility and Benefits (270/271)
1:00 pm
Welcome and Introductions by Jay Eisenstock (Invited), eProvider Solutions Lead, Aetna and Chair, CORE Testing Subgroup
1:10 pm
CAQH and CORE Overview and CORE Certification and Endorsement by Gwendolyn Lohse, CORE Program Director, Council for Affordable Quality Healthcare, Washington, DC
1:25 pm
CORE Phase I Progress and Achievements by Jay Eisenstock (Invited), eProvider Solutions Lead, Aetna and Chair, CORE Testing Subgroup
1:40 pm
CORE Phase I Rules, Including 270/271 Content, Connectivity, Response Time for Real-Time and Batch, System Availability, Acknowledgements in Real-time and Batch, and Companion Guides by Rachel Foerster, Senior Consultant, Boundary Information Group, Beach Park, IL
3:20 pm
CORE Phase I Rules Deployment, Including Process of Adopting Rules, the Industry Stakeholder Roles, the Various Certification Seals used for each Stakeholder Group, the Process for Testing for Certification and the Rules Enforcement Process by Jay Eisenstock (Invited), eProvider Solutions Lead, Aetna, Chair, CORE Testing Subgroup and Gwendolyn Lohse, CORE Program Director, Council for Affordable Quality Healthcare, Washington, DC
3:45 pm
Implementation of CORE Phase I Rules, including Planning, Internal Gap and Assessment, the CORE Certification Steps, the Role of the CORE-authorized Certification Testing Vendors, the Process of Going Live, and Live Demonstrations by CORE-authorized Certification Testing Vendors by Jay Eisenstock (Invited), eProvider Solutions Lead, Aetna and Chair, CORE Testing Subgroup; and Demonstrations by CORE-Authorized Certification Testing Vendors: Claredi and Edifecs
4:45 pm
CORE Phase II Operating Rules, Priorities, and Timelines for the Next Set of CORE Rules by Gwendolyn Lohse, CORE Program Director, Council for Affordable Quality Healthcare, Washington, DC
KEYNOTE SPEAKERS:
Gary G. Christoph, CISM, CHS
Chief Informatics Officer, Teradata Government Systems, Inc., Former Chief Operating Officer, National Institutes of Health Center for Information Technology, Former Chief Information Officer, Centers for Medicare and Medicaid Services, Columbia, MD

Jodi G. Daniel, JD, MPH
Director, Office of Policy and Research, Office of the National Coordinator for Health Information Technology, and Former Senior Counsel for Health Information Technology, Office of the General Counsel, Department of Health and Human Services, Washington, DC

Janlori Goldman
Director, Health Privacy Project, Research Scholar, Center on Medicine as a Profession, Columbia College of Physicians & Surgeons, New York, NY

John Goodman, Ph.D.
President and Chief Executive Officer, National Center for Policy Analysis, Author, Patient Power: Solving America's Health Care Crisis, Washington, DC

Susan McAndrew, Esq.
Senior Advisor for HIPAA Privacy Policy, Office for Civil Rights, Department of Health and Human Services, Washington, DC

Stanley Nachimson
Office of HIPAA Standards, Centers for Medicare and Medicaid Services, Baltimore, MD

Peter Swire, Esq.
C. William O'Neill Professor of Law, Moritz College of Law, Ohio State University, Former Chief Counselor, Office of Management & Budget, Office of the President of the United States, Washington, DC

Kepa Zubeldia, MD
President and Chief Executive Officer, Claredi, Former Chair AFEHCT, Former Member, NCVHS, and Co Chair, WEDI Security Policy Advisory Group, Kaysville, UT

SUMMIT CO CHAIRS:
Lesley Berkeyheiser
Principal, The Clayton Group, Glen Mills, PA

William R. Braithwaite, MD, Ph.D.
"Doctor HIPAA", Senior Vice President and Chief Medical Officer, eHealth Initiative, Former Senior Advisor on Health Information Policy, Department of Health and Human Services, Washington, DC

Alan S. Goldberg, JD, LLM
Attorney & Counselor at Law, Adjunct Professor of Law, University of Maryland School of Law and Suffolk University Law School and Past President, American Health Lawyers Association, McLean, Virginia

Steven S. Lazarus, Ph.D., FHIMSS
President, Boundary Information Group and Past Chair, WEDI, Denver, CO

John C. Parmigiani
President, John C. Parmigiani and Associates, LLC, Former Director of Enterprise Standards, HCFA, Ellicott City, MD

Susan A. Miller, Esq.
Chief Operating Officer and Chief Privacy Officer, HealthTransactions.com, Concord, MA


HIPAA SUMMIT FEATURED SPECIAL SESSIONS:
WEDI Preconference Symposium: Security and Privacy Issues in Electronic Health Records Acquisition and Implementation
Keynote Address: Assessment of HIPAA Implementation and Compliance and the Implications of New Legislation
HIPAA Years In Review - What a Short, Strange Trip It's Been
Transactions and Code Sets and the National Provider Identifier (NPI)
Live Roundtable Report from the X12
Advanced Strategies for NPI Implementation Compliance
ICD-10-CM and ICD-10-PCS Update
HIPAA Transactions - The Next Generations
On the Road to Interoperability: CORE Phase I Rules Certification Testing
The Office for Civil Rights and Health Care Privacy
HIPAA Privacy: A Three Year Look Back
An Overview of State Privacy Laws and Preemption Issues Under HIPAA
Data Breach Prevention 101 and Lessons Learned
Responding to Your Worse Security Breach Nightmare: When Patient Information is Stolen
HIPAA and Identity Theft
How the Heck did this Happen?? Simple Security Mistakes that Can Lead to Disaster
How to Respond to a Data Breach - It's not just about HIPAA Anymore
Computer Forensics as a Part of a Security Incident Response Program
Automating Security Management: Are we There Yet?
Secure Transmission Workshop
Achieving HIPAA Security Compliance in a Non-Acute Care Environment
HIPAA, Providers and Health Plans: What Does Your Provider Agreement Say?
HIPAA and JCAHO Requirements Compared and Contrasted
Mind Your Own Business...Associates: Conducting BAA Audits
Privacy and Security in a Federated Research Network
Post-HIPAA Implementation of Employee Wellness Programs: Practical Tips and Pitfalls
How to Conduct an Investigation and Use the Results for Continual Process Improvement
Achieving Continuous HIPAA Compliance - Tips & Tricks
HIPAA LIVE! From Plan to Breach To Investigation to Resolution
Digital Evidence Handling: Chain of Custody
Close Encounters of the Data Kind: Data Capture from the Actual Medical Record to Validate Accuracy in Reporting
Responding to Government Subpoenas and other Official Inquiries under HIPAA
Privacy and Security Enforcement: An In-Depth Exploration of Federal Civil Enforcement
Privacy and Security Enforcement: An In-Depth Exploration of Federal Criminal Enforcement
Building Statewide Implementation Strategies for Successful Health Information Exchange (HIE) Implementation
Managing Patient Authorization in Regional Health Information Organizations
Realizing the National Health IT Strategy through the Adoption of a Standardized Digital Identity Solution
FEATURED FACULTY:

Margret Amatayakul, MBA, RHIA, CPEHR, CPHIT, CHPS, FHIMSS
President, Margret\A Consulting, LLC, Adjunct Faculty in Health Informatics, College of St. Scholastica, Former Executive Director, Computer-based Patient Record Institute, Former Associate Executive Director, AHIMA, Schaumburg, IL

W. Holt Anderson
Executive Director, North Carolina Healthcare In-formation and Communications Alliance, Inc., Research Triangle Park, NC

Sharon A. Anolik
Director of Privacy, Blue Shield of California, San Francisco, CA

Craig Azoff
Director, Administrative Information Systems, Metropolitan Jewish Health System, Brooklyn, NY

Peter Barry
Peter T. Barry Company, Independent Consulting Health Care and Information Systems, Naples, FL

Gary A. Beatty
President, EC Integrity, Inc., Past Chair, X12N Insurance Subcommittee, Stewartville, MN

Robert Belfort, Esq.
Partner, Manatt, Phelps & Phillips, LLP, New York, NY

Joan Boyle
Independent Consultant, Grand Lake, CO

Sharon A. Budman, MS.ED., CIPP
Director of HIPAA Privacy and Security, University of Miami, Miller School of Medicine, Miami, FL

Sharon Canner, MA, MS
Government Affairs, eHealth Initiative, Washington, DC

Fran Carroll
Corporate Compliance and Privacy Officer, Joint Commission on Accreditation of Healthcare Organizations, Oakbrook Terrace, IL

Roy G. Clay III
Compliance Officer, LSU Health Sciences Center, New Orleans, LA

Michael R. Costa, Esq., MPH
Greenberg Traurig, LLP, Boston, MA

Jim Daley
HIPAA Program Director, BlueCross BlueShield of South Carolina, WEDI Board of Directors Executive Committee, Chair, WEDI Information Exchange and Management Committee, Columbia, SC

Andrea S. Danes
Director, Business Development, FOX Systems, Inc., Scottsdale, AZ

Gerald E. DeLoss, Esq.
General Counsel, Fairmont Orthopedics and Sports Medicine, Fairmont, MN

Steve Dodd
Director, Enterprise Accounts, EchoWorx, Toronto, ON, Canada

Judith A. Eisen, Esq.
Partner, Garfunkel, Wild & Travis, PC, Great Neck, NY

Margaret "Peggy" Eisenhauer, CIPP
Founder and Principal, Privacy and Information Management, Services, Margaret P. Eisenhauer, P.C., Atlanta, GA

Jay Eisenstock
eProvider Solutions Lead, Aetna, Chair, CORE Testing Subgroup

David A. Feinberg, CDP
President, Rensis Corporation, Seattle, WA

Steven M. Fleisher, Esq.
Senior Director Corporate Compliance and Privacy, Blue Shield of California, San Francisco, CA

Rachel Foerster
Senior Consultant, Boundary Information Group, Beach Park, IL

David Ginsberg (Invited)
Principal, PrivaPlan, Santa Fe, NM

Marc D. Goldstone, Esq.
Senior Counsel, Tenet Health System, Fort Lauderdale, FL

Marne E. Gordan
Director, Regulatory Affairs, Cybertrust, Herndon, VA

Jody S. Hawkins
Information Security Officer, Children's Medical Center Dallas, Dallas, TX

Barry S. Herrin, CHE, Esq.
Partner, Smith Moore LLP, Atlanta, GA

Thomas E. Jeffry Jr., Esq.
Partner, Davis Wright Tremaine LLP, Los Angeles, CA

Samuel P. Jenkins, CHE
Chief Privacy Officer, TRICARE Management Activity (TMA), Falls Church, VA

Stephanie Jones
Vice President Operations and Chief Audit Officer, Parses, Inc., Tampa, FL

James Jordan III, CIPP
Founder, Jordan Legal Counsel, P.C., Lilburn, GA

Martin Keane, CIPP
Senior Consultant, Risk and Operations, PricewaterhouseCoopers, McLean, VA

Gail S. Kocher (Invited)
Tech Business Analyst, HIPAA Knowledge Center, Highmark, Inc., Camp Hill, PA

Peter Kosmala
Assistant Director, International Association of Privacy Professionals, York, ME

Patrice Kuppe (Invited)
Director of Administrative Simplification, Allina Hospitals and Clinics, Minneapolis, MN

Gwendolyn Lohse
CORE Program Director, Council for Affordable Quality Healthcare, Washington, DC

Bill Luecken
Senior Director of Information Systems (Clinical and Integrative), Metropolitan Jewish Health System, Brooklyn, NY

David V. Marshall, Esq.
Partner, Davis Wright Tremaine LLP, Bellevue, WA

Renee H. Martin, JD, MSN, RN
Attorney, Tsoules, Sweeney and Martin, LLC, Exton, PA

R. Harold (Hal) McCard, Jr., Esq.
Partner, Chaffe McCall LLC, New Orleans, LA

Julie Smith McEwen, CIPP/G, CISSP
Principal Information Privacy and Security Engineer, MITRE Corporation, Columbia, MD

Mark McLaughlin (Invited)
Chair, Workgroup for Electronic Data Interchange, Reston, VA

Dennis Mihale
Chief Executive Officer and Chief Medical Officer, Parses, Inc., Tampa, FL

Kirk Nahra, Esq.
Partner, Wiley, Rein and Fielding, Washington, DC

Uday O. Ali Pabrai, CISSP, CHSS
Chief Executive and Co founder, HIPAA Academy, Newport Beach, CA

T. J. Parks, CIPP
Manager, Security and Privacy Services, Deloitte & Touche LLP, New York, NY

John Phelan, Ph.D.
Technology and Management Consultant, Milliman, Inc., Westlake Village, CA

Ishwar Ramsingh, MBA, CISSP, CISM
Information Security Administrator, University of Miami, Miller School of Medicine, Miami, FL

Nav Ranajee
Vice President of Healthcare Strategy, LaSalle Bank Corp., A Subsidiary of ABN AMRO Services Company, Chicago, IL

George Rathbun
Chief Technology Officer, SAFE-BioPharma Association, Providence, RI

Tom Reeder (Invited)
Acting Benefits Tax Counsel, Office of Tax Policy, Department of the Treasury, Washington, DC

Beth Rubin, Esq.
Of Counsel, Dechert LLP , Philadelphia, PA

Gail Sausser, Esq.
Staff Attorney, Virginia Mason Medical Center, Seattle, WA

Paul T. Smith, Esq.
Partner and Co chair, HIT/HIPAA Task Force, Davis Wright Tremaine LLP, San Francisco, CA

Eric G. Steinhardt
Manager, IS Security, Metropolitan Jewish Health System, Brooklyn, NY

Dan Steinberg
Associate, Booz Allen Hamilton, Inc., McLean, VA

Christina Stephan, MD
Fellow, National Library of Medicine Health Informatics, University of Minnesota, Team Member, Minnesota Health Information Technology Assessment Project (MN-HIT AP), Liberty Alliance Project, Minneapolis, MN

Walter G. Suarez, MD, MPH
President and CEO, Midwest Center for HIPAA Education, Co chair, WEDI SNIP Regional Efforts Workgroup, Co chair, SNIP National Provider Identifier, Member of the National Uniform Claims Committee, Minneapolis, MN

Gary Swindon CISM, CHS-III
Chief Operating Officer, RiskWatch, Inc., Member, CISM Board of Directors for ISACA, Former First Privacy and Security Officer, WebMD, Former Chief Information Security Officer, Orlando Regional Healthcare, Annapolis, MD

Robert M. Tennant
Senior Policy Advisor, Health Informatics, Medical Group Management Association, Washington, DC

Brian Tretick, CIPP
Principal, Ernst & Young, Takoma Park, MD

David Troendle
Assistant Vice Chancellor for Information Technology, LSU Health Sciences Center-New Orleans, New Orleans, LA

Rebecca L. Williams, RN, JD
Partner and Co chair, HIPAA Task Force, Davis Wright Tremaine LLP, Chair, Preemption Sub-workgroup, Workgroup for Electronic Data Interchange, Seattle, WA


CPEHR AND CPHIT TRAINING AND EXAMINATION OFFERED AT HIT SUMMIT:
The HIPAA Summit will offer Health IT Certification, www.HealthITCertification.com, Certified Professional in Electronic Health Records (CPEHR) and Certified Professional in Health Information Technology (CPHIT) training and the CPEHR and CPHIT certification examinations.

CIPP TRAINING AND EXAMINATION OFFERED AT HIPAA SUMMIT:

The HIPAA Summit will offer International Association of Privacy Professional, www.PrivacyAssociation.org, Certified Information Privacy Professional (CIPP) training and the CIPP certification examination.

CISSP EXAMINATIONS OFFERED AT HIPAA SUMMIT:

The HIPAA Summit will offer the Certified Information Systems Security Professional (CISSP(r)) examination.

EXHIBIT & SPONSORSHIP INFORMATION:

For sponsorship and exhibit information contact Joni Lipson, Exhibit Manager, 215-599-6626 phone, 215-545-8107 fax, joni.lipson@rmpinc.com.

REGISTRATION INFORMATION:

For further registration information, go to www.HIPAASummit.com, call 800-684-4549, email registration@hcconferences.com or write:
HIPAA Summit Office
7790 Barberry Ave.
Yucca Valley, CA USA 92284