PRESS RELEASE: Complimentary Subscription to Healthcare IT News

CONTACT
Phone: 207-688-6270
Email: info@medtechpublishing.com
Website: www.medtechpublishing.com


NEW GLOUCESTER, ME USA -- HEALTHCARE UPDATE NEWS SERVICE™ -- NOVEMBER 30, 2006: As an executive in healthcare IT, you are invited to accept a complimentary subscription to Healthcare IT News.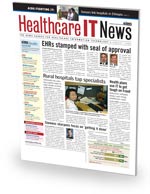 KNOW MORE
We don't just tell you what's happening in healthcare IT-we dig deeper to provide comprehensive coverage of the news and trends that affect your organization.
READ LESS
With the no-nonsense tone of a daily newspaper, Healthcare IT News delivers news and commentary in language that emphasizes what's important and economizes your time.
CLICK NOW
Put the award-winning reporters at Healthcare IT News to work for you. It only takes a few minutes-reserve your FREE subscription today.