7th Annual Quality Summit & Exhibit
Discover New Ways to Focus on Quality

PRESS RELEASE
Contact: Cindy Crawford
Phone: (202) 216-9010
Email: education@urac.org
Website: www.urac.org/education_7thAnnualSummit.asp


WASHINGTON DC, USA -- HEALTHCARE UPDATE NEWS SERVICE(TM) -- AUGUST 30, 2006: Join nationally respected experts and leaders in health care for in-depth discussion, inspiring ideas and solid business solutions that address issues at the forefront of health care today. Key topics to be addressed include:

Consumer Empowerment and Protection
Internet in Consumer Driven Health
Consumer Decision Support Tools in Managing Health
Information Needs for Patient-Centered Care
Privacy and Security in Health Information Exchange
Leadership in Care Management
Effectiveness of Care Management Programs
Promoting Medication Compliance
Legislative Updates in Medical Management
Improving Patient Safety
Best Practices in Quality and Accreditation Initiatives
Quality Gaps in Pharmacy Benefit Management
Informed Decision Making with Outcomes Measures
Quality Improvement Projects
Provider Data Collection
Vicky Gregg
CEO, BlueCross BlueShield of Tennessee
Arnold Milstein, MD
U.S. Health Care Thought Leader, Mercer Health & Benefits
David Simon, MD
Co-founder and Medical Director, The Chopra Center for Well Being
Grace-Marie Turner
President, Galen Institute
Erik Wahl
Founder, The Wahl Group
This dynamic URAC event also includes focused training sessions on URAC Accreditation Standards, an engaging exhibit hall, and valuable networking opportunities with URAC Board and Committee Members and staff, speakers, exhibitors, sponsors, and other attendees.

Early-Bird Registration Rate of $650 has been extendeded through August 31, 2006 -
register online now or call (202) 216-9010.

COMMENTS FROM LAST YEAR'S ATTENDEES:
"Enjoyable conference. Keynote was great!"

"Great conference with excellent speakers."

"Nice location. Great conference. Very knowledgeable presenters!"

"Well prepared speakers and knowledgeable. Excellent facility, food, hospitality."

"The workshops and conference were very informational. Location excellent."

"Thanks for conference - great for networking. Great organization, food, site, etc.; good job."

"Facility was wonderful - including set up of presentation rooms."

"Well organized - great job!"
To view highlights from last year's conference, click here.

FEATURED SPEAKERS:
Joann Albright, PhD, SVP, Quality, Outcomes, & Research, Magellan Health Services
Eytan Alpern, MD, Co-Founder, Advanced Medical Reviews
James Bonk, PhD, Vice President of Clinical Services, NurseWise
Krissy Cusimano, RN, Director of Quality Improvement, NurseWise
Sorin Davis, Chairperson, Credentialing Marketing and Communications Committee, CAQH
Craig Froude, Executive Vice President, WebMD Health Services
Kenneth Gossett, PhD, Senior Quality Manager, Avatar Comp
Pam Hara, RN, Senior Vice President, Quality and Outcomes, Healthways, Inc.
John Jones, R.Ph., JD, VP, Government Affairs and Pharmacy Policy, Prescription Solutions
Neil Krohn, PhD, Sr. Health Information Consultant, WellPoint Behavioral Health
Andrew McClure, Director, Health Care Quality, Blue Cross Blue Shield of Massachusetts
Tracey Moorhead, Executive Director, Disease Management Association of America
Agostino Villani, DC, President/CEO, Triad Healthcare
Richard Weiss, MD, Vice President, MAXIMUS Federal Services, Inc.
EARN CONTINUING EDUCATION CREDITS:

This continuing nursing education activity has been approved for 10.2 contact hours by the Virginia Nurses' Association Continuing Education Approval Committee, an accredited approver by the American Nurses Credentialing Center's Commission on Accreditation.

This program is pending approval for 8.5 hours of continuing education in Certified Case Manager, Certified Professionals in Utilization Management, Certified Professionals in Utilization Review, and Certified Professionals in Healthcare Quality.

HOTEL INFORMATION:

La Costa Resort and Spa
2100 Costa Del Mar Road
Carlsbad, CA 92009
Reservations: (800) 854-5000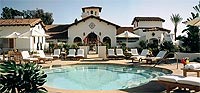 La Costa Resort and Spa is a legendary resort known for it's finest in golf and tennis facilities and world-premier spa, nestled amidst the beautiful coastal climate of Carlsbad, California.

A limited number of guest rooms are available for Summit attendees at a discount rate of $225 per night plus tax and a daily resort fee of $16. To make reservations, please contact the hotel before Friday, August 11, 2006 and request the URAC Group Rate.

EXHIBITING AND SPONSORSHIP OPPORTUNITIES:

The URAC 7th Annual Quality Summit and Exhibit offers a wide variety of exhibiting and sponsorship opportunities, suitable for all organizations and budgets. Becoming a conference sponsor or exhibitor is a great way to highlight your organization's commitment to promoting health quality. For detailed information on exhibiting and sponsorship opportunities, view the Exhibitor Prospectus or to discuss opportunities, including customized options, please contact exhibiting@urac.org or call (514) 524-2062.