Press Release: Join Us for the Center for Healthcare Management's 8th Global Business Forum in Paris

PRESS RELEASE
Contact: Prof. Dr. Katharina Janus
Email: janus@centerforhealthcaremanagement.org
Website: http://centerforhealthcaremanagement.org/
WASHINGTON, DC USA -- HEALTHCARE UPDATE NEWS SERVICE™ -- JULY 2, 2019: We invite you to join us for the Center's 8th Business Forum "Money and people -- the currencies of healthcare" to be held on September 11-13, 2019 (for more information: https://centerforhealthcaremanagement.org/#section-eightth-forum) at the Columbia University Global Center in Paris.

The Forum is designed for global executives in healthcare business and strategy to discuss the latest developments, challenges and opportunities shaping the industry. Working hand-in-hand with leading thinkers from around the world, the event provides attendees with an ideal forum for personal connections as well as rigorous analysis and foresight.

This year we will dedicate one entire day to "people" and healthcare professionals in particular and one day to "money" and finance in general.


TOPICS ON DAY ONE RELATE TO MANAGING PEOPLE, CULTURE AND TECHNOLOGY IN HEALTHCARE:
Culture eats strategy for lunch every day -- the art and science of sustainable healthcare innovation
Innovation Deep Dive: Cultural Sensitivity in an international context -- the rule changer for drugs, devices and other innovations
"From weed to medicine: how medical cannabis is shifting paradigms in medicine"
How can design thinking provide an approach to translate trends into practice? Human Centered Design in an Integrated System. The case of Kaiser Permanente.
What will the future shape of the healthcare workforce look like? How will roles & responsibilities change?
What's the continued impact of health information technology and artificial intelligence on healthcare organizations and employee engagement?
Storm the brain before dinner: Teleconsultation as a future approach to care provision.
TOPICS ON DAY TWO RELATE TO MANAGING FINANCE, CULTURE AND ASSETS IN HEALTHCARE:
Trends in healthcare market investments
Are ventures in healthcare the adventures of the future patient? The rising share of private equity in US medical groups and its impact on patient care
Is private equity driving managerial decision-making?
How will start-up investment strategies influence the ecosystem of healthcare provision?
Once invested can we streamline process & drive excellence in healthcare? How organizational culture responds.
Lean management and six sigma strategies in the daily life of healthcare -- the case of professional culture.
Again: does culture eat strategy for lunch every day? Why the perception of performance and the acceptance of compliance technology depend on national cultures and historical confidence.
Money flows where incentives are high-powered and transparency is low. Are we paying for better care or carefully designed management tools?
How can we learn cross-nationally in order to design a sustainable financial structure of a future healthcare system?
Listening to the market: What are trends in market access, finance and drug pricing and how does policy impact implementation strategies?
Innovation Deep Dive: Social innovation -- towards a new financial model in healthcare.
Please check out details (https://centerforhealthcaremanagement.org/8th-forum-agenda/) and let us know if you'd like to join as an individual or with colleagues from your organization. As healthcare paradigms are shifting new strategies and players are entering the market. Be prepared!

The Forum -- now in its 8th year -- has been conceived to help the world's top healthcare executives seize the moment. Previous participants rave about the interactive, content-rich and personal experience: https://goo.gl/t3f4H7

Executives are invited personally and represent all stakeholder perspectives. The total number of participants is limited to ensure effective networking and matchmaking opportunities in a confidential setting. About 50% of participants join us from the U.S., 40% from Europe and about 10% from Asia and the Middle East.

This is not a classical conference as previous participants point out: https://centerforhealthcaremanagement.org/#section-testimonialshappy-clients-of-the-forum. It is a unique space for interaction of a range of different people from around the world who reconnect after the meeting and on an ongoing basis because the discussions they had at our forum lifted topics to a higher level. It is also the collegial environment and the ability to think freely that makes this forum different. At our forums we are "thinking together to reap results". Please read about our past forums (https://centerforhealthcaremanagement.org/#section-forums) and contact us if you would like to join us and other speakers and partners (https://centerforhealthcaremanagement.org/8th-forum-featured-faculty/) and take advantage of our sponsoring opportunities (https://centerforhealthcaremanagement.org/sponsoring-opportunities/):
SPONSORS: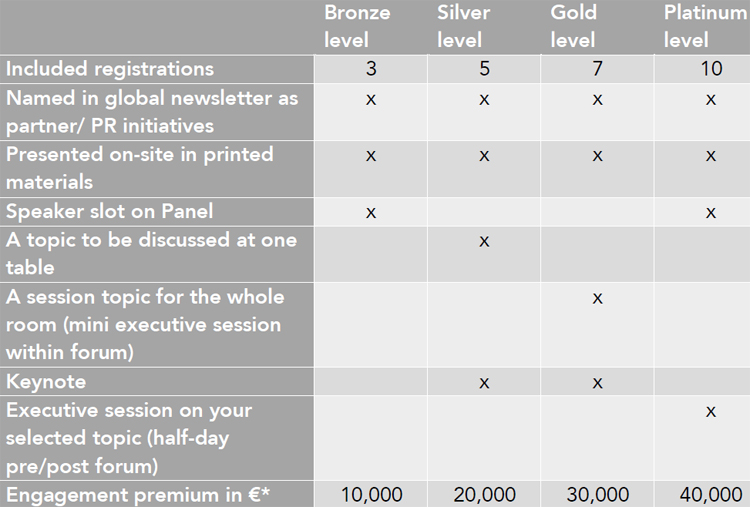 * all net and subject to VAT depending on sponsor's incorporation
Please note that one half-day executive session is already taken and there is only one left for a potential sponsor.
Why should you become a sponsor of the Forum?
Get access to our global network of leading executives
Align your brand with most prestigious ivy league institutions
Showcase your knowledge and organization
Meet with potential clients one-on-one in a confidential setting
We are looking forward to talking with you about how we can put a package together that meets your needs & exceeds your expectations. If a partnership is not feasible for you at the moment, come and join us as an individual to get a taste of our forum.

Space is limited and participation by invitation only. You may contact us directly at info@centerforhealthcaremanagement.org to request your personal registration. Early-bird registration including meals and materials is €995 until July 21. Attend the 8th Forum with your organization to identify new trends and incorporate them into future products and strategies necessary for success in a market of shifting US and EU priorities.

Please stay tuned for any updates @HCMatColumbia and @katharinajanus!
YOUR PERSONAL CONTACT:
YOUR INDIVIDUAL FORUM/EXECUTIVE ROUNDTABLE FORUMS -- GET A TASTE OF OUR APPROACH:
Can't wait for the Center's next Forum? We'll come to your premises or pick a global location and design an executive roundtable forum for you, using our unique approach and methodology. Our in-house forums allow us to focus on specific issues related to your organization and explore current examples from your work environment. Contact us to commission your own executive roundtable forum.