Press Release: Register Today for Live Webinar June 19
CMM Practice in Real Time: Clinical Pharmacy Specialists on the VA Care Team

June 19, 2019 | 1:00 - 2:00 pm EST
PRESS RELEASE
Contact: Sandy Mau
Get the Medications Right Institute
Phone: (703) 394-5395
Email: smau@health2resources.com
Website: http://www.gtmr.org/
VIENNA, VA USA -- HEALTHCARE UPDATE NEWS SERVICE™ -- JUNE 10, 2019: Comprehensive medication management is a team sport, with the potential to improve patient care and access while optimizing the skills of all clinicians on the team. The Veterans Health Administration has systematically integrated clinical pharmacy specialists into the care team to accomplish CMM for a range of chronic conditions. In this webinar, we'll explore the practice model and outcomes of CMM integration, as well as the tools that support the team.
---

---

275,000 Lives Lost and a $528 Billion Price Tag
Issue Brief available from April webinar on
The $528B Opportunity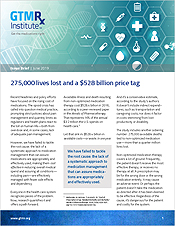 Avoidable illness and death resulting from non-optimized medication therapy cost $528.4 billion in 2016, according to a peer-reviewed paper in the Annals of Pharmacotherapy. That represents 16% of the annual $3.2 trillion the U.S. spends on health care. This issue brief from Health2 Resources explores the research behind the figures and discusses the promise of comprehensive medication management as a systematic approach that can assure medications are appropriately and effectively used–making them both cost effective and assuring that all conditions are effectively managed with fewer side effects.

Featuring the voices of Terry McInnis, MD, MPH, president and co-founder, Get the Medications Right Institute and Foundation; president, founder, Blue Thorn Inc.; and Jonathan H. Watanabe, Pharm.D., M.S., Ph.D. BCGP, associate professor of clinical pharmacy, Skaggs School of Pharmacy and Pharmaceutical Sciences, University of California, San Diego.
---
Recording and slides available for
Acting on the $528B Opportunity:
Training to Advance Comprehensive Medication Management in Practice
Comprehensive medication management (CMM) is recommended as a solution to the problem of non-optimized medication use. This systematic approach to medications is a means to significantly improve clinical outcomes and reduce overall health care costs for high-risk patients. This webinar will delve into the need for CMM and implications for pharmacy education and training, as well as how CMM is integrated into team-based care models.



---




ABOUT THE GTMRx INSTITUTE

The GTMRx Institute™ is a catalyst for change that brings critical stakeholders together, bound by the urgent need to get the medications right. We are physicians, pharmacists, health IT innovators, drug and diagnostic companies, consumer groups, employers, payers and health systems -- aligned to save lives and save money through comprehensive medication management, or CMM. By showcasing evidence and innovation, we motivate practice transformation and push payment and policy reform. Together, we ACT to champion appropriate, effective, safe and precise use of medication and gene therapies. Learn more at gtmr.org.

Follow, friend and connect with us!