Press Release: Telehealth & Remote Patient Monitoring: Program Benchmarks and Metrics
PRESS RELEASE
Contact: Melanie Matthews
Phone: (888) 446-3530
Email: mmatthews@hin.com
Website: http://store.hin.com/product.asp?itemid=5287
SEA GIRT, NJ USA -- HEALTHCARE UPDATE NEWS SERVICE™ -- JANUARY 15, 2019: Artificial intelligence. Automation. Blockchain. Robotics. Once the domain of science fiction, these telehealth technologies have begun to transform the fabric of healthcare delivery systems.
As further proof of telehealth's explosive growth, the use of wearable health-tracking devices and remote patient monitoring has proliferated, and the Centers for Medicare and Medicaid Services (CMS) added several new provider telehealth billing codes for calendar year 2018.

2018 Healthcare Benchmarks: Telehealth and Remote Patient Monitoring delivers the latest actionable telehealth and remote patient monitoring metrics on tools, applications, challenges, successes and ROI from healthcare organizations across the care spectrum. This 60-page report, now in its fifth edition, documents benchmarks on current and planned telehealth and remote patient monitoring initiatives as well as the use of emerging technologies in the healthcare space.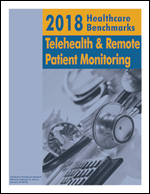 For more information or to order your copy, please visit: http://store.hin.com/product.asp?itemid=5287
This exclusive report analyzes responses to HIN's fifth comprehensive industry survey on Telehealth & Remote Patient Monitoring. This expanded analysis is highlighted with more than 40 easy-to-follow graphs and tables.
NEW IN THE 2018 EDITION:
Utilization of telehealth and patient monitoring technologies, including electronic health record (EHR) integration, patient portals, artificial intelligence (AI), robotics, blockchain and more;
New population targets for telehealth, including hospital ICU patients, newly discharged patients, and residents of remote areas;
A deeper dive into applications for healthcare 'wearables' (fitness trackers, smart clothing, etc.), including diagnostics, chronic care management, health coaching and more;
Analysis of the provision or discounting of healthcare wearables and other remote devices by payors or providers for population health purposes;
Trends in funding and reimbursement of telehealth initiatives;
Prevalence of telehealth initiatives for dermatology, substance abuse and falls reduction;
Telehealth development strategies, including use of third-party vendors;
Added insight into telehealth challenges, including regulatory concerns, cybersecurity and interoperability;
Respondent perspectives on impact of the recent FCC ruling on net neutrality on telehealth and remote patient monitoring;
and much more.
Additionally, 2018 Healthcare Benchmarks: Telehealth & Remote Patient Monitoring takes a fifth comprehensive look at the following metrics:
Current and planned telehealth and remote patient monitoring programs;
Populations and clinical conditions targeted by telehealth initiatives;
Most frequently employed clinical applications, devices and technologies;
The latest in funding and ROI for telehealth and telemedicine;
Telehealth technologies available to employees, patients and health plan members;
Patient monitoring devices connected to telehealth initiatives, including scales, wearables and medication compliance monitors;
Projected 2018 Medicare billing trends;
Telehealth impact on quality and utilization metrics, including healthcare access, medication adherence, patient satisfaction, hospital readmissions, hospital length of stay, and much more;
The most successful applications of telehealth;
Sector-specific analysis of telehealth and remote patient monitoring trends;
Challenges, benefits and barriers related to the use of telehealth and monitoring;
The complete 2018 Telehealth & Remote Patient Monitoring survey tool;
and much more.
As the outlook for telehealth grows more favorable, organizations wishing to invest in telehealth and remote patient monitoring can profit from peers' experiences and feedback presented in this resource.

Order your copy today online: http://store.hin.com/product.asp?itemid=5287

If you are already a Healthcare Benchmark series member, then this report is FREE for you.

AVAILABLE IN SINGLE OR MULTI-USER LICENSES:

A multi-user license will provide you with the right to install and use this information on your company's computer network for an unlimited number of additional workstations within your organization for a one-time fee. To have this valuable resource on your network, or to inquire about ordering bulk copies in print or Adobe PDF, please e-mail sales@hin.com or call 888-446-3530.

YOU MAY ALSO BE INTERESTED IN THESE TELEHEALTH AND REMOTE PATIENT MONITORING RESOURCES: ABOUT THE HEALTHCARE INTELLIGENCE NETWORK:

HIN is the premier advisory service for executives seeking high-quality strategic information on the business of healthcare. For more information, contact the Healthcare Intelligence Network, PO Box 1442, Wall Township, NJ 07719-1442, (888) 446-3530, e-mail info@hin.com, or visit http://www.hin.com.