Press Release: Post-Acute Care: Program Benchmarks and Metrics
PRESS RELEASE
Contact: Melanie Matthews
Phone: (888) 446-3530
Email: mmatthews@hin.com
Website: http://store.hin.com/product.asp?itemid=5315
SEA GIRT, NJ USA -- HEALTHCARE UPDATE NEWS SERVICE™ -- JANUARY 25, 2019: Value-based healthcare payment models, such as clinical integration, shared savings, bundled payments, shared risk and full capitation, as well as the need to coordinate care across the acute and post-acute care (PAC) continuum, are reshaping the PAC landscape.
With Medicare readmission penalties for skilled nursing facilities now in play, PAC providers are continuing to examine strategies for improving care quality and reducing costs.

2018 Healthcare Benchmarks: Post-Acute Care is the second comprehensive analysis of the PAC market by the Healthcare Intelligence Network, capturing such key metrics as PAC initiatives, strategies, challenges, tools used to manage PAC, results and ROI.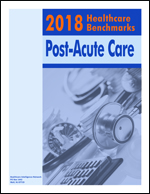 For more information or to order your copy today: http://store.hin.com/product.asp?itemid=5315
New in this edition is data on the types of value-based reimbursement models in which PAC facilities participate; home visits at discharge and/or bundled payment contracts to improve PAC; the role of dashboards in PAC quality improvement; and the use of CMS' Skilled-Nursing Facility Quality Reporting Program confidential feedback/quality measurement reports.

This 40-page resource analyzes responses to HIN's second comprehensive industry survey on PAC trends administered in May 2018. This all-new research report drills down to explore PAC initiatives, experience, program performance and more key metrics and is supported with more than 35 graphs and tables.
2018 HEALTHCARE BENCHMARKS: POST-ACUTE CARE PROVIDES A SNAPSHOT OF THE PAC MARKET EFFORTS TO IMPROVE CARE QUALITY AND REDUCE COSTS:
The prevalence of programs aimed at improving quality and reducing costs of PAC;
Strategies to improve PAC and reduce cost;
PAC facilities receiving the greatest number of patients post-hospital discharge;
The most challenging conditions to manage in the PAC setting;
Tools used to improve PAC delivery;
Value-based payment models and PAC facilities;
Primary responsibility for PAC coordination;
Use of CMS' Skilled-Nursing Facility Quality Reporting Program confidential feedback/quality measurement reports;
Greatest challenges in administering PAC services;
Effective tools, workflows and/or protocols for improving PAC care and reducing PAC cost;
The greatest successes achieved by efforts to improve PAC;
The impact of PAC initiatives on quality and utilization measures;
ROI of PAC initiatives;
How organization are preparing for increased CMS scrutiny of 30-Day SNF readmission rates this year;
The complete 2018 Post-Acute Care survey tool;
and much more.
This benchmarks report is designed to meet business and planning needs of health systems, health plans, managed care organizations, skilled nursing and long-term care facilities, home health agencies and others by providing critical metrics on PAC.

Order your copy today online: http://store.hin.com/product.asp?itemid=5315

If you are already a Healthcare Benchmark series member, then this report is FREE for you.

AVAILABLE IN SINGLE OR MULTI-USER LICENSES:

A multi-user license will provide you with the right to install and use this information on your company's computer network for an unlimited number of additional workstations within your organization for a one-time fee. To have this valuable resource on your network, or to inquire about ordering bulk copies in print or Adobe PDF, please e-mail sales@hin.com or call 888-446-3530.

YOU MAY ALSO BE INTERESTED IN THESE POST-ACUTE CARE RESOURCES: ABOUT THE HEALTHCARE INTELLIGENCE NETWORK:

HIN is the premier advisory service for executives seeking high-quality strategic information on the business of healthcare. For more information, contact the Healthcare Intelligence Network, PO Box 1442, Wall Township, NJ 07719-1442, (888) 446-3530, e-mail info@hin.com, or visit http://www.hin.com.