Press Release: Healthcare Benchmarks and Metrics: Health Coaching
PRESS RELEASE
Contact: Melanie Matthews
Phone: (888) 446-3530
Email: mmatthews@hin.com
Website: http://store.hin.com/product.asp?itemid=5297
SEA GIRT, NJ USA -- HEALTHCARE UPDATE NEWS SERVICE™ -- MARCH 12, 2019: In the face of rising healthcare costs and increasing accountability for population health and quality outcomes, healthcare organizations are recruiting health coaches to facilitate actionable, sustainable health behavior change in rising and high-risk populations, across a continuum of delivery platforms.
2018 Healthcare Benchmarks: Health Coaching is the sixth comprehensive analysis of the health coaching arena by the Healthcare Intelligence Network, capturing key metrics such as populations, health conditions and health risk levels targeted by health coaching programs; risk stratification criteria; prevalence of embedded coaching within care sites; coaching tools and incentives as well as program outcomes and ROI from responding healthcare organizations.

For more information or to download your copy today, please visit: http://store.hin.com/product.asp?itemid=5297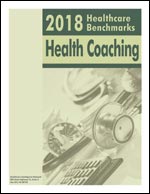 New in this edition is data on the role of health coaching in addressing social determinants of health (SDOH) and rising rates of substance abuse and addiction. Respondents also weigh in on the most effective coaching tools and workflows and future coaching enhancements.
This 50-page resource analyzes responses to HIN's sixth comprehensive industry survey on health coaching trends administered in February 2018. This all-new research report drills down to explore health coaching case loads, experience, certification, performance measurement (individual and program) and more key metrics and is supported with more than 50 graphs and tables.
New metrics for 2018:
Targeting of social determinants of health and addiction and substance abuse by health coaching programs;
Prevalence of self-referral to health coaching programs;
Pre-recorded video as health coaching modality;
Linking of clients to community services as health coaching duty;
Health conditions and concerns most responsive to health coaching; and
Impact of patient-facing technologies employed by health coaches, such as digital fitness trackers, on patient engagement.
2018 Healthcare Benchmarks: Health Coaching provides a snapshot of industry coaching trends but also drills down to sector-specific coaching activity from key stakeholders in the following areas:
Availability of current and planned health coaching programs;
Services provided by coaching programs;
Populations assigned to health coaches;
Health risk levels eligible for health coaching;
Coaching stratification methods;
Health conditions or concerns targeted by coaching and conditions most responsive to health coaching;
Trends in embedding or co-location of health coaches at points of care and key care sites;
Health coach duties;
Coaching delivery modalities, including the availability of virtual coaching visits;
Preferred coaching tools and other effective workflows;
The use of incentives and penalties with coaching candidates;
Coaching caseloads, education and preferred accreditations;
Success measurement tools to evaluate coaches, coaching participants, and coaching programs;
Greatest challenges and successes from health coaching initiatives;
The complete 2018 Health Coaching survey tool;
and much more.
This benchmarks report is designed to meet business and planning needs of health plans, employers, managed care organizations, health systems, service providers and others by providing critical metrics in health coaching.

Download your copy today online: http://store.hin.com/product.asp?itemid=5297

If you are already a Healthcare Benchmark series member, then this report is FREE for you.

AVAILABLE IN SINGLE OR MULTI-USER LICENSES:

A multi-user license will provide you with the right to install and use this information on your company's computer network for an unlimited number of additional workstations within your organization for a one-time fee. To have this valuable resource on your network, or to inquire about ordering bulk copies in print or Adobe PDF, please e-mail sales@hin.com or call 888-446-3530.

YOU MAY ALSO BE INTERESTED IN THESE HEALTH COACHING RESOURCES: ABOUT THE HEALTHCARE INTELLIGENCE NETWORK:

HIN is the premier advisory service for executives seeking high-quality strategic information on the business of healthcare. For more information, contact the Healthcare Intelligence Network, PO Box 1442, Wall Township, NJ 07719-1442, (888) 446-3530, e-mail info@hin.com, or visit http://www.hin.com.