Press Release: Telephonic and Community-Based Care Coordination Model: An Early Engagement Approach for Medicaid Managed Care
PRESS RELEASE
Contact: Melanie Matthews
Phone: (888) 446-3530
Email: mmatthews@hin.com
Website: http://store.hin.com/product.asp?itemid=5314
SEA GIRT, NJ USA -- HEALTHCARE UPDATE NEWS SERVICE™ -- MARCH 20, 2019: When the Wisconsin Medicaid managed care program was expanded to include members who had traditionally opted out of the program, the HMOs that were going to serve these members had to optimize their member engagement strategies.
Independent Care Plan (iCare), one of the HMOs selected as a Medicaid plan, identified early member engagement after enrollment as a key to success for the program.

Telephonic and Community-Based Care Coordination Model: An Early Engagement Approach for Medicaid Managed Care outlines how iCare has structured its care coordination team, including both telephonic and boots on the ground staff to find, engage and assess Medicaid members.

For more information or to order your copy today, please visit: http://store.hin.com/product.asp?itemid=5314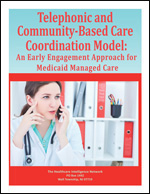 In this 25-page resource, Lisa Holden, vice president of accountable care, iCare, shares the key elements of its care coordination model that has allowed it to achieve a 90 percent health risk assessment completion rate within 60 days of enrollment.
Ms. Holden covers the following topics in this report:
The timing of iCare's early engagement effort by its telephonic care coordinators and the goal for this initial contact;
A 13-point protocol for care coordinators to locate hard-to-find Medicaid managed care members and details on how iCare holds the care coordinators accountable for this protocol;
The role of health coaches within the community in helping to locate Medicaid managed care members and connecting them with needed social support services;
How the care coordinators help Medicaid members overcome barriers to care;
Seven rising risk/acuity identification tools;
Readmission prevention initiatives for high-risk patients;
Three programs aimed at reducing high emergency department utilization;
Details on a Follow-to-Home program for members who are homeless;
and much, much more.
Order your copy today online: http://store.hin.com/product.asp?itemid=5314

If you are already a member of the Healthcare Intelligence Network Case Study series, then this report is FREE for you: http://store.hin.com/product.asp?itemid=5079

AVAILABLE IN SINGLE OR MULTI-USER LICENSES:

A multi-user license will provide you with the right to install and use this information on your company's computer network for an unlimited number of additional workstations within your organization for a one-time fee. To have this valuable resource on your network, or to inquire about ordering bulk copies in print or Adobe PDF, please e-mail sales@hin.com or call 888-446-3530.

YOU MAY ALSO BE INTERESTED IN THESE CARE COORDINATION RESOURCES: ABOUT THE HEALTHCARE INTELLIGENCE NETWORK:

HIN is the premier advisory service for executives seeking high-quality strategic information on the business of healthcare. For more information, contact the Healthcare Intelligence Network, PO Box 1442, Wall Township, NJ 07719-1442, (888) 446-3530, e-mail info@hin.com, or visit http://www.hin.com.