Press Release: 2019 Benchmarks and Metrics for Reducing Avoidable Healthcare Utilization
PRESS RELEASE
Contact: Melanie Matthews
Phone: (888) 446-3530
Email: mmatthews@hin.com
Website: http://store.hin.com/product.asp?itemid=5318
SEA GIRT, NJ USA -- READMISSIONS UPDATE NEWS SERVICE™ -- APRIL 16, 2019: Medicaid expansion programs, newly covered individuals under healthcare insurance exchanges, the rise of big data, and shifts in healthcare delivery models have influenced emergency department and hospital utilization.
2019 Healthcare Benchmarks: Reducing Avoidable Healthcare Utilization is a comprehensive analysis by the Healthcare Intelligence Network of how healthcare organizations define and address avoidable healthcare utilization.

For more information or to order your copy today, please visit: http://store.hin.com/product.asp?itemid=5318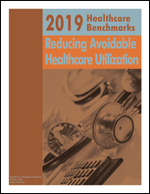 The report captures key actionable metrics on reducing avoidable healthcare utilization initiatives, challenges, case studies and innovative programming.

This 40-page resource analyzes responses to HIN's first comprehensive industry survey on reducing avoidable healthcare utilization administered in the fall of 2018. This all-new research report drills down to explore targeted areas of focus, the impact of the Affordable Care Act on healthcare utilization, future program initiatives, the role of big data analytics in reducing avoidable healthcare utilization and the impact of various healthcare initiatives on clinical and financial measures, including hospitalizations, readmissions, emergency room visits and length of stay.

This benchmarks report is designed to meet business and planning needs of hospitals and health systems, health plans, employers, managed care organizations, service providers and others by providing critical metrics on reducing avoidable healthcare utilization.

Order your copy today online: http://store.hin.com/product.asp?itemid=5318

AVAILABLE IN SINGLE OR MULTI-USER LICENSES:

A multi-user license will provide you with the right to install and use this information on your company's computer network for an unlimited number of additional workstations within your organization for a one-time fee. To have this valuable resource on your network, or to inquire about ordering bulk copies in print or Adobe PDF, please e-mail sales@hin.com or call 888-446-3530.

YOU MAY ALSO BE INTERESTED IN THESE RESOURCES: ABOUT THE HEALTHCARE INTELLIGENCE NETWORK:

About the Healthcare Intelligence Network ? HIN is the premier advisory service for executives seeking high-quality strategic information on the business of healthcare. For more information, contact the Healthcare Intelligence Network, PO Box 1442, Wall Township, NJ 07719-1442, (888) 446-3530, e-mail info@hin.com, or visit http://www.hin.com.