Press Release: Leveraging Pharmacists to Reduce Cost and Improve Medication Adherence in High-Risk Populations
PRESS RELEASE
Contact: Melanie Matthews
Phone: (888) 446-3530
Email: mmatthews@hin.com
Website: http://store.hin.com/product.asp?itemid=5229
SEA GIRT, NJ USA -- HEALTHCARE UPDATE NEWS SERVICE™ -- MAY 7, 2019: When it comes to medication management for Medicare beneficiaries, there are more than 25 different factors that can complicate proper use of prescribed medicines--from affordability issues, even among the insured, to fear of a drug's side effects to potential dangers from high-risk medications or health conditions.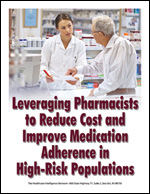 Leveraging Pharmacists to Reduce Cost and Improve Medication Adherence in High-Risk Populations examines Novant Health's deployment of pharmacists as part of its five-pronged strategy to deliver healthcare value through medication management services.
For more information or to order your copy today, please visit http://store.hin.com/product.asp?itemid=5229
In this 25-page resource, Rebecca Bean, Novant Health's director of population health pharmacy, outlines the risk-stratification process of newly discharged patients that flags high-risk individuals for a pharmacist referral. Ms. Bean also details how the integrated health system layers its pharmacists as an additional resource to improve quality performance in both the inpatient and outpatient arenas.
Throughout Leveraging Pharmacists to Reduce Cost and Improve Medication Adherence in High-Risk Populations, Ms. Bean provides details on the following:
Novant Health's motivation for enlisting pharmacists to reduce the number of adverse drug events (ADEs) in the Medicare population;
Patients' high-risk red flags that trigger a pharmacist referral;
Seven ways Novant Health pharmacists impact comprehensive medication management services;
The dozen benefits of incorporating pharmacists into its patient-centered medical homes (PCMH);
Strategies to improve the accuracy of medication management lists;
Thirteen critical program success factors;
Novant Health's early financial gains from pharmacist interventions, particularly in the areas of medication reconciliation, therapeutic monitoring and warfarin review;
Future plans for the health system's medication management model;
and much more.
Order your copy today online: http://store.hin.com/product.asp?itemid=5229

AVAILABLE IN SINGLE OR MULTI-USER LICENSES:

A multi-user license will provide you with the right to install and use this information on your company's computer network for an unlimited number of additional workstations within your organization for a one-time fee. To have this valuable resource on your network, or to inquire about ordering bulk copies in print or Adobe PDF, please e-mail sales@hin.com or call 888-446-3530.

YOU MAY ALSO BE INTERESTED IN THESE RESOURCES FROM HIN: ABOUT THE HEALTHCARE INTELLIGENCE NETWORK:

HIN is the premier advisory service for executives seeking high-quality strategic information on the business of healthcare. For more information, contact the Healthcare Intelligence Network, PO Box 1442, Wall Township, NJ 07719-1442, (888) 446-3530, e-mail info@hin.com, or visit http://www.hin.com.