Press Release: 2019 Healthcare Benchmarks: Care Coordination
PRESS RELEASE
Contact: Melanie Matthews
Phone: (888) 446-3530
Email: mmatthews@hin.com
Website: http://store.hin.com/product.asp?itemid=5322
SEA GIRT, NJ USA -- HEALTHCARE UPDATE NEWS SERVICE™ -- JULY 11, 2019: The release of the Centers for Medicare and Medicaid Services' care coordination toolkit provides further evidence that care coordination is an integral part of the current healthcare delivery landscape. Whether part of the primary care office, emergency department or health plan, care coordinators are having a positive impact on both the clinical and financial outcomes for healthcare organizations.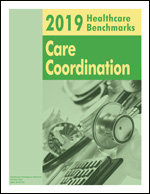 2019 Healthcare Benchmarks: Care Coordination is a comprehensive analysis by the Healthcare Intelligence Network of care coordination settings, strategies, targeted populations, supporting technologies, results and ROI, based on responses from over 75 healthcare organizations to the May 2019 Care Coordination survey.
For more information or to order your copy today, please visit: http://store.hin.com/product.asp?itemid=5322
Breaking down findings by high-responding industry sectors, this report includes the following data points:
Status of current and planned care coordination programs to improve healthcare delivery and outcomes and enhance the patient experience;
Settings in which care coordination occurs;
Approaches built into care coordination efforts, from team-based care to medication management;
Common care coordination activities, including plans of care, home visits, community resource links and many others;
The most effective care coordination activity;
Members and responsibilities of the care coordination team;
Health professional with primary care coordination responsibility;
Populations targeted for care coordination;
Clinical conditions targeted for care coordination;
The most challenging conditions for which to coordinate care;
Tools to identify and risk-stratify individuals for care coordination;
Frequency of patient visits for care coordination;
Modes of care coordination (e.g. face-to-face, telephonic, virtual, etc.);
Care coordination team communication channels;
Average monthly caseloads for care coordinators;
Health technology devices connected to care coordination programs;
Reimbursement trends for care coordination, including a look at prevalence and payment structure;
Most significant challenges of care coordination;
Most effective care coordination tools, workflows and protocols;
Greatest successes achieved by care coordination programs;
Care coordination impact on clinical outcomes, quality of care, patient and provider engagement, value-based reimbursement and other key healthcare metrics;
ROI from care coordination;
Leading edge technologies that will drive improvements in care coordination;
The complete May 2019 Care Coordination survey tool;
and much more.
Order your copy today online: http://store.hin.com/product.asp?itemid=5322

If you are already a Healthcare Benchmark series member, then this report is FREE for you.

AVAILABLE IN SINGLE OR MULTI-USER LICENSES:

A multi-user license will provide you with the right to install and use this information on your company's computer network for an unlimited number of additional workstations within your organization for a one-time fee. To have this valuable resource on your network, or to inquire about ordering bulk copies in print or Adobe PDF, please e-mail sales@hin.com or call 888-446-3530.

YOU MAY ALSO BE INTERESTED IN THESE CARE COORDINATION RESOURCES: ABOUT THE HEALTHCARE INTELLIGENCE NETWORK:

HIN is the premier advisory service for executives seeking high-quality strategic information on the business of healthcare. For more information, contact the Healthcare Intelligence Network, PO Box 1442, Wall Township, NJ 07719-1442, (888) 446-3530, e-mail info@hin.com, or visit http://www.hin.com.