Press Release: 2019 Healthcare Benchmarks: Patient Engagement
PRESS RELEASE
Contact: Melanie Matthews
Phone: (888) 446-3530
Email: mmatthews@hin.com
Website: http://store.hin.com/product.asp?itemid=5327
SEA GIRT, NJ USA -- HEALTHCARE UPDATE NEWS SERVICE™ -- NOVEMBER 7, 2019: The perennial challenge for healthcare organizations as they continue to develop and refine programs aimed at improving healthcare quality while reducing costs is engaging patients in these initiatives. Actively engaged patients have been shown to have lower costs and improved outcomes.
In fact, a recent study released by Humana on its wellness rewards program, Go365®, found that high-engaged members had lower healthcare cost increases than members with low or medium engagement. These highly engaged members paid a per member per month average of 22 percent less in healthcare than low-engaged members, had 35 percent fewer emergency room visits and 30 percent fewer hospital admissions than low-engaged members and had 11 percent more preventive doctor's office visits than low-engaged members.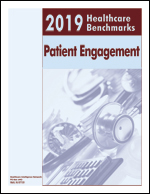 2019 Healthcare Benchmarks: Patient Engagement is the third comprehensive analysis by the Healthcare Intelligence Network of programs aimed at improving patient engagement, including how patients are identified for patient engagement interventions, populations presenting the most significant challenges, program components and results and ROI, based on responses from over 50 healthcare organizations to the October 2019 patient engagement survey.
For more information or to reserve your copy today, please visit: http://store.hin.com/product.asp?itemid=5327
This 40-page report assembles hundreds of metrics on patient engagement initiatives, as implemented by hospitals, health systems, health plans, disease management, case management and other organization types.

Breaking down findings by high-responding industry sectors, this report includes the following data points:
Status of current and planned patient engagement initiatives;
Identification/risk-stratification strategies to identify individuals for patient engagement interventions;
Populations presenting the most significant patient engagement challenges;
Health conditions presenting the most significant patient engagement challenges;
Patient engagement program components;
The most effective components of patient engagement programs;
Health professionals with primary responsibility for patient engagement;
Technologies used in patient engagement programs;
How technologies are used to engage patients;
Effective processes, tools and/or workflows;
Measures used to evaluate patient engagement program success;
ROI for patient engagement initiatives;
Barriers to patient engagement success;
Administrative challenges to patient engagement;
The impact of patient engagement programs on clinical outcomes, quality of care, patient satisfaction/experience, value-based reimbursement, care plan adherence and other key healthcare metrics;
The greatest patient engagement successes;
The complete October 2019 patient engagement survey tool;
and much more.
This benchmark report is designed to meet the business and planning needs of health plans, hospitals, health systems, physician organizations, managed care organizations, population health management and case management companies, and others by providing critical benchmarks on patient engagement initiatives.

Reserve your copy today online: http://store.hin.com/product.asp?itemid=5327

If you are already a Healthcare Benchmark series member, then this report is FREE for you.

AVAILABLE IN SINGLE OR MULTI-USER LICENSES:

A multi-user license will provide you with the right to install and use this information on your company's computer network for an unlimited number of additional workstations within your organization for a one-time fee. To have this valuable resource on your network, or to inquire about ordering bulk copies in print or Adobe PDF, please e-mail info@hin.com or call 888-446-3530.

YOU MAY ALSO BE INTERESTED IN THESE PATIENT ENGAGEMENT RESOURCES: ABOUT THE HEALTHCARE INTELLIGENCE NETWORK:

HIN is the premier advisory service for executives seeking high-quality strategic information on the business of healthcare. For more information, contact the Healthcare Intelligence Network, PO Box 1442, Wall Township, NJ 07719-1442, (888) 446-3530, e-mail info@hin.com, or visit http://www.hin.com.