Introducing the HealthQuest Online Directory Database Subscription from MCOL
Finally! A Searchable, Exportable Highly Targeted Online Managed
Care Database
PRESS RELEASE
Phone: (209) 577-4888
Email: mcare@mcol.com
Website: https://healthexecstore.com/products/healthquest-online-directory-database-subscription
MODESTO, CA USA -- HEALTHCARE UPDATE NEWS SERVICE™ -- AUGUST 2, 2019: 13,000+ employees and 1,900+ organizations in database compiled from four MCOL HealthQuest Directories: National Managed Care Leadership; Accountable Care; Medicaid Managed Care; and Medicare Managed Care.

Subscribe now for powerful highly targeted managed care company and employee searches and exports:
Get 24/7 access anywhere online to constantly updated database
Export data into spreadsheet compatible files anytime
Detailed ACO, Medicaid & Medicare summary company data
Company & Employee contact information, including direct phone & email when available
Annual subscriptions $1,495. Site licenses also available
You can click here for detailed information or to order online, as well as watch this Two minute video: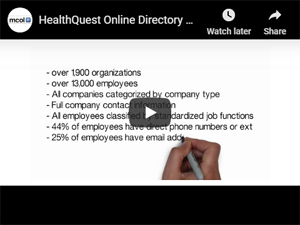 Leverage MCOL's HealthQuest Online Directory Database Subscription to help fulfill your daily managed care business objectives. Questions? Call: 209.577.4888 or get details online.