Press Release: There Is Still Time to Register for the Live & Archived Online Video Broadcast of the PCF 20th Anniversary Pharma & Med Device Compliance Congress

Sponsored by the Pharmaceutical Compliance Forum
November 6 - 8, 2019
Onsite at the Mandarin Oriental, Washington, DC
Online in Your Own Office or Home Live via the Internet with 24/7 Access for Six Months
Media Partners: Harvard Health Policy Review, Health Affairs and Life Sciences Compliance Update

PRESS RELEASE
Phone: 800-503-7419
Email: registration@hcconferences.com
Website: www.PharmaCongress.com



AGENDA NOW AVAILABLE
Click here to view the agenda.

WEBCAST INTERFACE SAMPLES
2017 OIG KEYNOTE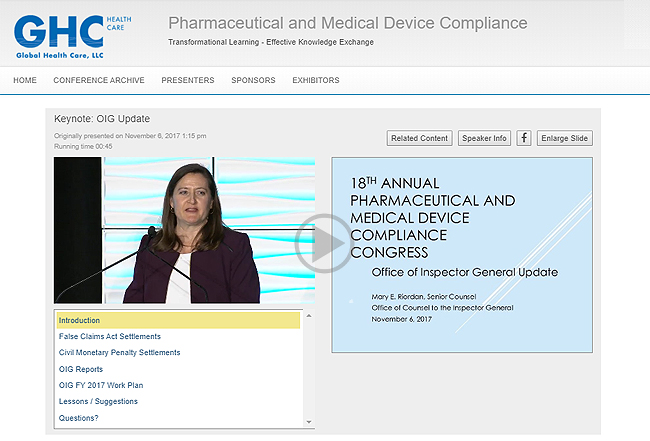 2018 OIG KEYNOTE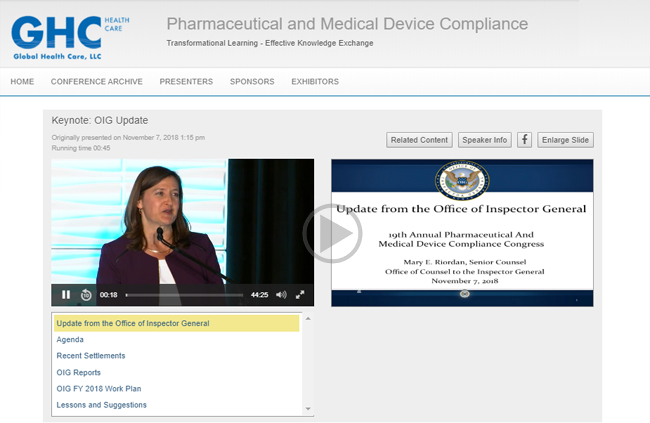 WASHINGTON, DC USA -- PHARMA UPDATE NEWS SERVICE™ -- OCTOBER 30, 2019: The 20th Anniversary Pharmaceutical and Medical Device Compliance Congress, www.PharmaCongress.com, will be held November 6 - 8, 2019 at the Mandarin Oriental in Washington, DC. Registrants may attend the event in person or online (live webcast and archived for 6 months).
FEATURING INVITATION-ONLY:
CHIEF COMPLIANCE OFFICER ROUNDTABLE

(Jointly Sponsored by PCF and PhRMA; Special November 6
Morning Session, Invitation-only)
FEATURING

Sally Molloy, JD
Acting Chief, Strategy, Policy & Training Unit, Fraud Section, Former Assistant U.S. Attorney, US Attorney's Office, Northern District of Georgia, US Department of Justice, Washington, DC




KEYNOTE SPEAKERS


Thomas W. Abrams, RPh, MBA
Director, Office of Prescription Drug Promotion, US Food and Drug Administration, Silver Spring, MD

Brian Allen Benczkowski, JD
Assistant Attorney General, Criminal Division, US Department of Justice; Former Principal Deputy Assistant Attorney General for Legislative Affairs; Former Republican Staff Director, Committee on the Judiciary, US Senate; Former Staff, Senator Pete Domenici and Representative Jim Sensenbrenner, Washington, DC

Alexandra Christina, Countess of Frederiksborg
Member, Board of Directors - Chairperson Ethics and Compliance Board Committee, Ferring Pharmaceuticals, Co-author, The Sincerity Edge, Former Poling Chair of Business and Government, Kelley School of Business, Indiana University, Copenhagen, Denmark


Susan Dentzer
Visiting Fellow, Duke-Margolis Center for Health Policy, Former Editor in Chief, Health Affairs, Former Health Correspondent, PBS NewsHour, Washington, DC

Mary E. Riordan, JD
Senior Counsel, Office of Counsel to the Inspector General, Office of Inspector General, US Department of Health and Human Services, Washington, DC




A KEYNOTE PANEL ON LESSONS LEARNED FROM
20 YEARS OF PHARMA & DEVICE INVESTIGATIONS,
PROSECUTIONS, ETHICS & COMPLIANCE WITH


Douglas M. Lankler, JD
Executive Vice President, General Counsel, Pfizer, Former Assistant US Attorney, Southern District of New York, US Department of Justice, New York, NY

Daniel Ronald Levinson, JD
Former Inspector General, US Department of Health and Human Services, Former Inspector General, US General Services Administration, Former Chairman, US Merit Systems Protection Board, Former General Counsel, US Consumer Product Safety Commission, Washington, DC

Lori Queisser
Senior Vice President and Global Chief Compliance Officer, Teva Pharmaceuticals; Former Sr. VP Global Compliance and Business Practices; Schering-Plough Corporation; Former Vice President, Chief Compliance Officer, Eli Lilly; Former Member, PCF Executive Committee, Horsham, PA


Arjun Rajaratnam, JD, MS
Chief Compliance Officer, Smith & Nephew; Former Compliance Officer, US Pharmaceuticals, GlaxoSmithKline; Former Member, PCF Executive Committee; Raleigh, NC

James Sheehan, JD
Chief, Charities Bureau at Attorney General of New York, Former Chief Integrity Officer, Executive Deputy Commissioner, City of New York Human Resources Administration, Former NY Medicaid Inspector General, Former Associate United States Attorney, US Attorney's Office for the Eastern District of Pennsylvania, New York, NY

Susan Winkler, JD, MA
Founder, Winkler Law LLC; Former Assistant US Attorney and Head, Health Care Fraud Unit, US Attorney's Office for the District of Massachusetts, Boston, MA

Kris Curry, MBA
Principal, Assurance Services, EY, Former Vice President, Global Chief Compliance Officer, Pharma Sector, Johnson & Johnson, Philadelphia, PA (Moderator)




THE ANNUAL CCO ROUNDTABLE WITH


Charlene E. Davis, JD
Vice President & Chief Compliance Officer, Aerie Pharmaceuticals, Inc.; Former Senior Compliance Counsel and Senior Director, Corporate Compliance and Compliance Operations, Otsuka Pharmaceutical, Princeton, NJ

Adam Dubow, JD
Global Chief Compliance and Ethics Officer, Bristol-Myers Squibb, Princeton, NJ

Keith Korenchuk, MPH, JD
VP and Chief Compliance Officer Danaher Diagnostics and Beckman Coulter Diagnostics, DANAHER Corporation; Former Partner, Arnold & Porter Kaye Scholer; Chevy Chase, MD


Dominique Laymand, JD
Executive Vice President, Chief Ethics and Compliance Officer, Ipsen; Honorary President, International Society of Healthcare Ethics and Compliance Professionals (ETHICS), Paris, France

Sunitha Ramamurthy, JD
Head of Compliance, Loxo Oncology, wholly owned subsidiary of Eli Lilly; Former Executive Director, Office of Ethics and Compliance, Boehringer Ingelheim Pharmaceuticals; Stamford, CT

Thomas J. Schumacher, JD
Vice President and Global Chief, Ethics and Compliance Officer, Medtronic, Fridley, MN

Paul Silver
Principal, Regulatory & Compliance Life Sciences Leader, Deloitte Advisory, Deloitte, Atlanta, GA (Moderator)




THE ANNUAL DOJ AND SEC FCPA ENFORCEMENT UPDATE WITH


Robert I. Dodge, JD
Assistant Director, FCPA Unit, US Securities & Exchange Commission, Former Assistant U.S. Attorney, US Attorney's Office, Western District of Michigan, Former Assistant Section Chief, Environmental Defense Section, US Department of Justice, Washington, DC

David Last, JD
Assistant Chief, FCPA Unit, Fraud Section, Criminal Division, US Department of Justice, Washington, DC

Gary F. Giampetruzzi, JD
Partner, Paul Hastings; Former Vice President and Assistant General Counsel, Head of Government Investigations, Pfizer Inc.; New York, NY (Moderator)




THE ANNUAL AUSA ROUNDTABLE WITH


John Claud, JD
Assistant Director, Consumer Protection Branch, US Department of Justice, Washington, DC

Rachael A. Honig, JD
First Assistant U.S. Attorney, U.S. Attorney's Office, District of New Jersey, US Department of Justice; Former Corporate Counsel, Litigation, Celgene; Newark, NJ

Amanda Masselam Strachan, JD
Assistant US Attorney and Chief, Health Care Fraud Unit, US Attorney's Office, District of Massachusetts, US Department of Justice, Boston, MA

John T. Bentivoglio, JD
Partner, Skadden Arps LLP; Former Special Counsel for Healthcare Fraud, and Chief Privacy Officer, US Department of Justice; Washington, DC (Moderator)




AND A FRIDAY, NOVEMBER 8 INDUSTRY-ONLY
BEST PRACTICES ROUNDTABLE

(Industry-only session for pharma and medical device compliance professionals and in-house counsel only)
FEATURING

Jacob T. Elberg, JD
Associate Professor of Law, Seton Hall Law School, Former Chief, Health Care & Government Fraud Unit and Assistant US Attorney, US Attorney's Office, District of New Jersey, US Department of Justice, Newark, NJ





AGENDA AT-A-GLANCE

7:45 am
AN INVITATION-ONLY CCO ROUNDTABLE
Hosted by the PCF and the PhRMA CCO Working Group
8:00 am
PRECONFERENCE SESSIONS:

Risk Assessment Recommendations Based on DOJ Updated Guidance
Third Party Interactions, Including Distributors and Non-Distributor 3rd Party Vendor Compliance (begins at 10:00 am)
Investigations: Interconnectivity of Auditing, Monitoring, and Investigations, Including Privilege
Emerging Role of Analytics, Big Data & AI Opportunities for Life Sciences...

| | |
| --- | --- |
| 1:00 pm | OPENING PLENARY SESSION: |

Welcome and Introduction: PCF Co-Chairs
20th Anniversary Dialogue: Lessons Learned
Keynote: OIG Update
US DOJ Keynote
FDA Keynote
What Pharma/Medical Device Industries Can Learn from the Opioid Cases
Annual Chief Compliance Officer Roundtable

| | |
| --- | --- |
| 7:30 am | BREAKFAST WORKSHOPS |

Compliance Considerations for Gene Therapy and Ultra Rare Disease Products
HCP Contracting--Benchmarking and Lessons Learned...
Navigating Drug Price Transparency Laws...
Setting your Five-Year Strategic Compliance Plan
Charitable Organizations and Funding and Criteria for Patient Assistance Programs

| | |
| --- | --- |
| 8:30 am | MORNING PLENARY SESSION |

Co-chair Welcome and Introductions
Keynote by Alexandra Christina, Countess of Frederiksborg
US DOJ and US SEC Update on FCPA Enforcement
AUSA Roundtable

Prosecuting Illegal Kickbacks: The Cost of Noncompliance
Reduce Compliance Risk Using a "Portfolio" Approach to Training! (Microlearning Alone is Not the Answer)
Setting Your Five-Year Strategic Compliance Plan
Interactions with Patients Including Benchmarking on Patient Services Compliance
Enhanced Compliance Monitoring
Best Practices Calculating Profit Disgorgement in Preparation for Compliance Settlements
Annual Medical Device Roundtable
Lessons Learned from Enforcement Actions
Compliance Program Operations: Building Effective and Right Sized Compliance Programs
Value-Based Arrangements
Framework for Determining Fair Market Value (FMV)
Helping Patient Access to Products The Opioid Crisis: Compliance and Enforcement Trends
Issues with Medical Device/Combination Products
Charitable Contributions Compliance Considerations
How do you Modernize your Compliance Program to Prepare for the Future of Health?
Medical Affairs Proactive Communications, Engagement by Manufacturers
Transparency and HCP Engagement
Compliance -- Board Communications: Effective Measurement and Reporting Strategies
Best Practices when Transitioning from Healthcare Compliance Risk to Enterprise Risk Assessments
Medical Device Asset Management Risk Considerations
Responding to CCPA, GDPR and the Tumultuous World of Data Privacy
Social Media Engagement by Manufacturers
Conducting R&D Compliance Risk Assessments
Ensuring a Smooth Transition of Compliance Programs During Mergers & Acquisitions
Investigations: Properly Executing a Compliance Investigation Initiated by a Whistleblower
Interactions with Specialty Pharmacy
Practice Development Programs (e.g., Free or Discounted Marketing Services)

| | |
| --- | --- |
| 4:45 pm | CLOSING PLENARY SESSION |

Developments in Pharmaceutical and Medical Device Pricing and Cost Containment...
The Changing Face of the Qui Tam

8:30 am
INDUSTRY-ONLY BEST PRACTICES ROUNDTABLE
Featuring Jacob T. Elberg, JD




FEATURED FACULTY


Punkaj T. Amin, MS, MBA
Compliance Officer, US Wound Management and US Privacy Officer, Smith & Nephew, Fort Worth, TX

Meredith S. Auten, JD
Partner, Morgan Lewis, Co-chair, White Collar Committee Qui Tam Subcommittee, ABA Criminal Justice Section, Philadelphia, PA

Timothy Ayers, JD, MPH
Founder, Life Science Compliance Consulting, LLC, Former VP, Chief Compliance Officer, Horizon Pharma plc., Oklahoma City, OK

Yogesh Bahl, CPA, MBA
Managing Director, AlixPartners, New York, NY

Minna Bak, MBA
Senior Manager, Helio Health Group, New York, NY

Ann E. Beasley, JD
Director, Life Sciences, Governance, Risk & Compliance, Navigant, Former Senior Vice President, Chief Compliance Officer, Biogen, Boston, MA

Thomas Beimers, JD
Partner, Hogan Lovells, Former Senior Counsel, Office of Counsel to the Inspector General, Former Special Assistant United States Attorney, US Attorney's Office, Eastern District of Michigan, Minneapolis, MN and Washington, DC

Ela Bochenek, JD
Vice President and Chief Compliance Officer, Nabriva Therapeutics PLC, Former Assistant Dean Graduate & Professional Education, Seton Hall University School of Law, King of Prussia, PA

Kathleen M. Boozang, JD, LLM
Dean and Professor of Law, Seton Hall University School of Law, Newark, NJ

Diana Borges, MBA
Vice President, Compliance Solutions, MediSpend, Miami, FL

Bernadette M. Broccolo, JD
Partner, McDermott Will & Emery LLP, Chicago, IL

Keith Burn
Global Investigations Director, Ipsen; Former Associate Investigator, Parliamentary and Health Service Ombudsman, NHS, Former Detective Constable, London Metropolitan Police, Amersham; Slough, UK

Christie Camelio
Vice President, Deputy Global Chief Compliance Officer, Celgene, Former Executive Director, Head of Risk Management Center of Excellence, Novartis Pharmaceuticals, Florham Park, NJ

Masha Chestukhin, MSJ
Associate Director, Compliance Officer R&D IA, FMV, Sanofi Genzyme, Jamaica Plain, MA

Jennifer Chillas, JD
Senior Corporate Counsel, Bristol-Myers Squibb, New York, NY

Michael R. Clarke, CCEP, JD
Vice President, Global Chief Compliance Officer, ConvaTec, Former Vice President, Corporate Compliance, Indivior, Inc., Bridgewater, NJ

Brian Conner
Chief Compliance Officer, Strongbridge Biopharma plc, Former Assistant Compliance Officer of the Americas, Shire, Feasterville Trevose, PA

Thomas Costa, JD
Member, US Board of Directors, Sanofi, Former Vice President, US Compliance & Ethics, Bristol-Myers Squibb, Washington, DC

Jared D. Crafton
Principal, Assurance Services, Forensic & Integrity Services, EY, Boston, MA

Jill Dailey, JD, MBA
Vice President, Chief Compliance Officer at Incyte Corporation, Wilmington DE

Tiffany Cummings-Damiani, MBA
Vice President, Corporate and Healthcare Compliance, Global Compliance, Insmed, Former Senior Director, Global Compliance, Teva, Philadelphia, PA

Meenakshi Datta, JD
Partner and Global Co-leader, Healthcare Practice, Sidley Austin LLP, Chicago, IL

BJ D'Avella, MBA
Senior Manager, Deloitte Advisory, Deloitte & Touche LLP, New York, NY

Danielle Davis, LLB
Director, Compliance Counsel, Heron Therapeutics, Inc; Former Senior Director Compliance, Sentynl Therapeutics; Phoenix, AZ

CJ DeKreek, CFA
Senior Director, Ankura, Atlanta, GA

Julie DeLong, CFA
Senior Managing Director, Ankura Consulting Group, LLC, Atlanta, GA

Gary Del Vecchio
Health Care Compliance Officer Cardiovascular & Metabolism and Puerto Rico, Janssen; Former Executive Director, US Pharmaceutical Compliance and Ethics, BMS, Pennington, NJ

Noël (Giglio) Denice, JD
Legal Counsel, Legal Compliance, Philips North America, LLC, Andover, MA

Mark A. DeWyngaert, PhD.
Managing Director, Deloitte Advisory, Deloitte & Touche LLP, Stamford, CT

Sarah diFrancesca, JD
Partner, Health Care and Life Sciences Regulatory Practice, Cooley, LLP, New York, NY

Christian A. Dingler
Associate Director, Navigant, Life Sciences, Richmond, VA

Stefanie A. Doebler, JD
Of Counsel, Covington & Burling LLP, Washington, DC

Kip F. Ebel, MBA
Principal, Forensic and Integrity Services, EY

Eileen Erdos
Principal, Forensic & Integrity Services, EY, Chicago, IL

Alison Fethke, JD
Counsel, Ropes & Gray LLP, Former Division Counsel, Legal, Regulatory and Compliance, AbbVie, Chicago, IL

Kellie Fidler, MBA, PMP
Director, Global Compliance Risk Mitigation & Monitoring Strategy, Bristol-Myers Squibb, Princeton, NJ

Elaina Filauro
Senior Manager, Deloitte Advisory, Deloitte & Touche LLP, New York, NY

Jeffrey (Jeff) Fleming, JD
Assistant General Counsel, Pharma R&D, GlaxoSmithKline, Philadelphia, PA

Maya P. Florence, JD
Partner, Health Care and Life Sciences, Skadden Arps LLP, Boston, MA

Sarah A. Franklin, JD
Partner, and Vice-chair, Life Sciences Litigation and Investigations, Covington & Burling LLP, Former Attorney, Bureau of Consumer Protection, FTC, Washington, DC

Nereyda Garcia, JD
Global Heath, Ethics and Compliance, Alnylam Pharmaceuticals, Former Sr. Director, Compliance, Biogen Idec, Cambridge, MA

Deeona R. Gaskin, MPH, JD
Associate, Sidley Austin LLP, Former Associate Chief Council, FDA, Washington, DC

Virginia "Ginny" A. Gibson, JD
Partner, Hogan Lovells LLP, Former First Assistant U.S. Attorney, Eastern District of Pennsylvania, US Department of Justice, Philadelphia, PA

Abraham Gitterman, JD
Senior Associate, Life Sciences/Healthcare Regulatory, Arnold & Porter LLP; Publications Peer Review Committee, Food and Drug Law Institute (FDLI); Washington, DC

Thomas M. Glavin, JD
Chief Compliance Officer for the Americas, Olympus Corporation of the Americas; Former Vice President, US/Americas Compliance Officer, Shire, Center Valley, PA

Jonathan Glazier, MBA, JD
Head of Legal Compliance, Philips North America, Former Sr Director of Corporate Compliance and Privacy Officer, Fresenius Medical Care North America, Andover, MA

Betania Glorio, LLM
Global Compliance Officer, Healthcare, Merck KGaA, Darmstadt, Germany

Kimberly J. Gold, JD, CIPP/US
Partner, Life Sciences Health Industry and Data Privacy Groups, Reed Smith, New York, NY

Wendy C. Goldstein, JD
Partner, Health Care and Life Sciences Regulatory Practice, Cooley, LLP, New York, NY

Christine Gordon, JD
Deputy Chief Compliance Officer, Olympus Corporation of the Americas; Director, Board of Directors, ESSA Bancorp, Inc; Former Assistant District Attorney, Office of the District Attorney, City of Philadelphia, Bethlehem, PA

Kimi Gorman, CCEP, CFE
Sr. Director, Ethics & Compliance - Operations & Government Accountability, Monitoring & Auditing, Novo Nordisk Inc.; Former Compliance Manager, B. Braun Medical; Princeton, NJ

Adam Greene, JD, MPH
Partner and Co-chair, Health Information & HIPAA Practice, Davis Wright Tremaine LLP, Former Senior Health Information Technology and Privacy Specialist, Office for Civil Rights, HHS, Washington, DC

Christine Handel, JD
Vice President, Global Compliance Operations, Walgreens Boots Alliance, Deerfield, IL

David Heard, JD
Senior Corporate Counsel, Pfizer Inc., Dallas, TX

Michael G. Hercz, JD
Senior Vice President & General Counsel, Sentynl Therapeutics, Inc., Solana Beach, CA

Casey J. Horton, CFE
Director, Life Sciences, Governance, Risk & Compliance, Navigant, Chicago, IL

William Hrubes, MS
Vice President and Chief Compliance Officer, ACell, Inc. Former Healthcare Compliance Officer, DePuy Orthopaedics, Columbia, MD

Pearl Hsieh, JD
Senior Counsel, US Commercial, Group Counsel, Smith & Nephew, Columbia, MD

Franziska Janorschke
Global Head, Business Practices Office, Novartis International AG, Basel Area, Switzerland

Elizabeth Jobes, JD
Senior Vice President, Chief Compliance Officer North America, EMD Serono, Inc; Former PCF Co-chair; Boston, MA

Karen Johnson, MBA
Executive Director, Compliance and Ethics, Corporate Ombudsman, Bristol-Myers Squibb, Princeton Pike, NJ

Paul Johnson, JD
Executive Director, US Healthcare Compliance, Amgen, Los Angeles, CA

Darren R. Jones, CIA
Senior Principal, Commercial Compliance, Global Consulting Practice Leader, IQVIA, New York, NY

Marci Juneau, MBA
Partner, Helio Health Group, Atlanta, GA

Shannon Kelley, JD
Vice President, Head of North America Compliance, Sanofi, Former Assistant US Attorney and Deputy Chief of Litigation, Boston US Attorney's Office, US Department of Justice, Cambridge, MA

Elizabeth "Beth" Kolbe, JD
Associate, Sidley Austin LLP, Washington, DC

Joanne Kwan, JD, PhD
Corporate Counsel, Commercial, Exelixis, San Francisco, CA

Cheryl Lee, MBA
Vice President, Worldwide Markets Healthcare Compliance, Global Compliance, Celgene Corporation, Summit, NJ

Puja Leekha, JD
Vice President, Chief Compliance Officer, Corporate Compliance, Lundbeck Pharmaceuticals; Former Division Legal Counsel & Compliance Officer, Stryker Corporation; Deerfield, IL

Richard Liner, JD, MPH
Senior Counsel, Compliance & Investigations, Bayer Healthcare, Whippany, NJ

Mark Linver, MS
Managing Director, Deloitte & Touche LLP, Stamford, CT

Carrie Sarhangi Love, JD
Litigation Partner, Armstrong Teasdale LLP; Former Assistant District Attorney, Philadelphia; Philadelphia, PA

Seth H. Lundy, JD
Partner, King & Spalding, LLP, Washington, DC

Ali Lyons
Senior Director, Ethics & Compliance, Aegerion Pharmaceuticals, a Novelion Therapeutics Company, Former Operations Lead, Ethics and Compliance, Eli Lilly and Company, Cambridge, MA

Anna L. Mack
Senior Manager, Global Compliance, Danaher Diagnostics and Beckman Coulter Diagnostics, Former Senior Manager, Compliance, Allergan, Orange County, CA

Nicholas Mandala
Senior Director, Medical Devices Technical Program Lead, Pfizer, Inc., New York, NY

Susan Markel
Managing Director, AlixPartners, Former Chief Accountant, Division of Enforcement, US Securities and Exchange Commission, Washington, DC

Joshua Marks, JD
Vice President, Chief Ethics & Compliance Officer, Boehringer Ingelheim, Ridgefield, C

Heather McCollum, JD, MHA, CCEP-I
Director Compliance, Shionogi Inc., Florham Park, NJ

William A. McConagha, JD
Partner, Sidley Austin, LLP, Former Health Policy Advisor, Health, Education, Labor and Pensions Committee, US Senate, Former Assistant Commissioner, FDA, Washington, DC

Jean McKiernan, MBA
Managing Director, Dovetail Consulting Group, LLC, Chicago, IL

Jenny McVey, PhD
Associate Director, Risk Strategy and Mitigation, Novo Nordisk, Inc., Former Compliance Officer, Hands International, Princeton, NJ

Paul J. Melling, MA
Partner, Baker McKenzie Moscow, Moscow, Russia

Vahan Minassian, JD
Director, US Promotional Monitoring Lead, Pfizer, Philadelphia, PA

Gregory S. Moss, LLB
Executive Vice President, General Counsel and Corporate Secretary, Chief Compliance Officer, Kadmon Holdings, Inc., New York, NY

Brad Mroski, CPA, CFE
Managing Director, AlixPartners; Former Assistant Chief Accountant, Division of Enforcement, U.S. Securities & Exchange Commission; Dallas, TX

Kamleh J. Nicola, LLB
Partner, Baker & McKenzie LLP, Toronto, Canada

Katherine Norris, MPA
Director, Corporate Compliance & Risk Management, Berkeley Research Group LLC, Washington, DC

Dan O'Connor
Senior Vice President, PharmaCertify, a Division of NXLevel Solutions, New York, NY

Michael O'Connor
Vice President of Compliance Technology, Porzio Life Sciences, LLC, Former Global Head Compliance and Ethics Operations, Alexion, Former Executive Director, Global Head, IS Business Consulting, Boehringer Ingelheim, New York, NY

Josh Tomas O'Harra, MS, JD
Assistant General Counsel, Eli Lilly and Company, Washington, DC

Casper Partovi, MA, JD
Vice President, Law, Amgen, Los Angeles, CA

Gregory Paw, JD
Partner, Freeh, Sporkin & Sullivan, Former Director, New Jersey Division of Criminal Justice, Former Assistant US Attorney, US Attorney's Office, Eastern District of Pennsylvania, New York, NY

Amy Pawloski, CPA, PMP, CCEP
Compliance Officer-Operations, Endo Pharmaceuticals; Former Global Lead, Compliance Risk Mitigation and Monitoring Strategy, Bristol-Myers Squibb; Philadelphia, PA

Kelliann H. Payne, JD
Partner, Hogan Lovells LLP, Former Assistant General Counsel at QVC, Inc., Philadelphia, PA

Patrick Phelan, JD
Partner, Covington & Burling LLP, Washington, DC

Erica Powers
Director, Compliance Operations, Sage Therapeutics, Former Director Corporate Compliance, Vertex, Cambridge, MA

Kristin Rand, JD, MA
Vice President and Compliance Officer, Seattle Genetics, Former Compliance Director, Policy, Ethics, Training & Communication, Genentech, New York, NY

Marc Stephen Raspanti, JD
Partner, Pietragallo Gordon Alfano Bosick & Raspanti, LLP, Co-chair, White Collar Committee Qui Tam Subcommittee, ABA Criminal Justice Section, Philadelphia, PA

Kelly N. "Nikki" Reeves, MPA, JD
Partner and Co-chair, Life Sciences and Healthcare Industry Group, King & Spalding LLP, Washington, DC

Lesley C. Reynolds, JD
Partner, Life Sciences Health Industry Group, Reed Smith, Washington, DC

Chapman Richardson
Global Head, Data Consumerization, Sanofi; Former Global Head Next Generation Digital, Novartis; Bridgewater, NJ

John C. Richter, JD
Partner, King & Spalding, Former Acting Assistant Attorney General, Criminal Division , US Department of Justice, Former US Attorney, Western District of Oklahoma, Washington, DC

Ashley Riley, JD
Senior Manager Deloitte Advisory, Deloitte & Touche LLP, Charlotte, NC

Tim Robinson, JD
Chief Legal and Privacy Officer, MediSpend, Portsmouth, NH

Angela Rodin, MBA
Principal, KPMG, Former Vice President, Global Head of Investigations and Monitoring, GlaxoSmithKline Pharma GmbH, Washington, DC

Oscar Rodriguez
Senior Director, Innovation & Technology, BlackThorn Therapeutics; Co-chair, Technology and Standards Subcommittee, The Alliance for Artificial Intelligence in Healthcare (AAIH), New York, NY

Mark Scallon, MHA
Senior Principal, IQVIA Global Compliance, Richmond, VA

Katie Schottmiller, MAcc, MS, CPA
Director, North America Independent Business Monitoring, GSK, Raleigh-Durham, NC

Jessica C. Sergi, JD
Senior Legal Counsel, Neurology & Immunology, EMD Serono, Rockland, MA

Laura Skinner, MBA
Senior Manager, Deloitte Advisory, Deloitte & Touche LLP, Austin, TX

Jack Tanselle, MBA
Managing Director, Deloitte & Touche LLP, Indianapolis, IN

Meredith Taylor, JD
Vice President Global Compliance and Privacy, Novocure, Malvern, PA

Ann-Marie Tejcek, MA
Senior Director North American Ethics & Compliance Officer, Eli Lilly and Company, Indianapolis, IN

Bryan Timer, MS
Director, Data Analytics & Transparency, Merck & Co., Inc., Kenilworth, NJ

Nancy S. Travis, MS
Vice President, International Compliance and Governance, Advanced Medical Technology Association (AdvaMed), Washington, DC

Jonathan Turner, MSc
Vice President, Global Compliance Leader, Smith & Nephew; Adjunct Faculty, Florida State University and University of Memphis; Association of Certified Fraud Examiners, Memphis, TN

Sarah Venable, JD, MS
Risk Analytics Manager, Independent Business Manager, GlaxoSmithKline, Raleigh, NC

Rena Verma, MBA
Senior Managing Director, Information Governance, Privacy and Security Practice, FTI Consulting, New York, NY

Julie Ritchie Wagner, JD
Assistant General Counsel, PhRMA; Former Senior Counsel, Office of Counsel to the Inspector General, US DHHS; Washington, DC

Richard H. Walker, JD
Partner, King & Spalding; Former Director of Enforcement, US Securities and Exchange Commission; New York, NY

John B. Weiner, JD
Associate Director for Policy and Product Classification Officer,Office of Combination Products, FDA, Silver Spring, MD

Beth Weinman, JD
Counsel at Ropes & Gray LLP; Former Associate Chief Counsel, FDA; Washington, DC

Elizabeth Weiss, JD
Chief Compliance Counsel for Patient Support Services and Payer Access, Pfizer, Peapack, NJ

Caroline West, JD
Global Chief Compliance Officer, Olympus Corporation, Former Sr. VP , Chief Compliance and Risk Officer, Shire, Former VP Global Legal Compliance, Aventis, Philadelphia, PA

Sarah L. Whipple, JD
Vice President, Legal & Chief Compliance Officer, Akebia Therapeutics, Inc., Cambridge, MA

Christopher L. White, JD
Chief Operating Officer and General Counsel, Advanced Medical Technology Association (AdvaMed), Washington, DC

Seth B. Whitelaw, JD, LLM, SJD
President and Chief Executive Officer, Whitelaw Compliance Group, LLC; Editor, Life Science Compliance Update; Senior Fellow & Adjunct Professor, Life Sciences Compliance at Mitchell Hamline School of Law, West Chester, PA

Jonathan Wilkenfeld, MBA
Partner, Potomac River Partners, Washington, DC

Catherine Williams, JD
Director - Privacy Office, Novo Nordisk, Former Assistant General Counsel, Privacy & K-12, Corrections & Leisure, Aramark, Plainsboro, NJ

Susan Williamson, MBA, CPA
Senior Vice President & Chief Compliance Officer, Endo Pharmaceuticals, Philadelphia, PA

Heather Young, JD
Compliance Officer – Director for Olympus Corporation of the Americas; Former Assistant District Attorney, Office of the District Attorney, City of Philadelphia, Philadelphia, PA


Mark Zaleski, MBA
Director Legal Compliance, Philips; Former Senior Finance Manager, Intel Corporation, Boston, MA

Mehreen Zaman, JD
Senior Attorney, Novo Nordisk; Former Director of Investigations, Endo Pharmaceuticals; Plainsboro, NJ




2019-2020 GLOBAL PHARMA COMPLIANCE CONGRESSES



TWENTIETH ANNUAL PHARMACEUTICAL AND MEDICAL DEVICE COMPLIANCE CONGRESS

A Hybrid Conference and Internet Event
Sponsored by Pharmaceutical Compliance Forum
Media Partners: Harvard Health Policy Review, Health Affairs and Policy & Medicine Compliance Update
November 6 - 8, 2019
Mandarin Oriental, Washington, DC
www.PharmaCongress.com


FOURTEENTH INTERNATIONAL PHARMACEUTICAL AND MEDICAL DEVICE COMPLIANCE CONGRESS

Sponsored by International Society of Healthcare Compliance Professionals (ETHICS)
Media Partner: Policy & Medicine Compliance Update
April 20 - 22, 2020
Sheraton Munich Arabellapark Hotel
Munich, Germany
www.International PharmaCongress.com





SPONSORED BY

The Pharmaceutical Compliance Forum (PCF) is a coalition of compliance professionals including compliance officers and senior legal counsels from 70+ distinguished researched-based pharmaceutical manufacturers and biotech companies. The PCF was founded in early-1999 by compliance professionals from the pharmaceutical industry to promote effect corporate compliance programs.



CO CHAIRS

Sujata T. Dayal, JD
Vice President, Health Care Compliance & Privacy, Pharmaceuticals Group, Johnson & Johnson, Titusville, NJ (PCF Secretary)


Jeffrey Kawalek, MBA
Deputy Chief Compliance Officer, Jazz Pharmaceuticals, Inc., Philadelphia, PA (PCF Chair)


Jennifer McGee, JD
Vice President and Chief Compliance Officer, Otsuka America Pharmaceutical, Inc., Rockville, MD (PCF Treasurer)


Margaret Sparks, JD
Associate Vice President, North America Ethics and Business Integrity, Sanofi US, Bridgewater, NJ (PCF Co-chair)


Donna White, CCEP
Vice President, Contracts & Compliance, Chiesi, USA, Cary, NC (PCF Co-chair)


Joe Zimmerman
Vice President and Chief Compliance Officer US, Ferring Pharmaceuticals, Parsippany, NJ (PCF Co-chair)


REMEMBER THE FIRST PHARMA CONGRESS



GRANTORS:
GOLD



SILVER





BRONZE

















































ADDITIONAL GRANTOR



MEDIA PARTNERS:









CONTINUING EDUCATION CREDITS
Accounting Professionals: Approved for up to 19.0 NASBA CPE Credits for onsite attendance only.

Compliance Professionals: The Compliance Certification Board (CCB)® has approved this event for up to 33.6 live CCB CEUs. Continuing Education Units are awarded based on individual attendance records. Granting of prior approval in no way constitutes endorsement by CCB of this event content or of the event sponsor.

Attorneys: Pending approval to offer Pennsylvania MCLE credits.

Click here for more information.


TUITION SCHOLARSHIPS
The Pharma Congress is now offering a limited number of partial and full Tuition Scholarships to qualifying representatives of local, state and federal government, consumer advocate organizations, safety net providers, academics, students and health services research organizations.

Click here for more information.


PARTICIPATION OPTIONS
TRADITIONAL ONSITE ATTENDANCE
Simply register, travel to the conference city and attend in person.

Pros: subject matter immersion; professional networking opportunities; faculty interaction




LIVE AND ARCHIVED WEBCAST PARTICIPATION
Watch the conference in live streaming video over the Internet and at your convenience at any time 24/7 for the six months following the event.

The archived conference includes speaker videos and coordinated PowerPoint presentations.

Pros: Live digital feed and 24/7 Internet access for next six months; Accessible in office, at home or anywhere worldwide with Internet access; Avoid travel expense and hassle; No time away from the office






WEBCAST INTERFACE SAMPLE

Click here for a sample stream


PHARMA CONGRESS IS
STAY CONNECTED


Tweet using #PharmaCongress


PAST GLOBAL PHARMA COMPLIANCE CONGRESSES

2007 - Brussels


2008 - Paris


2009 - Rome


2010 - Berlin


2011 - Istanbul


2011 - Singapore


2012 - Budapest


2012 - Shanghai


2012 - São Paulo


2013 - Madrid


2013 - Kuala Lumpur


2014 - Dubai


2014 - Mexico City


2014 - Shanghai


2015 - Manila



2016 - Warsaw


2017 - Lisbon


2018 - Vienna


2019 - Athens