PRINCETON, NJ USA -- HEALTH POLICY UPDATE NEWS SERVICE™ -- MAY 4, 2019: Legendary Princeton Professor Uwe Reinhardt's new book Priced Out: The Economic and Ethical Costs of American Health Care by Princeton University Press.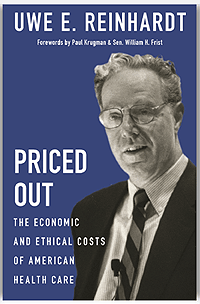 From a giant of health-care policy, an engaging and enlightening account of why American health care is so expensive -- and why it doesn't have to be

Uwe Reinhardt was a towering figure and moral conscience of health-care policy in the United States and beyond. Famously bipartisan, he advised presidents and Congress on health reform and originated central features of the Affordable Care Act. In Priced Out, Reinhardt offers an engaging and enlightening account of today's U.S. health-care system, explaining why it costs so much more and delivers so much less than the systems of every other advanced country, why the situation is morally indefensible, and how we might improve it.

The problem, Reinhardt says, is not one of economics but of social ethics. There is no American political consensus on a fundamental question other countries settled long ago: to what extent should we be our brothers' and sisters' keepers when it comes to health care? Drawing on the best evidence, he guides readers through the chaotic, secretive, and inefficient way America finances health care, and he offers a penetrating ethical analysis of recent reform proposals. At this point, he argues, the United States appears to have three stark choices: the government can make the rich help pay for the health care of the poor, ration care by income, or control costs. Reinhardt proposes an alternative path: that by age 26 all Americans must choose either to join an insurance arrangement with community-rated premiums, or take a chance on being uninsured or relying on a health-insurance market that charges premiums based on health status.

An incisive look at the American health-care system, Priced Out dispels the confusion, ignorance, myths, and misinformation that hinder effective reform.

Uwe E. Reinhardt (1937-2017) was the James Madison Professor of Political Economy and Professor of Economics and Public Affairs at Princeton University, where he taught for nearly fifty years. He wrote a regular column for the New York Times blog Economix.

"[A] devastating portrait of a system that doesn't just consume huge resources to no good end, but denies care to many Americans, not because it would really be too expensive to provide, but because the system prices them out by making care arbitrarily expensive -- and/or rations health care in ways that are fundamentally indefensible." -- from Paul Krugman's foreword
Discount Price: $19.56 | £15.40 Coupon Code: UWE01. To order please visit press.princeton.edu and enter coupon code UWE01 at checkout to receive 30% off your order. Offer expires May 14, 2019. Prices subject to change.
Hardcover $27.95 | £22.00978-0-691-19217-82019. 160 pp. 50 b/w illus.5 1/2 x 8 1/2
With forewords by Paul Krugman & Sen. William H. Frist, MD
REVIEWS
"Wish I could afford to buy a copy for every adult in the U.S. If healthcare matters to you, please read it."--Ted Kinni
ENDORSEMENTS
"As always, Uwe Reinhardt has managed to make me smile as he's presenting a tragic story about U.S. health care. He couples an economist's mathematical graphs and analysis with his unique, unsparing wry commentary. You can hear him on every page of this book. Demonstrating the infeasibility of many -- actually, almost all -- of the recent attempts at health care reform, he avers that Republican loss of control of one or both houses in 2018 would 'change the debate on health care.' He predicts 'major competing initiatives on health care' from both parties in the 2020 campaign. It is a tragedy that he will not be here to analyze them." -- Elisabeth Rosenthal, author of An American Sickness: How Healthcare Became Big Business and How You Can Take It Back
"Uwe Reinhardt was the moral conscience of our health care system, reminding us with evidence, clarity, and stand-up act humor how it is failing. He was joined in this enterprise by another great health care expert, his wife Mei Cheng. Every health care group craved Reinhardt as their keynote speaker and felt more virtuous after he berated them about the many ways in which they were failing. But he did not want adulation; he wanted things to change. By reading this powerful book and making something in the health system better, we can all honor his legacy." -- Drew Altman, President and CEO, Henry J. Kaiser Family Foundation
"With an economist's precision and a prophet's moral clarity, the late Uwe Reinhardt untangles our complex health care system for all to see and understand. Only Reinhardt could have done so much in such a short, penetrating volume. His brilliance as a teacher shines through. This will be a must-read for aspiring students of health care and for policymakers everywhere. How much we will miss him." -- David Blumenthal, MD, President, The Commonwealth Fund
"In my forty-plus years of engagement with health care policy, I never encountered a mind more incisive or a character more compelling than Uwe Reinhardt's. With his clear voice, piercing intellect, hilarious wit, and unshakable ethics, he simply had no peer. Priced Out is one more testament to the gifts he gave us as a unique model of science and compassion in indissoluble embrace. If you want to understand the trouble that health care has come to, and where it must look for solutions, read this book." -- Donald M. Berwick, MD, President Emeritus and Senior Fellow, Institute for Healthcare Improvement, and former Administrator of the Centers for Medicare and Medicaid Services
CONTACT TO PURCHASE
Princeton University Press
https://press.princeton.edu/titles/30316.html
ONLINE ORDERS ONLY
To order please visit press.princeton.edu and enter coupon code UWE01 at checkout to receive 30% off your order. Offer expires May 14, 2019. Prices subject to change.