Cheryl Larson, president and CEO of Midwest Business Group on Health and GTMRx Employer Toolkit Taskforce member, discusses how comprehensive medication management (CMM) can strengthen employer health plans. Learn about how the current model of paying for low value medications no longer works and how employers, as health plan fiduciaries, can utilize innovative strategies such as CMM to provide high value care for plan participants while protecting plan assets. Understand how CCM helps employers to saves lives, improve employee productivity and enhance clinical outcomes.
Presented by:


Cheryl Larson

President and CEO
Midwest Business Group on Health (MBGH)
At the close of this activity, participants will be able to:
Identify top employer health plan priorities for 2020.
Offer insight into employer opinions concerning the current system of medication use.
Understand the CMM process and how it can provide value to employers in accomplishment of their health plan priorities
Discuss the strategies progressive employers are using to optimize medication use.
Identify ways in which CMM can contribute to the accomplishment of employer health plan strategies.
---
| | |
| --- | --- |
| This program has been pre-approved by the Commission for Case Manager Certification to provide 1 (one) continuing education credit to Certified Case Managers (CCMs). After the webinar, you will receive an evaluation to complete in order to receive your certificate of completion. | |
---
Get the Medications Right: A Blueprint for Change
Download our new report, eight months in the making, that calls for medication management reform and outlines multi-stakeholder action steps for success in four areas:
How we practice
How we pay
How we use technology
How we use diagnostics
---



ABOUT THE GTMRx INSTITUTE

The GTMRx Institute™ is a catalyst for change that brings critical stakeholders together, bound by the urgent need to get the medications right. We are physicians, pharmacists, health IT innovators, drug and diagnostic companies, consumer groups, employers, payers and health systems--aligned to save lives and save money through comprehensive medication management, or CMM. By showcasing evidence and innovation, we motivate practice transformation and push payment and policy reform. Together, we ACT to champion appropriate, effective, safe and precise use of medication and gene therapies. Learn more at gtmr.org.
Be involved

Connect with us on Facebook, Twitter, Linked in
Become a signing member
Subscribe to our weekly news brief
Visit our website

---
Thank you to our supporters...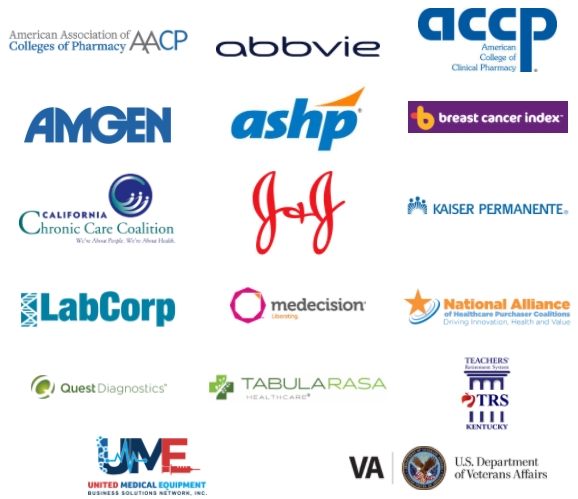 ---