Press Release: 2019 Healthcare Benchmarks: Social Determinants of Health
PRESS RELEASE
Contact: Melanie Matthews
Phone: (888) 446-3530
Email: mmatthews@hin.com
Website: http://store.hin.com/product.asp?itemid=5324
SEA GIRT, NJ USA -- HEALTHCARE UPDATE NEWS SERVICE™ -- JANUARY 31, 2020: One-third of Americans are grappling with stress tied to meeting their basic human needs such as stable housing, adequate food, and reliable transportation, according to the results of a new national survey from Kaiser Permanente. The survey, Social Needs in America, also found that Americans overwhelmingly want healthcare providers to be involved in identifying and addressing these non-medical social needs.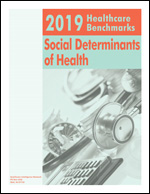 2019 Healthcare Benchmarks: Social Determinants of Health is the second comprehensive analysis by the Healthcare Intelligence Network of programs aimed at addressing social determinants of health (SDOH), including populations prioritized for SDOH screening, preferred screening tools, interventions, results and ROI, based on responses from over 75 healthcare organizations to the July 2019 SDOH survey.
For more information or to order your copy today, please visit: http://store.hin.com/product.asp?itemid=5324
This 40-page report assembles hundreds of metrics on SDOH initiatives, as implemented by hospitals, health systems, health plans, disease management, case management and other organization types.

Breaking down findings by high-responding industry sectors, this report includes the following data points:
Status of current and planned SDOH initiatives;
Integration of SDOH screening into clinical workflows;
When SDOH screenings occur;
Preferred SDOH screening tools;
Factors screened for in SDOH programs;
SDOH domains with the greatest needs;
Interventions available to individuals identified with SDOH needs;
The most effective intervention for individuals identified with SDOH needs;
Community and/or social services linked to SDOH programs;
Clinical condition most impacted by SDOH;
Healthcare professionals with primary responsibility for responding to SDOH needs;
Most effective tool, workflow or protocol in SDOH programs;
Technological tools supporting SDOH approaches;
Greatest SDOH screening challenge;
Greatest success achieved by SDOH initiatives;
SDOH initiatives' impact on clinical outcomes, quality of care, patient and provider engagement, value-based reimbursement and other key healthcare metrics;
ROI from SDOH programs;
The complete July 2019 SDOH survey tool;
and much more.
This benchmark report is designed to meet the business and planning needs of health plans, hospitals, health systems, physician organizations, managed care organizations, population health management and case management companies, and others by providing critical benchmarks on SDOH programs.

Order your copy today online: http://store.hin.com/product.asp?itemid=5324

If you are already a Healthcare Benchmark series member, then this report is FREE for you.

AVAILABLE IN SINGLE OR MULTI-USER LICENSES:

A multi-user license will provide you with the right to install and use this information on your company's computer network for an unlimited number of additional workstations within your organization for a one-time fee. To have this valuable resource on your network, or to inquire about ordering bulk copies in print or Adobe PDF, please e-mail info@hin.com or call 888-446-3530.

YOU MAY ALSO BE INTERESTED IN THESE SOCIAL DETERMINANTS OF HEALTH RESOURCES: ABOUT THE HEALTHCARE INTELLIGENCE NETWORK:

HIN is the premier advisory service for executives seeking high-quality strategic information on the business of healthcare. For more information, contact the Healthcare Intelligence Network, PO Box 1442, Wall Township, NJ 07719-1442, (888) 446-3530, e-mail info@hin.com, or visit http://www.hin.com.