Press Release: Assessing Social Determinants of Health: Screening Tools, Triage and Workflows to Link High-Risk Patients to Community Services
PRESS RELEASE
Contact: Melanie Matthews
Phone: (888) 446-3530
Email: mmatthews@hin.com
Website: http://store.hin.com/product.asp?itemid=5244
SEA GIRT, NJ USA -- HEALTHCARE UPDATE NEWS SERVICE™ -- JUNE 24, 2020: Leveraging the experience of several physician practices already screening patients for social determinants of health (SDOH), Montefiore Health System recently rolled out a two-tiered assessment program to measure SDOH positivity in its predominantly high-risk, government-insured population.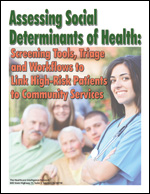 Assessing Social Determinants of Health: Screening Tools, Triage and Workflows to Link High-Risk Patients to Community Services outlines Montefiore's approach to identifying SDOH markers such as housing, finances, healthcare access and violence that drive 85 percent of patients' well-being, and then connecting high-need individuals to community-based services.

For more information or to order your copy today, please visit: http://store.hin.com/product.asp?itemid=5244
In this 25-page resource, Amanda Parsons, MD, MBA, vice president of community and population health at Montefiore Health System, walks through her organization's SDOH initiative, from screening ramp-up to challenges and considerations to initial findings and next steps. Dr. Parsons shares the following program elements:
Industry, financial and population-based considerations driving the need for SDOH assessment within Montefiore's 700,000 patients;
SDOH screening instrument criteria and selection, including SDOHs addressed by each tool;
Population SDOH risk stratification and follow-up support for patients identified as high- and lower-risk for SDOHs;
Physician practice guidelines for targeting and screening of populations;
Examples of SDOH screening implementation by physician practice;
Factoring of patient needs into SDOH workflow creation;
Recommendations for community referral support tools, including NowPow;
Engagement of Montefiore physicians in SDOH assessment;
Initial SDOH findings, program barriers and limitations;
Examples of engaging the community surrounding Montefiore in addressing SDOHs, including a neighborhood initiative to improve nutrition;
Achievements and next steps;
The challenges of addressing SDOHs when little reimbursement exists;
and much more.
Order your copy today online: http://store.hin.com/product.asp?itemid=5244

AVAILABLE IN SINGLE OR MULTI-USER LICENSES:

A multi-user license will provide you with the right to install and use this information on your company's computer network for an unlimited number of additional workstations within your organization for a one-time fee. To have this valuable resource on your network, or to inquire about ordering bulk copies in print or Adobe PDF, please e-mail info@hin.com or call 888-446-3530.

YOU MAY ALSO BE INTERESTED IN THESE SDOH RESOURCES FROM HIN: ABOUT THE HEALTHCARE INTELLIGENCE NETWORK:

HIN is the premier advisory service for executives seeking high-quality strategic information on the business of healthcare. For more information, contact the Healthcare Intelligence Network, PO Box 1442, Wall Township, NJ 07719-1442, (888) 446-3530, e-mail info@hin.com, or visit http://www.hin.com.