The Medicaid Managed Care Directory 2020
Book or pdf with optional database
Organizational Directory and Executive Profiles for Medicaid Managed Care
PRESS RELEASE
Phone: (209) 577-4888
Email: mcare@mcol.com
Website: https://healthexecstore.com/products/medicaid-managed-care-directory
MODESTO, CA USA -- HEALTHCARE UPDATE NEWS SERVICE™ -- AUGUST 6, 2020: The Medicaid Managed Care Directory 2020 is available as a 410 page softcover book, or in electronic pdf format, with 428 Medicaid managed care organizations and 52 state agencies listed in the organizational directories, representing 3,547 key staff positions including direct phone and email contact information when available, and encompasses:
State Medicaid Managed Care Organization Directory with summary information by state including enrollment for 422 selected state MCOs, as well as a listing of 3,204 key relevant staff.
National Medicaid Managed Care Organization Directory with seven national offices for Medicaid health plans and 87 key executives listed.
State Medicaid Agency Directory with 52 agencies and 343 agency executives and staff listed
Executive Profiles providing contact and biographical information for 73 Medicaid thought leaders and national executives.
Indexes for convenient navigation and reference organized by Individual, Organization and Parent/Affiliate company.
An optional database is also available
The 2020 Directory reflects addition of 13 new MCOs, deletion of 16 MCOs that ceased Medicaid contracting; lists 1,684 new staff and deletes 1,361 terminating staff; plus other extensive updates.
You can click here for detailed information or to order online, as well as watch this 1+ minute video: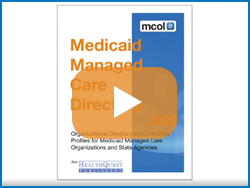 Leverage MCOL's HealthQuest Publishers' Medicaid Managed Care Directory 2020 to help fulfill your business objectives in the Medicaid Managed Care environment in 2020 and beyond!
Online: https://healthexecstore.com/products/medicaid-managed-care-directory or Call: 209.577.4888.