MODESTO, CA USA -- PAYMENT/DELIVERY SYSTEM REFORM UPDATE NEWS SERVICE™ -- OCTOBER 28, 2020: With on-site conferences and in-person meetings gone during this pandemic, how do you find, meet and network with health plan, provider network, PBM, specialty plan and other managed care organization contacts? Get the 2020 Managed Care Leadership Directory including contact information with employees categorized by 33 job functions!

The just-released 2020 National Managed Care Leadership Directory has 643 pages with 8,078 executive listings from 1,105 companies with contact information, and is available as a softcover book or PDF file, or as a database/PDF bundle.

You can click here for detailed information or to order online, as well as watch this 90 second video: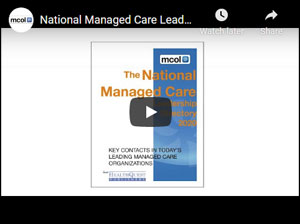 Or do you just want specialized directory or database including enrollment and program data along with company and employee contact information? Check out HealthQuest Publishers from MCOL's Accountable Care Directory 2020, Medicaid Managed Care Directory 2020 or Medicare Managed Care Directory 2020! All are available at HealthQuestPublishers.com or Call: 209.577.4888

FOR E-MAIL ADDRESS CHANGE, ADD OR DELETE REQUESTS:
For changes or additions, please email your request to: listmgr@PaymentDeliverySystemReformUpdateNewsService.com.