Rescheduled Population Health Colloquium XX Features Robert Pearl, MD on the Health System's Response to the COVID-19 Pandemic

A Hybrid Conference and Internet Event
The Leading Forum on Innovations in Population Health & Care Coordination
Academic Partner: Jefferson College of Population Health
Cosponsor: Population Health Alliance
Media Partners: Harvard Health Policy Review, Health Affairs, Accountable Care News, Medical Home News, Population Health News and Population Health Journal
Rescheduled dates: October 5 - 7, 2020
Onsite at Loews Philadelphia Hotel, Philadelphia, PA
Online in Your Own Office or Home Live via the Internet with 24/7 Access for Six Months

FOR MORE INFORMATION
Phone: (800) 503-7439
Email: registration@hcconferences.com
Website: www.PopulationHealthColloquium.com

FEATURING A KEYNOTE ADDRESS BY
Robert M. Pearl, MD, Author, Mistreated: Why We Think We're Getting Good Healthcare--And Why We're Usually Wrong, Contributor, Forbes, Lecturer, Stanford University Graduate School of Business, Former Executive Director and CEO, The Permanente Medical Group, San Francisco, CA




SEE DR. PEARL'S CORONAVIRUS: THE TRUTH PODCAST




NOTICE OF RESCHEDULING
Click here for the rescheduling notice.
DEAN EMERITUS DAVID NASH, MD RESCHEDULING ANNOUNCMENT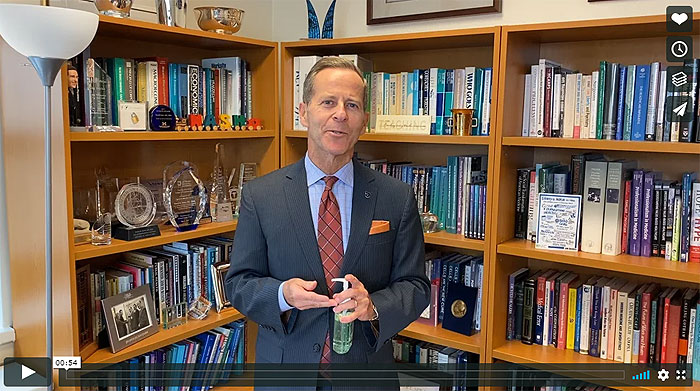 PHILADELPHIA PA USA -- EMPLOYEE BENEFIT UPDATE NEWS SERVICE™ -- APRIL 22, 2020: To safeguard against the spread of coronavirus (COVID-19), we have rescheduled the 20th Anniversary Population Health Colloquium for October 5-7, 2020 at the Loews Philadelphia Hotel in Philadelphia, PA. We made this decision to ensure the safety and well-being of our conference attendees, speakers, sponsors, exhibitors and the community at large.

As leaders in population health, many of us are charged with helping to mitigate the spread and impact of COVID-19 within our communities. Our thoughts are with our colleagues and first responders from around the globe who are working to fight this global epidemic.

The next few months will present us with significant challenges - and we will have much to talk about when we reconvene in the Fall.

Thank you for your patience, continued support and understanding.
David B. Nash, MD, MBA
Founding Dean Emeritus and
Dr. Raymond C. & Doris N. Grandon
Professor of Health Policy,
Jefferson College of Population Health
Colloquium Co-Chair
Billy H. Oglesby, PhD, MBA, MSPH, FACHE
Interim Dean and Associate Professor,
Jefferson College of Population Health,
Colloquium Co-Chair
KEYNOTE SPEAKERS


Jeffrey Brenner, MD
Senior Vice President of Integrated Health and Human Services, UnitedHealthcare Community & State, Founder and Former Executive Director, Camden Coalition of Healthcare Providers, MacArthur Genius Award Winner, Camden, NJ

Gregory Dorn, MD, MPH
President/CEO, Hearst Health, San Francisco, CA

Jan Kimpen, MD, PhD
Chief Medical Officer, Philips, Former Professor and Chairman of Pediatrics and President of the Board, University Medical Center Utrecht, Amsterdam, the Netherlands

Don McDaniel, MBA
Chief Executive Officer, Canton & Company, Entrepreneur In Residence, Jefferson College of Population Health, Baltimore, MD

Bernadette Minton, MS
Senior Director of Data Science Solutions, MCG Health, Former Senior Director, Enabling Technologies, Providence St. Joseph Health, Los Angeles, CA

Kavita Patel, MD
Nonresident Senior Fellow, Brookings Institution, Member, Physician-Focused Payment Model Technical Advisory Committee (PTAC), Former Director of Policy, The White House (Obama), Former Senior Advisor, Senator Edward Kennedy, Washington, DC

Robert M. Pearl, MD
Author, Mistreated: Why We Think We're Getting Good Healthcare--And Why We're Usually Wrong, Contributor, Forbes, Lecturer, Stanford University Graduate School of Business, Former Executive Director and CEO, The Permanente Medical Group, San Francisco, CA

Craig E. Samitt, MD, MBA
President & Chief Executive Officer, Blue Cross Blue Shield Minnesota, Former EVP, Chief Clinical Officer & President Diversified Business Group, Anthem, Inc., Former President & CEO, HealthCare Partners And Dean Health System, Saint Paul, MN

William H. Shrank, MD, MSHS
Chief Medical Officer, Humana, Former Director of Evaluation, Innovation Center, Centers for Medicare and Medicaid Services, Louisville, KY


Jaan Sidorov, MD, FACP, CMCE, MHSA
President, Population Health Alliance, President and Chief Executive Officer, Care Centered Collaborative, Harrisburg, PA

Leana Wen, MD
Emergency Physician, Public Health Professor at George Washington University; Former Health Commissioner for Baltimore, Baltimore, MD




AGENDA AT-A-GLANCE

| | |
| --- | --- |
| 7:00 am | REGISTRATION OPENS |
| 8:00 am | PHA FORUM 2020 AND POPULATION HEALTH COLLOQUIUM 2020 PRECONFERENCE |

| | |
| --- | --- |
| | PHA FORUM 2020: SUCCEEDING IN VALUE BASED CARE: LEVERAGING POPULATION HEALTH MANAGEMENT STRATEGIES |
| | POPULATION HEALTH COLLOQUIUM 2020 PRECONFERENCE: REDESIGNING HEALTH CARE DELIVERY |

12:00 pm
ADJOURNMENT
1:00 pm
DAY I: OPENING PLENARY SESSION (1:00 pm -- 5:30 pm)

Health Care Trends that You Need to Know
Building Better Care Models to Serve Complex Patients
Empowering Patients with Connected Care Solutions
The Future of Population Health
Cracking the Code on Case Review
Prioritizing Behavioral Health

5:30 pm
NETWORKING RECEPTION AND HEARST HEALTH PRIZE FINALISTS POSTER SESSION

7:00 am
REGISTRATION; BREAKFAST IN EXHIBIT HALL
8:00 am
DAY II: MORNING PLENARY SESSION (8:00 am -- 12:00 pm)

Social Determinants of Health: Addressing Health Disparities
Exploring Progress in Population Health with Past Hearst Health Prize Winners
2020 Hearst Health Prize Award Presentation
Population Health and Physician Burnout
Partnerships in Population Health
Making Care Affordable and Accessible for All

12:00 pm
NETWORKING LUNCH
1:00 pm
MINI SUMMITS (1:00 pm -- 3:00 pm)

I: Innovation in the Post-Acute Care Delivery Model
II: Is Population Genomics the Next Wave of Population Health?
III: Mental Health in the Workplace

3:30 pm
CONCURRENT SESSIONS (3:30 pm -- 5:45 pm)

I: Strategies to Support Patient Engagement
II: The Holy Grail of Sustainable Engagement
III: Social Determinants of Health
IV: Global Health and Technology
V: Transforming Care Delivery
VI: Training Population Health Leaders for the Future

5:45 pm
ADJOURNMENT
6:15 pm
SPECIAL EVENING DINNER PROGRAM: INVESTING IN INNOVATION: VENTURE CAPITAL, START UPS AND POPULATION HEALTH

7:00 am
REGISTRATION; BREAKFAST IN THE EXHIBIT HALL
8:00 am
DAY III: CLOSING PLENARY SESSION (8:00 am -- 12:00 pm)

Social Isolation and Loneliness: A Human Rights Issue
The Digital Transformation of Healthcare: (Finally) A Time for Optimism
Innovators vs Hybrids v. Incumbents: Who Will Fix Healthcare First?
Chair David B. Nash, MD, MBA Closing Remarks

12:00 pm
ADJOURNMENT




THE COLLLOCATED POPULATION HEALTH ALLIANCE ANNUAL FORUM FEATURING KEYNOTE SPEAKERS


John Bulger, DO, MBA
Chief Medical Officer, Geisinger Health Plan, Danville, PA

David Shulkin, MD
Ninth Secretary, U.S. Department of Veterans Affairs, President, Shulkin Solutions, LLC, Former President and CEO, Beth Israel Medical Center, Washington, DC




A SPECIAL EVENING DINNER PROGRAM WITH


Paul Dagum, MD, PhD
Founder, Vice Chairman and Chief Scientific Officer, Mindstrong Health; Former Chief Technology Officer, MarkMonitor, San Francisco, CA

Brent Dover
Chief Executive Officer, Commure, San Francisco, CA

Stephen K. Klasko, MD, MBA
President and Chief Executive Officer, Thomas Jefferson University and Jefferson Health, Philadelphia, PA


Othman Laraki, MS, MBA
Co-founder & CEO, Color Genomics, Board, Frontier Medicines & ESI Group, San Francisco, CA

Bimal Shah, MD, MBA
Chief Medical Officer, Livongo, Durham, NC




FEATURED FACULTY


Paul Barach, MD, MPH, Maj ( ret.)
Clinical Professor, Wayne State University School of Medicine; Lecturer and Senior Advisor to Dean, Healthcare Quality & Safety Program, Jefferson College of Population Health, Jefferson University, PA; Chief Medical Officer, Pegwin; Senior Advisor, Relia Healthcare Advisors, Chicago, IL

David H. Bartley, MBA
Chief Product & Innovation Officer, Tivity Health, Franklin, TN

Tanya Benenson, MD
Chief Medical Officer, Comcast, New York, NY

David Berman, MD, FACP, FACG
Gastroenterologist, Founder and Chief Executive Officer, Slingshot Health, New York, NY

Brenda Reiss Brennan, PhD, APRN, CS
Chief Clinical Science Officer, Alluceo, Former Mental Health Integration Leader, Primary Care Clinical Programs, Intermountain Health Care, Salt Lake City, UT

Luther G. Brewster, Jr., PHD
Associate Professor, Vice Chair for Research and Chief, Division of Policy, Research and Community Development, Florida International University, Herbert Wertheim College of Medicine, Miami, FL

Caroline Carney, MS, RDN
Vice President, Business Development, Good Measures, Boston, MA

Stephen Clark
US Commercial Lead, Healthy.io, Former Senior Vice President, UnitedHealth Group, Wayzata, MN

Caraline Coats, MHSA
Vice President, Bold Goal & Population Health Strategy, Humana, Former VP, Operations, Sound Inpatient Physicians, Hollywood, FL

Lisa D'Ambrosio, PhD
Research Scientist, MIT AgeLab, Cambridge, MA

Paula Daniliuc
Vice President of Population Health Management, Oak Street Health, Chicago, IL

Eric Dietrich, PharmD, BCACP
University of Florida Colleges of Pharmacy and Medicine, Gainesville, FL

Z. Colette Edwards, MD, MBA
National Medical Director, Associate Health and Well-Being, Humana, Inc., Faculty Member, Population Health Leadership Series, Jefferson College of Population Health, Thomas Jefferson University, Baltimore, MD

Ray Fabius, MD, CPE, FACPE
Co-Founder & President, HealthNEXT, Newtown Square, PA

William A. (Andy) Faucett, MS, LGC
Professor, Geisinger Commonwealth School of Medicine, and Population Health consultant, Danville, PA

Alisha Fehrenbacher, FACHE
Chief Executive Officer, Elevate Health, President and Chair, OnePierce Community Resiliency Fund, Tacoma, WA

Art Feldman, MD, FACC
Laura H. Carnell Professor of Medicine, Lewis Katz School of Medicine, Temple University, Philadelphia, PA

Joe Finn, MA, JD
President and Executive Director, Massachusetts Housing and Shelter Alliance (MHSA), Former Executive Director, Shelter, Inc. and Father Bill's Place, Quincy, PA

Keith Fisher, MD, FASAM
Medical Director, Humana Military, San Antonio, TX

Maren S. Fragala, PhD
Director Scientific Affairs, Quest Diagnostics, Madison, NJ

Paul Frank
Senior Director, Product Management, Welltok Inc., Denver, CO

Dominic Galante, MD, MS
Chief Medical Officer, Precision for Value, New York, NY

Lauren Gemberling, MS
Senior Manager, Employee Research & Engagement, Total Rewards, Comcast, Philadelphia, PA

Steve Goldberg, MD, MBA
Vice President Medical Affairs, Population Health and Chief Health Officer, Quest Diagnostics, Madison, NJ

Erine Gray, MPA
Founder and Chief Executive Officer, Aunt Bertha, Austin, TX

Pedro J. Greer, Jr., MD, FACP, FACG
Professor and Founding Chair, Humanities, Health and Society, Associate Dean for Community Engagement, Florida International University, Herbert Wertheim College of Medicine, Miami, FL

Joseph Grzymski, PhD
Chief Scientific Officer, Renown Health, Principal Investigator, Healthy Nevada Project, Reno, NV

Cathryn Gunther
Vice President, Global Population Health, Merck, North Wales, PA

Steven Haimowitz, MD
President, Chief Executive Officer, Gather-ed/HealthCourse, New York, NY

Susan Hartman, MD, MS-HQSM, FAAFP
Medical Director of Quality, Franciscan Physician Network, Greenwood, IN

Karen L. Hasse, MHA
Senior Director, Account Relationship Management, Welltok, Denver, CO

Suzi Johnson, MPH, RN
Chief Operating Officer, National Hospice and Palliative Care Organization (NHPCO), Former Vice President, Sharp Hospice and Palliative Care, Sharp HealthCare, Alexandria, VA

Timothy Johnson, MD, FACP
System Vice President-Medical Group and Population Health Operations, SSM Health, St. Louis, MO

Mitchell Kaminski, MD, MBA
Navvis Associate Professor of Population Health and Program Director of Population Health, Jefferson College of Population Health, Philadelphia, PA

Justin Kao
Co-founder and Chief Business Officer, Helix, San Mateo, CA

Sita Kapoor
Chief Information Officer, HealthEC, Piscataway, NJ

Edward M. Kennedy, Jr.
Partner, Epstein Becker Green, Board Chair, American Association of People with Disabilities, Co-Chair, Disability Equality Index, Stamford, CT

Arpit Khemka
Co-Founder and Chief Executive Officer, SimpleTherapy, San Francisco, CA

Travis King, PT, DPT, GCS
Chief Quality Officer, Fox Rehabilitation, Philadelphia, PA

Karen S. Kmetik, PhD
Group Vice President, American Medical Association, Chicago, IL

Teresa Kruisselbrink, MS, CGC, LCGC
Genetic Counselor, Supervisor, Center for Individualized Medicine, Mayo Clinic, Rochester MN

Elissa Levin, MS, CGC
Vice President, Clinical & Policy, Helix, San Mateo, CA

James Lu, MD, PhD
Co-founder and Chief Scientific Officer, Helix, San Francisco, CA

Daniel C. Lubin, MBA
Founder & Chief Executive Officer, EntryPoint Capital, New York, NY

Rose Maljanian
Chairman & CEO, HealthCAWS, Chairman Emeritus, Population Health Alliance, Hartford, CT

Mandy Mangat, MD, MPH
Chief Clinical Transformation Officer, Navvis, Adjunct Professor, Jefferson College of Population Health, Thomas Jefferson University Hospitals, St. Louis, MO

Amy Matchette, MPA
Project Director, Thomas Jefferson University Hospitals, Former CMS Program Manager, Cooper University Health Care, Philadelphia, PA

Aletha Maybank, MD, MPH
Chief Health Equity Officer, American Medical Association, Former President, Empire State Medical Association, Chicago, IL

Brad Mendelson
Vice President, Innovative Operations, Absolute Care Medical Centers & Pharmacy, Baltimore, MD

Matt Miclette, MPH, MS, RN
Senior Manager of Clinical Operations, NeuroFlow, Philadelphia, PA

Tracy Milner, MClSc(OT)
Co-founder and Chief Executive Officer, BrainFx, Faculty, Assessment Module, Health Coach Certificate @ York University, Pickering, Ontario, Canada

Bernadette Minton, MA
Senior Director of Data Science Solutions, MCG, Former Senior Director, Technical Products, Providence St. Joseph Health, Los Angeles, CA

David Nace, MD
Chief Medical Officer, Innovaccer, San Francisco, CA

Ziv Ofek
Founder and Chief Executive Officer, MD Clone, Founder & CEO, Center for Digital Innovation, Beer-Sheva, Israel

Mercy Ohiaeriaku
Office of Population Health Research and Insights Lead, Humana Military, Jacksonville, FL

Mary Jane Osmick, MD
Population Health and Social Determinants of Health Consultant, MJ Osmick MD LLC, Vice President and Medical Director, American Specialty Health, West Chester, PA

Oren Oz
Founder and Chief Executive Officer, Nuvo, Tel Aviv, Israel

Heather Peiritsch, MSN, RN
Bundle Payment Program Manager, Abington Jefferson Hospital, Adjunct Faculty, Penn State University, Abington, PA

Jake Peltzman, MBA, MPH
Executive Director, Women & Children's Health Alliance, Philadelphia, PA

Helena Plater-Zyberk, MBA
Co-Founder and Chief Executive Officer, Supportiv, San Francisco, CA

Leon Ptaszek, MD, PhD
Assistant Professor of Medicine, Harvard Medical School; Physician, Cardiac Arrhythmia Service,, Massachusetts General Hospital, Boston, MA

Anoop Raman, MD, MBA
Chief Medical Officer, Absolute Care Medical Centers & Pharmacy, Philadelphia, PA

Price Ransom, MSPT
VP Senior National Therapy Director, LHC Group, Milton, FL

Mark Redlus
Chief Executive Officer, Tridiuum, Philadelphia, PA

Elizabeth Rula, PhD
Executive Director, Research, Tivity Health, Franklin, TN

Joel Schoppig, MA
VP Strategy, Healthy.io, Tel Aviv, Israel

Congresswoman Allyson Y. Schwartz
President & CEO, Better Medicare Alliance, Jenkintown, PA

Anish Sebastian
Chief Executive Officer/Cofounder, Babyscripts, Healthcare Transformer, StartUp Health, Washington, DC

Audrey Sefakis, RN, BSN, CCM
Director of Care Management, Commercial Products, Tufts Health Plan, Watertown, MA

Varda Shalev, MD, MPH
Chief Executive Officer, Kahn Sagol Maccabi Research and Innovation Institute, Tel Aviv, Israel

Jeff Shaman, PhD
Chief Science Officer, Coriell Life Sciences, Philadelphia, PA

Robin Sheldon, JD, MPIA
Senior Vice President, Strategic Ventures for Jefferson Health and Jefferson University, Philadelphia, PA

Brian Silverstein, MD
Director, The Chartis Group, Former Senior Vice President, CareFirst BlueCross Blue Shield, Chicago, IL

Manoj Sinha
Chief Executive Officer, Bisil, Bala Cynwyd, PA

Anne Marie Smith, MBA
Vice President, Education and Quality Improvement, Heart Rhythm Society, Washington, DC

Stephen J. Spann, MD, MBA
Founding Dean, College of Medicine, Vice President for Medical Affairs and Humana Endowed Dean's Chair in Medicine, University of Houston, Houston, TX

Marc Stapley
Chief Executive Officer, Helix, San Carlos, CA

Katherine Suberlak, MA
VP of Clinical Programs, Oak Street Health, Chicago, IL

Stuart Sutley, MBA
Business Development, Johns Hopkins HealthCare Solutions, Baltimore, MD

Trisha Swift, DNP, MSN, RN, CPPS
Vice President, Innovation & Transformation, ZeOmega; Founder and Managing Partner, MeritLinkx Healthcare Consulting, Plano, TX

Luis R. Torres, PhD
Associate Professor, Graduate College of Social Work,, Humana Endowed Chair in the Social Determinants of Health and Director, Center for Drug & Social Policy Research, University of Houston, Houston, TX

Kathryn Vanni, MHA, MBA
Director of Quality and Performance Improvement, Franciscan Hammond Specialty Clinic, Munster, IN

Sandeep Wadhwa, MD, MBA
Chief Health Officer and Senior Vice President Market Innovation, Solera, Denver, CO

Jay Wohlgemuth, MD
Senior Vice President/Chief Medical Officer, Quest Diagnostics, San Juan Capistrano, CA


Tom Wroth, MD, MPH
President, Community Care of North Carolina, Raleigh, NC

Jeff Zucker, MBA
Co-founder and Chief Executive Officer, MyDirectives, Richardson, TX




THREE PROGRAMS IMPROVING HEALTH OUTCOMES FOR UNDERSERVED COMMUNITIES NAMED AS 2020 HEARST HEALTH PRIZE FINALISTS

Fifth Annual $100,000 Award Recognizes Organizations'
Impact on Improving Population Health

The finalists are as follows, in alphabetical order, with a video in which they describe their programs:

Johns Hopkins Bloomberg School of Public Health, Center for American Indian Health -- Family Spirit - [Watch video]


Nationwide Children's Hospital -- Healthy Neighborhoods, Healthy Families - [Watch video]


Scripps Whittier Diabetes Institute -- Project Dulce - [Watch video]

Learn more about the 2020 Hearst Health Prize Finalists. Meet the finalists at the poster session and reception on October 5. The winner will be announced on October 6.

Jefferson.edu/HearstHealthPrize




CO CHAIRS

David B. Nash, MD, MBA
Founding Dean Emeritus and
Dr. Raymond C. &
Doris N. Grandon
Professor of Health Policy,
Jefferson College of
Population Health,
Philadelphia, PA


Billy H. Oglesby, PhD, MBA, MSPH, FACHE
Interim Dean and
Associate Professor,
Jefferson College of
Population Health,
Thomas Jefferson University,
Philadelphia, PA


ACADEMIC PARTNER




COSPONSORED BY



CONFERENCE CHAIR DAVID
NASH, MD WELCOME:



GRANTORS
GOLD






SILVER












BRONZE


















ADDITIONAL












MINI SUMMIT






CONTINUING EDUCATION CREDITS
Accounting Professionals: Approved for up to 19.0 NASBA CPE credits.

Click here for more information.


MEDIA PARTNERS





















TUITION SCHOLARSHIPS
The Population Health Colloquium is now offering a limited number of partial and full Tuition Scholarships to qualifying representatives of local, state and federal government, consumer advocate organizations, safety net providers, academics, students and health services research organizations.

Click here for more information.


STAY CONNECTED





POPULATION HEALTH COLLOQUIUM IS
PARTICIPATION OPTIONS
TRADITIONAL ONSITE ATTENDANCE

Simply register, travel to the conference city and attend in person.

Pros: subject matter immersion; professional networking opportunities; faculty interaction


LIVE AND ARCHIVED WEBCAST PARTICIPATION

Watch the conference in live streaming video over the Internet and at your convenience at any time 24/7 for the six months following the event.

The archived conference includes speaker videos and coordinated PowerPoint presentations.

Pros: Live digital feed and 24/7 Internet access for next six months; Accessible in office, at home or anywhere worldwide with Internet access; Avoid travel expense and hassle; No time away from the office.





WEBCAST INTERFACE SAMPLE

Click here for a sample stream.



---