MODESTO CA USA -- HIT/HIPAA UPDATE NEWS SERVICE™ -- FEBRUARY 21, 2020: The February First Edition of Value-Based Payment News features the story: "Coalitions in NY, Philly Focus on Medicaid Quality, Costs." Subscription and detailed information on Value-Based Payment News is available at www.ValueBasedPaymentNews.com. Value-Based Payment News is the semi-monthly publication from Health Policy Publishing, LLC, which also offers Accountable Care News; Care Analytics News (with Analytics Technology and Care Intervention Editions); Population Health News (with Medical Home News supplement); Readmissions Bulletin; and HealthChangeBulletin.
IN THE MOST RECENT ISSUES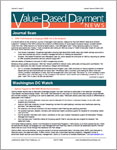 FEBRUARY 2020 FIRST EDITION:
Coalitions in NY, Philly Focus on Medicaid Quality, Costs
Innovaccer Report Emphasizes Team-Based Approach to Tackling Value-Based Care
Industry News with briefs regarding Atrius Health and Firefly Health; Arcadia
Click here to view page one of this issue
JANUARY 2020 SECOND EDITION:
Journal Scan: CPR: 'Full Potential of Employer VBID Yet to Be Realized'; 'Understanding Payer Perspectives on Value in the Use of Pharmaceuticals in the United States'
Washington DC Watch: Optima Tapped for MA VBID Model Demonstration
Industry News with briefs regarding Horizon BCBS of New Jersey; SSM Health and Strive Health; NueHealth
Click here to subscribe to Value-Based Payment News, or find out more
Value-Based Payment News Subscribers receive this and future four-page semi-monthly electronic issues, with online access to past issues, supplemental content and more.
SUBSCRIBE NOW TO VALUE-BASED PAYMENT NEWS
Click here to subscribe for $295 for an annual subscription or $24.50 for a monthly subscription, or call (209) 577-4888 to place your order. With your subscription, you will get:
Each semi-monthly electronic four-page issue that contains multiple features on a rotating basis, including in-depth articles submitted by national experts, case studies, thought leader panel responses to key issues, news capsules, plus more.
Subscribers also receive access to the exclusive subscriber only web site with archives of all past issues, supplemental content and more
Every month, readers of Value-Based Payment News will be able to:
Get valuable business intelligence, networking and contact information regarding issues related to value-based healthcare payments.
Monitor current strategic, financial, legal, policy, regulatory, contracting, clinical, quality, analytics, and operational aspects regarding value based payment issues including MACRA, Bundled Payments, P4P, ACOs, Medical Homes & more.
Build a knowledge base and accumulate key insights with detailed information available in feature articles and interviews with industry experts.
Keep pace with developments, business opportunities and challenges arising from value-based payment initiatives.
Navigate the changing landscape and stakeholder implications for health systems, hospitals, provider networks, medical groups, health plans, pharmaceutical organizations, consumers, employers, regulators and vendors.
SIGN UP FOR FREE VALUE-BASED PAYMENT BULLETIN
You can receive complimentary periodic issues of the e-newsletter Value-Based Payment Bulletin, with links to current value-based payment stories from around the web, and much more. You can sign up now at http://valuebasedpaymentnews.com/free-bulletins.
FOR MORE INFORMATION
Value-Based Payment News
1101 Standiford Avenue, Suite C-3
Modesto, CA 95350
Phone: (209) 577-4888
Fax: (209) 577-3557
hpp@mcol.com