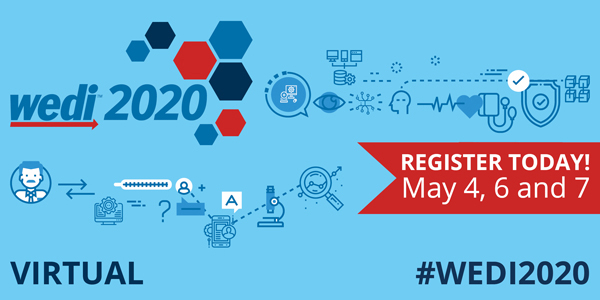 Day 1: Monday, May 4th, 1:15 - 3:25ET
CONTACT
Contact: Samantha Holvey
Email: sholvey@wedi.org
Website: www.wedi.org




Alexandra Mugge
Deputy Chief Health Informatics Officer, Centers for Medicare and Medicaid Services (CMS)
Steven Posnack
Deputy National Coordinator at Office of the National Coordinator for Health Information Technology (ONC)



WE ARE HERE, WHERE ARE YOU?
PAYER'S UNIQUE EXPERIENCE WITH FHIR INTEGRATION

Payers at two different stages of FHIR integration discuss their unique perspectives, strategic approaches and the evolution from classic interoperability.

Donna Campbell
Provider Portal and Provider Connectivity IT Product Manager, HCSC

Patrick Murta
Solutions Architecture Fellow, Humana



REGISTRATION BENEFITS:

Watch from any location
Interact through live Q&A
Receive the recordings to watch on your time!
CORPORATE PASSES AVAILABLE

There is something for everyone at WEDI 2020 Virtual, so we've created the Corporate Pass for you and all your colleagues. One fee and everyone in your organization can attend as many or as few virtual sessions as they like. Everyone will also have access to the recorded sessions!