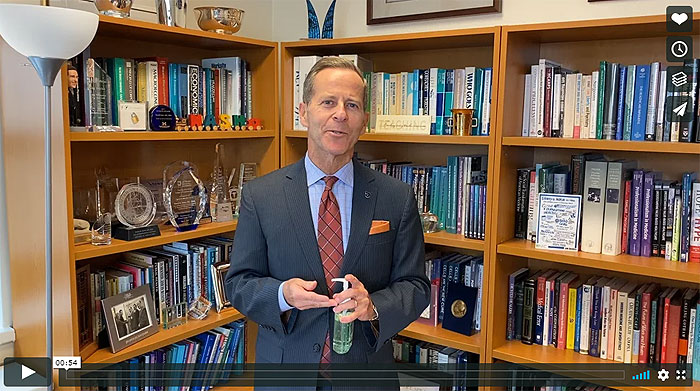 Colleagues,

To safeguard against the spread of coronavirus (COVID-19), we have rescheduled the 20th Anniversary Population Health Colloquium for October 5-7, 2020 at the Loews Philadelphia Hotel in Philadelphia, PA. We made this decision to ensure the safety and well-being of our conference attendees, speakers, sponsors, exhibitors and the community at large.

As leaders in population health, many of us are charged with helping to mitigate the spread and impact of COVID-19 within our communities. Our thoughts are with our colleagues and first responders from around the globe who are working to fight this global epidemic.

The next few months will present us with significant challenges - and we will have much to talk about when we reconvene in the Fall.

The Colloquium staff will be reaching out to all speakers, registrants, sponsors and exhibitors within the next 5-business days with details regarding the new dates. Registrants, sponsors and exhibitors will be given the choice of a refund or maintaining their participation in the Colloquium on the new October dates. Below you will find additional details and an initial list of FAQ's. The conference staff is available to answer any questions you might have. Please contact them at registration@hcconferences.com.

Thank you for your patience, continued support and understanding.
David B. Nash, MD, MBA
Founding Dean Emeritus and
Dr. Raymond C. & Doris N. Grandon
Professor of Health Policy,
Jefferson College of Population Health
Colloquium Co-Chair
Billy H. Oglesby, PhD, MBA, MSPH, FACHE
Interim Dean and Associate Professor,
Jefferson College of Population Health,
Colloquium Co-Chair
ADDITIONAL INFORMATION and FREQUENTLY ASKED QUESTIONS
Additional Information for Speakers
All Colloquium speakers will receive a communication from Suzanne Tyler, faculty coordinator, with details about session timing over the new dates. If you have any immediate questions, please contact Suzanne directly. Suzanne@vmaglobalevents.com
Additional information for sponsors and exhibitors
All Colloquium sponsors and exhibitors will receive a communication from our sponsor/exhibitor manager and staff within 5 business days with details regarding the October conference.
How do I transfer my registration to the new dates or request a refund?
All paid and faculty registrations have been transferred to the October Colloquium. Our registration staff will explain how paid registrants may request a refund. Further details and instructions will arrive via email. If you donít receive more information by Friday, March 20 please email registration@hcconferences.com.
What do I do about my hotel and other travel arrangements?
For those who booked or placed a deposit on a room within The Population Health Colloquium room block, directly with the Loews Philadelphia Hotel, your reservation will be automatically cancelled. Cancellation notices will not be sent from Hotel so if you need to confirm status, please call the Loews Hotel directly at 888-575-6397.

For all other bookings, The Loews Philadelphia Hotel requires cancellation notice three days prior to check-in.

Registrants should plan to change or cancel all other travel and accommodations as appropriate.

We will post information regarding the room block for the October 5-7 dates on the Colloquium website in the near future.