STAMFORD, CT USA -- HEALTHCARE UPDATE NEWS SERVICE -- OCTOBER 7, 2021: The acclaimed health-tech modernization symposium catalyzing global C-suite market executives invites you to amplify thought leadership, authority and reputation across channels around the world with an audience that champions transformation and modernization of health systems for interoperable access, security, and low-cost solution to enhance patient & provider outcomes and satisfaction!

The 5th Annual ConVerge2Xcelerate (#ConV2X) 2021 Symposium, November 9 - 11 will feature the world's newest and leading telehealth influencers credited with building the new digital health era blueprint. The virtual event will "bring those behind, beside," presenting several community-based success cases expanding cost efficient demographic health coverage across the nation.

The three-day virtual symposium will converge over 100 CEOs and executive leaders of healthcare systems, think tanks, health technology companies, international government policymakers, pharmaceutical companies, specialist advisors, and leading academics to participate in over 50 panel sessions.

ConV2X 2021 is the acclaimed health technology modernization symposium focusing on health policy, telehealth, blockchain and artificial intelligence and connectivity in a refocused healthcare market. It is the premier destination community identifying new and cost-effective paths forward through real world evidence, strategy, operations, research & trends, where healthcare leadership and breakthrough technology providers inspire and guide informed decision making for health and policy development.
Ensuring Healthcare Resilience & Transformation Through Policy

Dennis V. Chornenky, MBA, MPH, MS
Presidential Innovation Fellow, White House

Jodi G. Daniel
Partner, Crowell & Moring LLP

Chip Kahn
President and CEO, Federation of American Hospitals

David Randall, PhD
Executive Director and Resident Scholar, American Research and Policy Institute
Hospitals without Walls

Rami Karjian, MBA
Co-founder & CEO, Medically Home

Steve R. Ommen, MD
Medical Director, Digital Products & Product/Platform Strategy, Mayo Clinic
Responsible AI in Healthcare: Best Practices to Improve Healthcare Delivery

Prasad Kothari, MS
Director, Axtria Health, Berkeley Heights, NJ

Tarun Mohan Lal, MS
Vice President, Chief Analytics and Solutions Officer, Atrium/Navicent, President Elect, Society for Health Systems, Macon, GA

Anand S. Rao, MBA, PhD
Partner and Global AI Lead, PwC, Boston, MA

Swathi Young
Chief Technology Officer, Integrity Management Services Inc., Washington, DC
Shaping the Future of Healthcare Through Blockchain-Powered Technology

Catherine Mulligan, PhD
Professor of Computer Science, Director of DCentral Lab, Instituto Superior Tecnico, UK, Lisbon, Portugal

Nadia Hewett, MBA
Blockchain and Emerging Technology Expert, University of California, Project Lead, Data for Global Common Good, World Economic Forum, San Francisco, CA

Susan Somerville, MBA
CEO, Chronicled, San Francisco, CA

Mohan Venkataraman, MS, MMS
CTO, Chainyard, Clay, NC
ORGANIZATIONS SPEAKING AT ConV2X 2021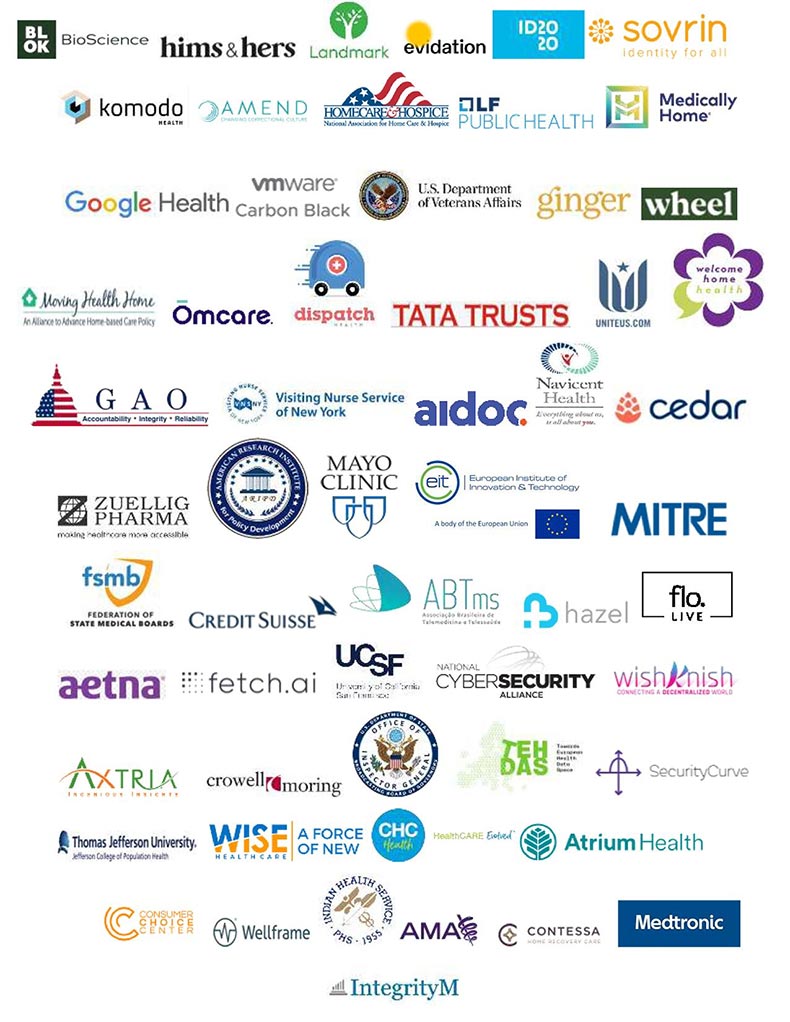 ConV2X 2020 SURVEY RESULTS
How Would You Rate the Overall Content? 4.66 (out of 5)
How Would You Rate the Speakers as a whole? 4.69 (out of 5)
How Would You Rate Customer Services? 4.63 (out of 5)
Do You Prefer Remote Conferences to Live? 75% Yes
How Much of the Program Did You Watch? 76%
Did you like commercials placed in between sessions? 90% Yes
Do You Plan to Attend Next Year? 92% Yes
FOR MORE INFORMATION CONTACT

Contact our Exhibitor and Grantor Office at exhibits@hcconferences.com or call (206) 244-4861 for Exhibitor/Grantor Benefit Selection & customized packages. For a ConV2X Prospectus email: info@partnerindigitalhealth.com or exhibits@hcconferences.com.

We look forward to working with you to create a sponsorship arrangement that best serves your needs and helps you secure prospective project connections! Please don't hesitate to reach out with questions or feedback about ConV2X 2021. Ask about the blockchain academic track too!

FOR E-MAIL ADDRESS CHANGE, ADD OR DELETE REQUESTS:

For changes or additions, please email your request to: listmgr@HealthcareUpdateNewsService.com.

For removal of your e-mail address, please click the "SafeUnsubscribe" link located in the footer of this message below to automatically remove your address from the list.