Press Release: 2020 Healthcare Benchmarks: Accountable Care Organizations
PRESS RELEASE
Contact: Melanie Matthews
Phone: (888) 446-3530
Email: mmatthews@hin.com

WALL, NJ USA -- HEALTHCARE UPDATE NEWS SERVICE™ -- JANUARY 20, 2021: The accountable care organization (ACO) has become the cornerstone of healthcare delivery system and payment reform as the industry moves toward an increased number of value-based reimbursement and care delivery models.
Across all payers, ACO participation growth continued, but slowed, since the start of 2018. By the start of the third quarter of 2019, there were 1,588 existing public and private ACO contracts, covering almost 44 million lives. By comparison, there were 1,611 ACO contracts around this time last year, covering 40.9 million lives, according to a 2019 HealthAffairs report.

As ACO maturity continues, the industry is continuing to evaluate their impact on outcomes, cost and quality of care.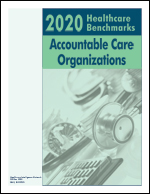 2020 Healthcare Benchmarks: Accountable Care Organizations is the sixth comprehensive analysis by the Healthcare Intelligence Network of ACOs, including model participation, reimbursement models, program and technology components, challenges, and results and ROI, based on responses from over 50 healthcare organizations to HIN's 2020 accountable care organization survey.

For more information or to reserve your copy today, please visit: http://store.hin.com/product.asp?itemid=5331

This 40-page report assembles hundreds of metrics on ACO initiatives, as implemented by hospitals, health systems, health plans, physician groups and other organization types.

Breaking down findings by high-responding industry sectors, this report includes the following data points:

Status of current and planned ACO initiatives;
ACO participation by model type (including Medicare Shared Savings Program Pathway to Success, Next Generation ACO Model, Commercial Payer ACOs, ACO Investment Model, Comprehensive ESRD Care Model, Kidney Care Choices Model, Medicare Healthcare Quality Demonstration, Medicaid ACO and Accountable Health Community);
Principal ACO administrators;
Numbers of physicians participating in ACOs;
Types of providers participating in ACOs;
Populations covered by current ACOs;
Number of lives covered by current ACOs;
Time required for ACO development;
ACO technology components, including the use of electronic health records, patient/member portals, data analytics, telehealth/remote monitoring, provider portals, interoperability, e-Prescribing, health information exchanges and quality reporting and measurement tools;
ACO program components;
Effective ACO tools, workflows and/or protocols;
ACO reimbursement models;
ACO recognitions/accreditations;
Metrics to evaluate ACO success;
Preferred ACO quality, efficiency and satisfaction measure sets;
ROI from ACOs;
Impact of ACO model on patient and provider satisfaction, care coordination, ER and hospital utilization, population health, healthcare spend and other key indicators;
Early successes from ACOs;
Greatest challenges associated with ACO creation;
The complete 2020 accountable care organization survey tool;
and much more.
Reserve your copy today online: http://store.hin.com/product.asp?itemid=5331

If you are already a Healthcare Benchmark series member, then this report is FREE for you.:

Available in Single or Multi-User Licenses:

A multi-user license will provide you with the right to install and use this information on your company's computer network for an unlimited number of additional workstations within your organization for a one-time fee. To have this valuable resource on your network, or to inquire about ordering bulk copies in print or Adobe PDF, please e-mail info@hin.com or call 888-446-3530.

P.S. - You may also be interested in these accountable care resources:: ABOUT THE HEALTHCARE INTELLIGENCE NETWORK:

HIN is the premier advisory service for executives seeking high-quality strategic information on the business of healthcare. For more information, contact the Healthcare Intelligence Network, PO Box 1442, Wall Township, NJ 07719-1442, (888) 446-3530, e-mail info@hin.com, or visit http://www.hin.com.