WASHINGTON, DC USA -- HEALTHCARE UPDATE NEWS SERVICE™ -- SEPTEMBER 21, 2021: Health Affairs is planning a theme issue on racism and health, with an emphasis on structural racism, to be published in February 2022.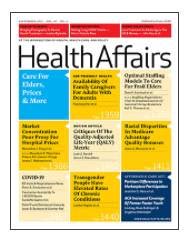 Under a prior call for abstracts, we have invited papers to inform discussion of the topic with the latest scholarship and with forward-looking pieces to help shape the future research and policy agenda.

To enhance the outreach and storytelling component of this theme issue, we are seeking video and digital artwork support for content related to the issue. We aim to be inclusive, including the voices of individuals with lived experience.

We encourage interested applicants to respond to our Request for Proposals for video production and artwork support, due October 1, 2021.
ABOUT HEALTH AFFAIRS
Health Affairs is the leading peer-reviewed journal at the intersection of health, health care, and policy. Published monthly by Project HOPE, the journal is available in print and online. Late-breaking content is also found through healthaffairs.org, Health Affairs Sunday Update.

Project HOPE is a global health and humanitarian relief organization that places power in the hands of local health care workers to save lives across the globe. Project HOPE has published Health Affairs since 1981.
FOR E-MAIL ADDRESS CHANGE, ADD OR DELETE REQUESTS:
For changes or additions, please email your request to: listmgrbm@HealthCareUpdateNewsService.com.

For removal of your e-mail address, please click the link below for "SafeUnsubscribe" to automatically remove your address from the list.