FEATURING ERADICATING AGEISM WITH

Ken Dychtwald, PhD
Founder and Chief Executive Officer, Age Wave; Author, Age Wave: The Challenges and Opportunities of an Aging Society, San Francisco, CA

Terry Fulmer, PhD, RN, FAAN
President, The John A. Hartford Foundation; Former Distinguished Professor and Dean of Health Sciences, Northeastern University, New York, NY

Nathaniel Kendall-Taylor, PhD
Chief Executive Officer, FrameWorks Institute; Senior Fellow, Center on the Developing Child, Harvard University, Washington, DC

Phyllis D. Meadows, PhD, MSN, RN
Senior Fellow, Health, The Kresge Foundation; Former Director, Public Health and Health Officer, Detroit, Troy, MI

Sarita A. Mohanty, MD, MPH, MBA
President and Chief Executive Officer, The SCAN Foundation; Associate Professor, Kaiser Permanente Bernard J. Tyson School of Medicine; Former Vice President of Care Coordination for Medicaid and Vulnerable Populations, Kaiser Permanente, Long Beach, CA (Moderator)
WASHINGTON DC USA -- HEALTHCARE UPDATE NEWS SERVICE™ -- SEPTEMBER 22, 2021: The Virtual National Health Equity Summit, www.HealthEquitySummit.com, which was broadcast on June 7-10, 2021, announced today that the Summit video archive featuring over 100 session by over 250 national experts are now available for free registration.

Today the Summit is pleased to offer its Eradicating Ageism session.
VIDEO OF ERADICATING AGEISM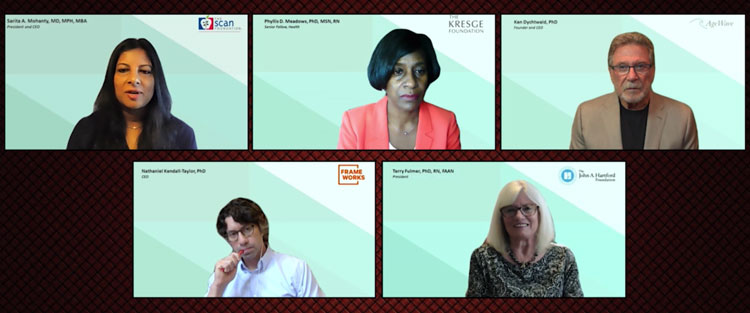 FOR E-MAIL ADDRESS CHANGE, ADD OR DELETE REQUESTS
For changes or additions, please email your request to: listmgr@HealthCareUpdateNewsService.com.

For removal of your e-mail address, please click the link below for "SafeUnsubscribe" to automatically remove your address from the list.