PRESS RELEASE
Contact: Jefferson College of Population Health
Email: jcph@jefferson.edu
Register: Click here for Registration and Additional Information
PHILADELPHIA, PA USA -- POPULATION HEALTH UPDATE NEWS SERVICE™ -- MAY 25, 2021:Managing the pandemic completely changed expectations for healthcare teams and their leaders. We often hear about the new normal, but what does that mean in terms of changes to day-to-day operations?

Expert faculty from Safe & Reliable Healthcare will review the leadership skills, activities and behaviors that can create happier, healthier teams and lead to better experiences for patients.

Topics and Sessions and Featured Speakers
Topic covered will include key tenets of High Reliability culture -- accountability, psychological safety, and resilience.
June 3: Psychological Safety & Personal Accountability
June 10: Increasing Resilience & Reducing Burnout
June 17: The New Normal - Emerging Stronger from the Pandemic

Amelia Brooks, MSc
Chief Knowledge and Implementation Officer, Safe & Reliable Healthcare

Allan Frankel, MD
Chief Executive Officer, Safe & Reliable Healthcare

Maureen Frye, MSN, CRNP
Sr High Reliability Expert, Safe & Reliable Healthcare
Highlights
Expert faculty and participants will reflect together on multiple case studies and experiences to examine the individual, team and organizational interventions that create the greatest impact.
Registration includes access for all 3 sessions. Webinars will be recorded for on-demand access following the live program; content will be available for 3 months.
Participants will receive communications prior to each webinar with detailed instructions and program material
Fees: Register for all 3 programs for $99; group discount available when you register 3 or more ($79)
The High Reliability Healthcare Academy is offered in partnership with Safe & Reliable Healthcare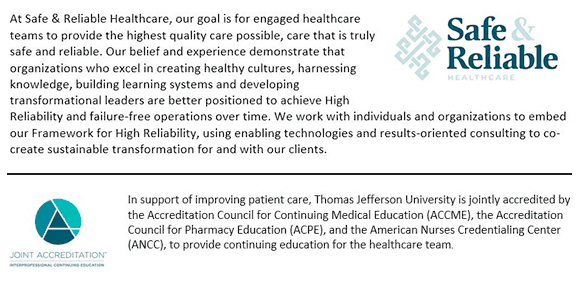 FOR E-MAIL ADDRESS CHANGE, ADD OR DELETE REQUESTS:
For changes or additions, please email your request to: listmgr@HealthCareUpdateNewsService.com.
For removal of your e-mail address, please click the "SafeUnsubscribe" link located in the footer of this message below to automatically remove your address from the list.