Introducing iHEALTHFLIX -- Your Healthcare Business Video Subscription Library
New Online Streaming Service Offers Hundreds of Webinars, Podcasts and Other Healthcare Business Videos with Continuous New Content
MODESTO, CA USA -- HEALTHCARE UPDATE NEWS SERVICE™ -- JANUARY 22, 2021: Welcome to the future of healthcare business knowledge! Welcome to iHealthFlix, your healthcare business video subscription library. Subscribe now, and get 24/7 access to hundreds of streaming webinar, podcast and other selected healthcare industry videos, with new content continuously added.

Subscriptions cost less annually than the registration price of many single webinars, and if you subscribe now you can save even more, with an introductory price during the first year of $15.75 monthly (regularly $19.75) or $189 annually (regularly $237). Site licenses are also available for organizations.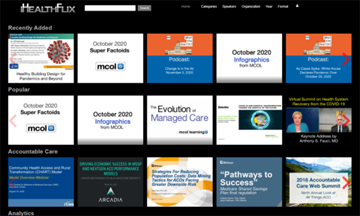 iHealthFlix is super-easy to use, and has robust navigation allowing you to browse selections by topic category and search by speakers, organizations, date, keywords and more. MCOL's considerable proprietary webinar library plus significant contributions from notable content partners are also included.

Subscribe now, or feel free to browse the iHealthFlix site as well as view an overview video, and check out the future of healthcare business knowledge.