WASHINGTON, DC USA -- HEALTHCARE UPDATE NEWS SERVICE™ -- NOVEMBER 19, 2021: On April 12-13 in Washington, DC, key senior executives from across the health care spectrum will gather for our 2022 Innovation Summit & Capitol Caucus at the Top of the Hill Banquet & Conference Center. This two-day leadership event, "Innovation in Resource Allocation: Population Health Management Strategies to Recover Losses and Accelerate Gains," will feature a slate of compelling speakers and presentations, taking on pertinent topics of the day—such as Social Determinants of Health (SDOH).

SDOH is a top priority for PHA, as PHA has long recognized how health equity and SDOH significantly impacts both the rising costs of health care, and more importantly, the overall health of Americans. During this session slated for Day 2, four expert panelists will candidly discuss the economic and social conditions that influence and impact health status. The panelists are:
Josette Gbemudu, Executive Director, Health Equity and Social Determinants of Health, Merck
Seth Serxner, PhD, MPH, Chief Health Officer & Senior Vice President of Population Health, Optum
Jamo Rubin, MD, Co-founder and Executive Chair, RightSite Health
Matt Salo, Executive Director, National Association of Medicaid Directors
| | |
| --- | --- |
| Josette Gbemudu | Josette Gbemudu |
| Jamo Rubin | Matt Salo |

The program's agenda was specially designed to offer attendees quality networking opportunities and time for idea exchange. Summit 2022, open to both PHA members and non-members, is a hybrid event—so whether you choose to attend in-person or virtually, you will benefit from engaging with your C-level peers from across the country—leaders from health systems; health plans; academia; biopharma; technology, digital health, and employer solution companies—all whom have a stake in population health management.

We encourage you to register early to take advantage of early-bird rates. To learn more about our program, click here.

Register Now and Get the Best Rates!
Take Advantage of Early-Bird Prices and Save!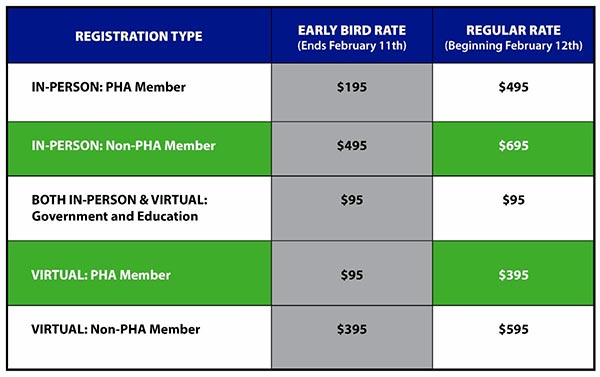 We'd like to thank the following companies for their generous sponsorship of the upcoming Innovation Summit & Capitol Caucus:

FOR E-MAIL ADDRESS CHANGE, ADD OR DELETE REQUESTS:
For changes or additions, please email your request to: listmgrbm@HealthCareUpdateNewsService.com.
For removal of your e-mail address, please click the "SafeUnsubscribe" link located in the footer of this message below to automatically remove your address from the list.