Virtual 22nd PCF Pharmaceutical & Medical Device Ethics and Compliance Congress Announces Agenda-at-a-Glance; Early Bird Registration Extended to 9/17

Virtual Online Video Event Live and 6 Months Access to Video Archive
Sponsored by the Pharmaceutical Compliance Forum (PCF)
Featuring Invitation-only CCO Roundtable & Industry-only Best Practice Exchange Day
Media Partners: Harvard Health Policy Review, Health Affairs and Life Sciences Compliance Update
Broadcast on November 2 - 5, 2021 and Video Archived Thereafter

PRESS RELEASE
Phone: 800-503-7419
Email: reginfo@hcconferences.com
Website: www.PharmaCongress.com

AGENDA-AT-A-GLANCE NOW AVAILABLE
Click Here for Agenda-at-a-Glance.




REGISTER BY 9/17 FOR EARLY BIRD RATES
Click Here to register.

WASHINGTON, DC USA -- PHARMA UPDATE NEWS SERVICE™ -- AUGUST 31, 2021: The Pharmaceutical Compliance Forum (PCF) executive committee is pleased to announce the Agenda-at-a-Glance of the Virtual Twenty Second Pharmaceutical & Medical Device Ethics and Compliance Congress which will be broadcast on November 2 - 5, 2021.

KEYNOTE SPEAKERS

Giovanni Caforio, MD
Chairman and Chief Executive Officer, Bristol Myers Squibb, Princeton, NJ

Catherine (Katie) Gray, PharmD
Acting Director, FDA Office of Prescription Drug Promotion

Rady Johnson, JD
Executive Vice President and Chief Compliance, Quality & Risk Officer, Pfizer Inc.


Mary E. Riordan, JD
Senior Counsel, Office of Counsel to the Inspector General, Office of Inspector General, US Department of Health and Human Services

Jamie Yavelberg, JD
Director, Fraud Section, Civil Division, US Department of Justice



AGENDA-AT-A-GLANCE
DAY I: TUESDAY, NOVEMBER 2, 2021
Morning Mini Summits - Group I:

Enforcement Action Updates
Risk Management Using Advanced Analytics
Evolution of Investigations
Risk Assessments of the Future

Morning Mini Summits - Group II:

DOJ/SEC FCPA panel
Compliance for Rare Disease Products
Annual Medical Device Compliance Update
Fair Market Value in a Virtual World

Afternoon Chief Compliance Officer Roundtable:

Invitation-only, Closed-Door
Hosted by PCF, PhRMA and AdvaMed
Featuring:

PhRMA Update by Julie Ritchie Wagner, JD, Senior Assistant General Counsel, PhRMA
AdvaMed Update by Nancy Travis, MA, VP, Global Compliance & Governance, AdvaMed

CCO's Role in Fostering Inclusion
DAY II: WEDNESDAY, NOVEMBER 3, 2021
Morning Mini Summits - Group III:

Cybersecurity Updates
Drug Pricing Compliance Update
Compliance In M&A Transactions
Latest Developments in Electronic Discovery
Proactive CAP Management for Leading HCPs

Morning Mini Summits - Group IV:

FDA Update
Optimize Your Compliance Training
Interactions with HCPs
State Price Transparency & Reporting
Environmental Social & Governance (ESG) Initiatives

Opening Plenary Session:

PCF Co-chair Introduction
Fireside Chat with BMS Chair & CEO Giovanni Caforio
OIG Keynote by Senior Counsel Mary Riordan, JD
US DOJ Keynote by Jamie Yavelberg, JD, Director, Fraud Section, DOJ Civil Division
Response to OIG Special Fraud Alert and PhRMA & AdvaMed Code Update
Annual Chief Compliance Officer Fireside Chat
Interactive Video Discussion Groups

DAY III: THURSDAY, NOVEMBER 4, 2021
Morning Mini Summits - Group V:

SEC Compliance Update
Improving Training & Measuring Effectiveness
Qui Tam/Whistleblower Update
Third Party Risk Management
Patient Assistance Programs

Morning Mini Summits - Group VI:

FDA Advertising/Promotion Enforcement
Interactions with Patients
Research & Development Compliance Update
Risk Tolerance in Emerging Organizations
Telemedicine & Electronic Health Records
Comedy & Compliance

Closing Plenary Session:

PCF Co-chair Introduction
Medical Device Keynote
Fireside Chat with Pfizer EVP & CCO Rady Johnson
FDA Keynote by FDA OPDP Director Katie Gray
Annual AUSA Roundtable
Ethical Interactions with Patient Advocacy Groups
Compliance During and After a Crisis
Interactive Video Discussion Groups

DAY IV: FRIDAY, NOVEMBER 5, 2021
Industry-only Best Practices Think Tank:

Keynote by Former NJ US Attorney Craig Carpenito, JD
Compliance Challenges in Operationalizing the Special Fraud Alert
Interactive Discussion Groups/Breakouts
Recap Session: Pull through learnings from Congress




INVITATION-ONLY CCO ROUNDTABLE
Sponsored by PCF, AdvaMed & PhRMA
Tuesday 11/2



PhRMA Update

Julie Ritchie Wagner, JD
Senior Assistant General Counsel, PhRMA
AdvaMed Update

Nancy Schwalje Travis, MA
VP, Global Compliance & Governance, AdvaMed




INDUSTRY-ONLY DAY

Closed Session for Industry Ethics & Compliance
Professionals & In-house Counsel For Dialogue on Best Practices
Friday 11/5

Featuring

Craig Carpenito, JD
Partner, King & Spalding; Former United States Attorney, District of New Jersey




THE ANNUAL CCO FIRESIDE CHAT WITH


Ann E. Beasley, JD
Chief Compliance Officer, Zai Lab

Shefali Kothari, JD
VP, CCO (US), Novartis

Angela Main, JD
SVP, Global CCO & Associate GC, Asia Pacific, Zimmer Biomet


Kristin Rand, JD, MA
Head, Corporate Compliance and Global Risk Officer, Moderna

Latarsha Stewart, JD, MS
VP, Head of Compliance, Servier Pharmaceuticals

Tom Gregory, MBA
Global & US Leader, Health & Life Sciences, Forensic & Integrity Services, EY (Moderator)




AUSA ROUNDTABLE


Matthew J. Lash, JD
Trial Attorney, Consumer Protection Branch, Civil Division, US Department of Justice


Abraham George, JD
Assistant US Attorney, US Attorney's Office, District of Massachusetts, US Department of Justice


Nicholas Grippo, JD
Assistant US Attorney and Attorney in Charge, Trenton Office, US Attorney's Office, District of New Jersey, US Department of Justice



John T. Bentivoglio, JD
Partner, Skadden Arps LLP (Moderator)



PCF EXECUTIVE COMMITTEE


Joe Zimmerman
Vice President, Chief Compliance Officer & Privacy Officer, Ferring Pharmaceuticals, Inc., Parsippany, NJ
(PCF Chair)
"We consulted with our membership and the majority recommended that we hold the Congress again in 2021 as a purely virtual event. Some of our member companies have still not allowed in-person attendance at conferences. Barring unexpected developments, we are currently planning to return to the hybrid model in 2022 which will offer registrants the option of participation onsite or online."

- PCF Executive Committee

Indrani Franchini, JD
Executive Vice President Chief Compliance Officer, Alexion Pharmaceuticals, New York, NY
(PCF Co-Chair)

Joshua Marks, JD
Vice President, Chief Ethics & Compliance Officer, Boehringer Ingelheim, Ridgefield, CT
(PCF Co-Chair)

Margaret Sparks, JD
Head of Compliance, Vaccines, North America Ethics and Business Integrity, Sanofi, Bridgewater, NJ
(PCF Co-Chair)


Ann-Marie Tejcek, MA
Senior Director, Chief Compliance Officer North America, Eli Lilly, Indianapolis, IN
(PCF Co-Chair)

Donna White, CCEP
Vice President, Compliance, Chiesi, USA, Cary, NC
(PCF Co-Chair)




MEDICAL DEVICE STEERING COMMITTEE


Sujata Dayal, JD
Vice President & Global Chief Compliance Officer, Medline Industries, Inc.

Ethan Gumpert
Global Ethics, Compliance & Governance, Advanced Medical Technology Association (AdvaMed)

Daniel Spicehandler, JD
Vice President Compliance- Commercial Divisions, Stryker







NEW REGISTRATION RATES FOR A VIRTUAL AGE
Early bird registration discounts now available with special PCF member rates. Rates are up to $1,000 less than major competing events.
- Click Here -


SPONSORED BY
The Pharmaceutical Compliance Forum (PCF) is a coalition of compliance professionals including compliance officers and senior legal counsels from 85+ distinguished researched-based pharmaceutical manufacturers and biotech companies. The PCF was founded in early-1999 by compliance professionals from the pharmaceutical industry to promote effect corporate compliance programs.


GRANTORS
GOLD



SILVER



BRONZE





























MEDIA PARTNERS







FEATURING THE PHARMA & MEDICAL DEVICE CONGRESS ADVANCED VIRTUAL INTERACTIVE VIDEO BROADCAST PORTAL
Featuring one-on-one attendee video chat and large group video interactive workshops.

See last year's Congress portal: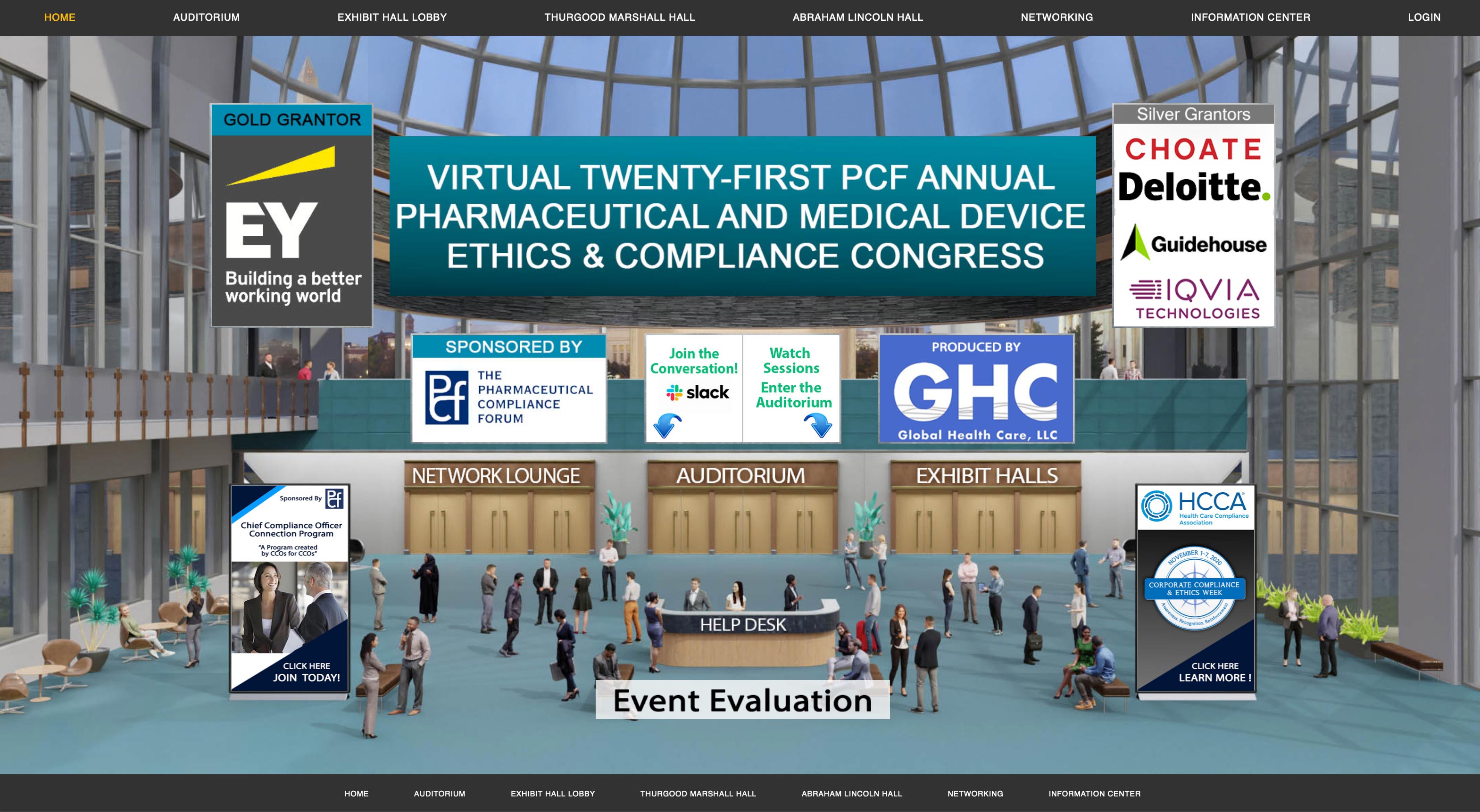 CONGRESS EXHIBIT & SPONSORSHIP INFORMATION
For sponsorship and exhibit information contact Suzanne Tyler, Exhibit Manager, at (206) 244-4861 phone, (206) 319-5303 fax, or exhibits@hcconferences.com.
FOR E-MAIL ADDRESS CHANGE, ADD OR DELETE REQUESTS
For changes or additions, please email your request to: listmgr@PharmaUpdateNewsService.com.

For removal of your e-mail address, please click the link below for "SafeUnsubscribe" to automatically remove your address from the list.