Join over 300 Attendees @Tomorrow's 21st Population Health Colloquium

Academic Partner: Jefferson College of Population Health
Cosponsor: Population Health Alliance
Media Partners: Harvard Health Policy Review, Health Affairs, Population Health Journal, Accountable Care News, Value-based Payment News and Population Health News
October 12 - 14, 2021

FOR MORE INFORMATION
Phone: (800) 503-7439
Email: registration@hcconferences.com
Website: www.PopulationHealthColloquium.com
JOIN OVER 300 ATTENDEES FROM THE FOLLOWING COMPANIES AT THE COLLOQUIUM
AbbVie
Acadia Pharmaceuticals
Accountable Care Learning Collaborative
Allegheny Health Network
Anthem
Assuta Medical Centers
Banner Health
Bayer Pharmaceuticals
BCBS
Brigham and Women's Hospital
Cadence
Cambridge Systematics
Capitol Bridge LLC
Caravan Health
CareAdvisors
Center for Medicare & Medicaid Innovation
Cerner
CHESS
Children's Health
Children's Hospital Colorado
Children's Hospital of Philadelphia
Cincinnati Children's Hospital
Cityblock Health
Clarify Health
Collaborative Author
College of Population Health
CommonSpirit
Commure
ConfidentHealth
Cook Medical
Coriell Life Sciences
Covenant Health Network
Delaware Healthcare Association
Delaware Valley ACO
DHSc PopHealth
Didi Hirsch Mental Health Services
Duke University
Emory Healthcare
Exact Sciences
Family Practice and Counseling Network
ForestVue Healthcare Solutions
Fox Rehabilitaton
Fractal.ai
Franciscan Health
Frederick Health
Fusion Clinical Multimedia, Inc.
Gallagher
GDAHC
Geisinger Health
General Catalyst
Grail, Inc.
Grand Rounds Health and Doctor on Demand
Greater New Bedford Community Health Center
Harris Health System
Harvard Medical School
hc1
Health Innovations
Health Net
Health Partners Plans

Healthcare Innovation
HealthCAWS
HealthNEXT
HealthPartners
Helmsley Charitable Trust
Hepatitis B Foundation/ Thomas Jefferson University Population health Phd Studen
Highmark Health
Hiroshima University
Horizon House, Inc.
HPP
Hudson College of Public Health
Humana
Humana Military
Improving Patient Outcomes 4 Health (IPO 4 Health)
Innovaccer
Institute for Practice and Provider Performance Improvement (I3PI)
Integrated Care Partners, Hartford HealthCare
Intermountain Healthcare
Janssen
JCPH
Jefferson
Jefferson College of Population Health
Jefferson SKMC
John Muir Health
Junction Health Patners
KAID Health
Kaiser Permanente
kathryn
King's College
Kintsugi
Laguna Health
Main Line Health
Mainline
Mary Ann Liebert Publishing
Mary's Center
Massachusetts College of Pharmacy and Health Sciences
MDClone
Medical University of South Carolina
Medix Technology
MedPage Today
Mercy Clinic Joplin
Milken Institute School of Public Health, George Washington University
Montclair State University
Munn Advisors, LLC
Nemours Children's Health System
NKF
NorthShore University Health System
Norwalk Hospital
Novartis
Novartis Foundation
Nurse Advocate
Nuvance Health
Ochsner Health Network
OM1

Orriant
Osmick MD Consulting LLC
OUHSC/OSDH
PA Clinical Network
Partner Therapeutics
Partner Therapeutics, Inc.
PEAR Therapeutics
Pfizer
Pharma
Philadelphia FIGHT
Premier
Presbyterian Healthcare Services
Presidium Health
Queen's University
Quest Diagnostics
Reading Hosptial
Rendr
Rowan University / Rutgers - Camden Board of Governors
Rutgers U. School of Nursing
Sales Management Operations Consulting, inc.
San Diego State University
Sarah Cannon, The Cancer Institute of HCA
SEA Healthcare
Self-employed
Sentara Healthcare
Spectrum Health
SUNY Downstate Health Sciences University
Sutter Health & Jefferson Health
Tabula Rasa HealthCare
Takeda
Tan Tock Seng Hospital
Tandigm Health
Tendo Systems
The Lupus Rainbow
The Pulse, WHYY
The University Of Alabama
Tufts Medical Center
UCB, Inc
UConn
Union Medical Group
UnityPoint Clinic
University Of Nebraska Medical Center
University of Oklahoma Health Sciences Center
University of Pennsylvania
UPMC Central Pa.
US Department of Health and Human Services
UTHealth Houston
Vanguard Medicine Inc.
VIVO Agency
Walmart Health
Western University of Health Sciences College of Osteopathic Medicine of the Pacific
Yale School of Medicine
PHILADELPHIA PA USA -- HEALTHCARE UPDATE NEWS SERVICE -- OCTOBER 11, 2021: The Twenty-First Population Health Colloquium, www.PopulationHealthColloquium.com, will be held as a fully virtual, online event on October 12 - 14, 2021.

FEATURING

Ezekiel J. Emanuel, MD
Vice Provost for Global Initiatives, University of Pennsylvania

Ellen Lukens, MPH
CMMI Director, Policy and Programs Group

Paul A. Offit, MD
Director, Vaccine Education Center, Children's Hospital of Philadelphia



Micky Tripathi, MPP, PhD
National Coordinator for Health Information Technology

Leana Wen, MD
Visiting Professor of Health Policy, George Washington University


FEATURED FACULTY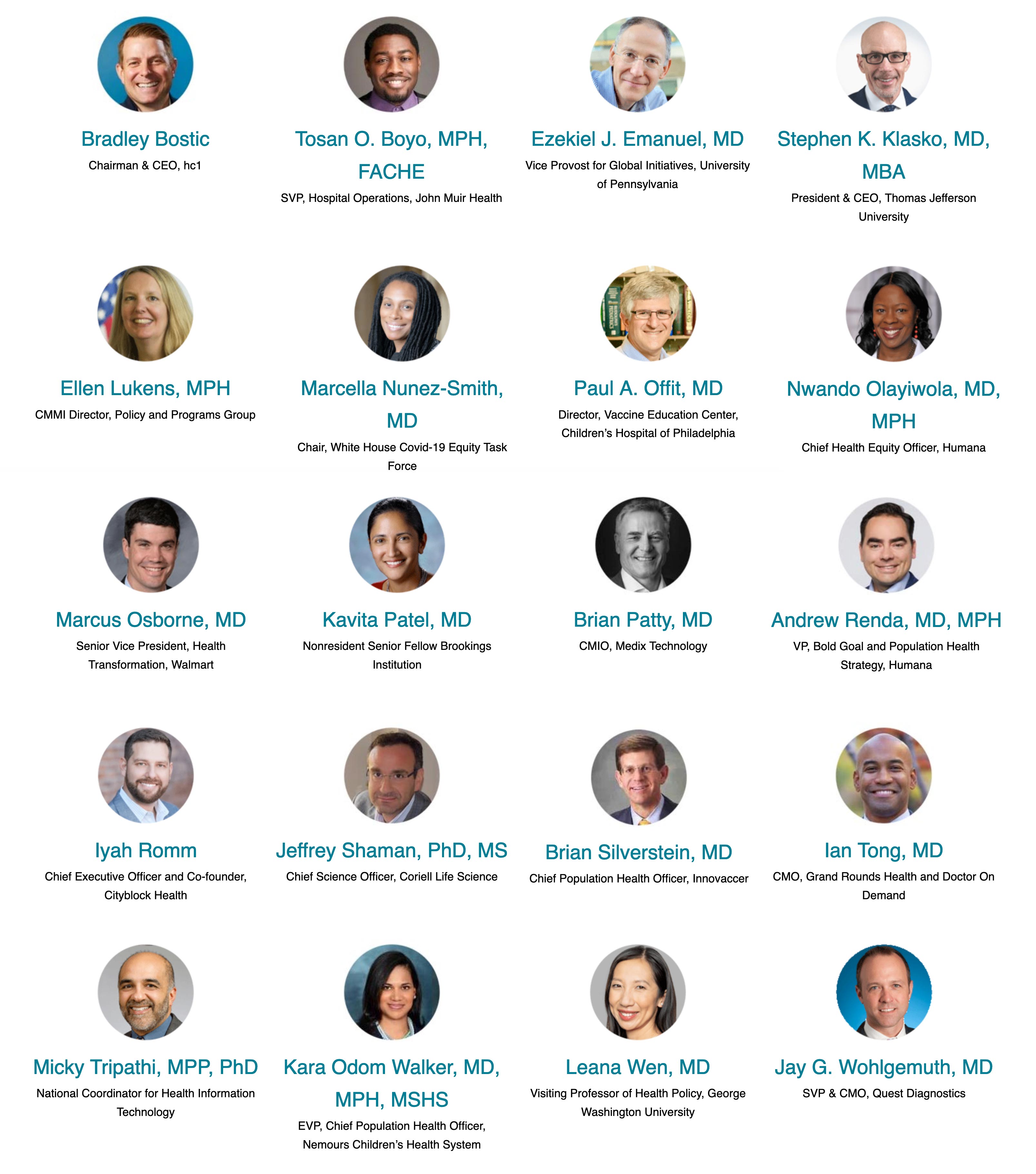 | | |
| --- | --- |
| COSPONSORED BY | SILVER |
FEATURING THE POPULATION HEALTH COLLOQUIUM ADVANCED VIRTUAL STREAMING PLATFORM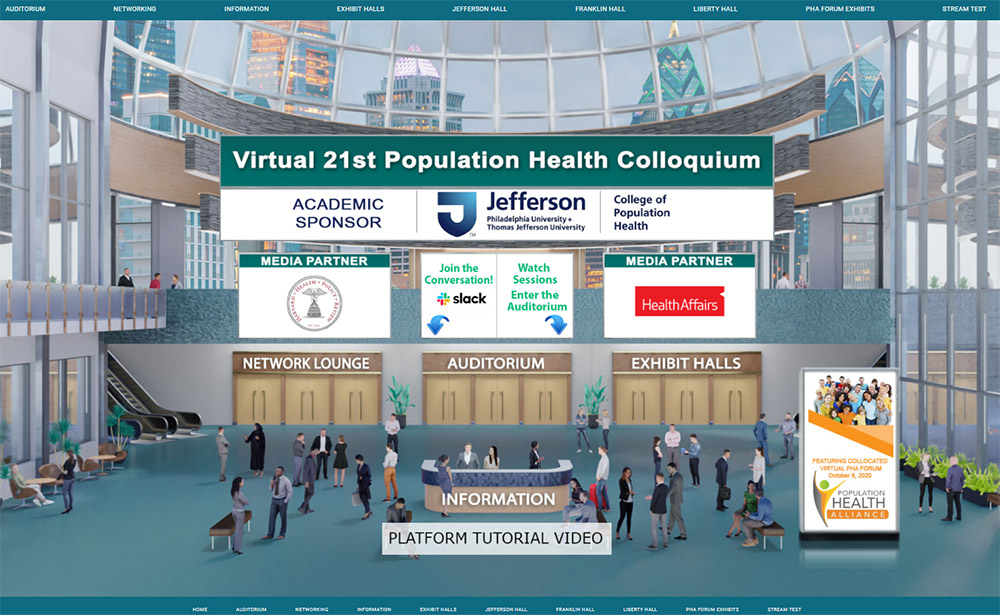 COLLOQUIUM REGISTRATION
For Colloquium registration information, visit www.populationhealthcolloquium.com/registration/, email reginfo@hcconferences.com, or call (800) 503-7439.
COLLOQUIUM EXHIBIT & SPONSORSHIP INFORMATION
For sponsorship and exhibit information contact Suzanne Tyler, Exhibit Manager, at (206) 244-4861 phone, (206) 319-5303 fax, or exhibits@hcconferences.com.
FOR E-MAIL ADDRESS CHANGE, ADD OR DELETE REQUESTS
For changes or additions, please email your request to: listmgr@HealthCareUpdateNewsService.com.

For removal of your e-mail address, please click the link below for "SafeUnsubscribe" to automatically remove your address from the list.