MODESTO CA USA -- HEALTHCARE UPDATE NEWS SERVICE™ -- JUNE 11, 2021: Get 24/7 streaming access to exclusive MCOL webinars that attendees pay $195 per live event, and other exclusive content, plus webinars, podcasts and other selected videos from a wide range of prominent healthcare content partners, all for just $15.75 per month during your first year of subscription. There are around 400 healthcare business titles to choose from, with new titles continuously added. Welcome to the future of healthcare business knowledge! Welcome to iHealthFlix, available on your desktop, laptop, tablet or smartphone.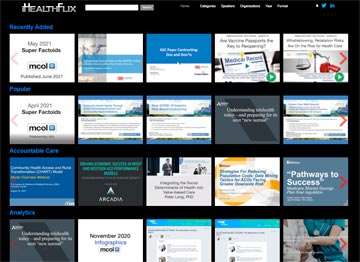 iHealthFlix is super-easy to use. Robust navigation is provided allowing you to scroll through titles by healthcare category, speaker, organization, date, keywords and more. There is even a messaging link for applicable speakers. Site licenses are also available for organizations.

Subscribe now, or feel free to browse all the available titles by visiting ihealthflix.com, as well as view an overview video, and check out the future of healthcare business knowledge.

FOR E-MAIL ADDRESS CHANGE, ADD OR DELETE REQUESTS:
For changes or additions, please email your request to: listmgr@HealthPolicyUpdateNewsService.com.
For removal of your e-mail address, please click the "SafeUnsubscribe" link located in the footer of this message below to automatically remove your address from the list.