TYSONS CORNER, VA USA -- HEALTHCARE UPDATE NEWS SERVICE™ -- NOVEMBER 17, 2022: This toolkit, developed by the GTMRx Employer Toolkit Taskforce, explores the benefits of CMM for individuals and for the employers who pay for benefits.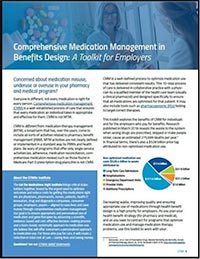 Covers topics, such as:
What is CMM
How CMM differs from traditional MTM
the ROI of CMM in practice
Patients that benefit the most from CMM services
CMM & value-based strategies (return-on-investment)
CMM & Pharmacogenomics testing
Employer call to action.

SEE WHAT OTHERS ARE SAYING:
"The value of widespread adoption of comprehensive medication management cannot be overstated, and we've seen studies that show it results in decreased employee absenteeism, reduced hospitalizations and an overall savings of $1,000 per employee per year. The GTMRx Toolkit puts employers on the path toward creating health plan designs that put comprehensive medication management front and center in an easy-to-understand way." - Chris Syverson, CEO, Nevada Business Group on Health/Nevada Health Partners

"The new Employer Toolkit is an important resource for employers who are concerned with wasteful spending on pharmaceuticals, which has been estimated as $528 billion annually across the nation. The Toolkit should help employers assess their current situation and support them as they develop an effective Comprehensive Medication Management strategy in partnership with health plans, benefits consultants, and service vendors, in order to improve medication management and workforce health, and lower costs of care." - Neil Goldfarb, President & CEO, Greater Philadelphia Business Coalition on Health

"Employers often don't know the power they wield with contract authority in shaping health plans and PBM product design- they truly act as architects for the quality and effectiveness of medication management programs their employees are receiving, and it's in their best interest to be sure their agents are doing all they can to create programs and services that will optimize medication use through contracting for comprehensive medication management services." - Marianne Fazen, Ph.D., President & CEO, DFW Business Group on Health

"Studies have shown that employers who engage CMM benefits not only decrease employee absenteeism, but also reduce emergency room visits and improve employee health; this is especially important for those with chronic conditions such as diabetes and cardiovascular disease. CMM makes sense when so much we are doing today is not working. The evidence shows that this is a vital pathway forward." - Cheryl Larson, President & CEO, Midwest Business Group on Health

SPECIAL THANKS TO: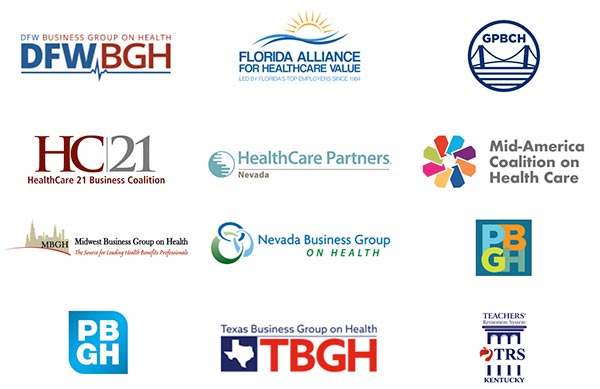 FOR E-MAIL ADDRESS CHANGE, ADD OR DELETE REQUESTS:
For changes or additions, please email your request to: listmgr@HealthcareUpdateNewsService.com.

For removal of your e-mail address, please click the "SafeUnsubscribe" link located in the footer of this message below to automatically remove your address from the list.