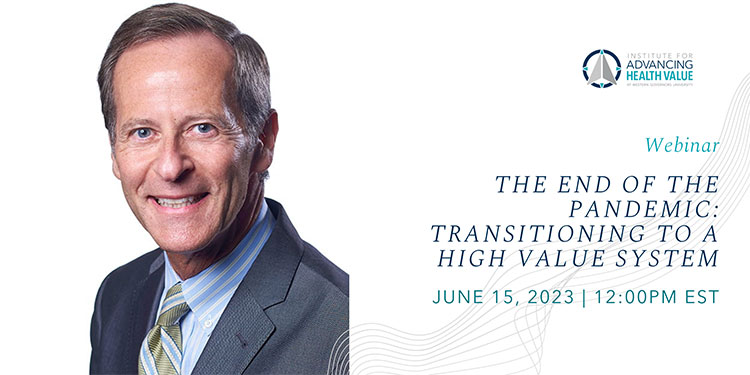 WASHINGTON DC, USA -- HEALTHCARE UPDATE NEWS SERVICE™ -- JUNE 9, 2023: The COVID 19 Pandemic drew attention to major flaws in the U.S. healthcare system. From our independent spirit that made collective action difficult at times to the decades-long underfunding of our public health agencies, it was a perfect storm that had a devastating impact - especially on our most vulnerable populations. Now, with a premature end to the public health emergency, we risk further harm to the millions of patients and their caregivers still suffering from the effects of COVID. And we also risk stifling the few bright lights that emerged from a crashed system beginning to self-correct.
SESSION OBJECTIVES:
Review the major flaws of the U.S. healthcare system exposed by the Pandemic


Explore the ways in which the healthcare system is self-correcting


Discuss how ending Medicaid coverage for many will inhibit the transition to a high value system (i.e., a system that consistently provides high value care)


Discuss how certain elements catalyzed by the pandemic have fared in the last 18 months.
ABOUT THE SPEAKER
David B. Nash is the Founding Dean Emeritus, and he remains on the full-time faculty as the Dr. Raymond C. and Doris N. Grandon Professor of Health Policy, at the Jefferson College of Population Health (JCPH). His year tenure as Dean completes more than 32 years on the University faculty. JCPH is dedicated to developing healthcare leaders for the future. Repeatedly named to Modern Healthcare's list of Most Powerful Persons in Healthcare, his national activities cover a wide scope. Dr. Nash is a principal faculty member for quality of care programming for the American Association for Physician Leadership (AAPL). He served on the NQF Task Force on Improving Population Health and the John M. Eisenberg Award Committee for The Joint Commission. He also is a founding member of the AAMC-IQ Steering Committee, the group charged with infusing the tenets of quality and safety into medical education.