Still Time to Register
Jerome Adams, MD, MPH Previews his Keynote Address America's Physician Group's Fall Conference 2023
LOS ANGELES CA, USA -- HEALTHCARE UPDATE NEWS SERVICE™ -- OCTOBER 27, 2023: The APG Fall Conference 2023 in Washington, DC, is just two weeks away. It's not too late to register! Register here.


How Can We Advance Health Equity Against the Odds?
Lessons from the Trenches
Keynote Address
November 1
Watch this short video clip of APG President and CEO Susan Dentzer speaking with Jerome A. Adams, MD, MPH, Former U.S. Surgeon General and now Executive Director of Health Equity Initiatives at Purdue University, about his keynote address at the Fall Conference. In his keynote address, Dr. Adams will share lessons derived from his career in health and public health on how to foster greater equity in health and health care, address disparities, and close gaps in care across racial, ethnic, and socioeconomic lines.

Drawing on his forthcoming book, Crisis and Chaos: Lessons from the Front Lines of the War Against COVID-19, he will recount what's been learned from both the mistakes and successes to date of the COVID era. He will also invoke the importance of local communities in rebuilding support for, and trust in, public health to address disparities and prepare for the health crises that inevitably lie ahead.

Dr. Adams will be available to to sign copies of his new book immediately following his keynote address on Wednesday, November 1.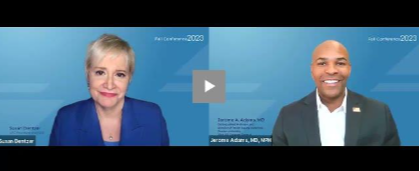 State-Level Cost Target Implementation Update
Breakout Session
October 31
One out of 5 Americans now live in a state that imposes cost growth targets on health care spending. To date, only Massachusetts has cracked down on providers whose costs exceed growth targets, but more states may follow suit. In this session, attendees will hear from leading state representatives in California, Massachusetts, New Jersey, and Oregon about their plans for cost growth trend measurement and enforcement.

Deborah Devaux
Chair, Massachusetts Health Policy Commission

Vishaal Pegany
Deputy Director, Office of Health Care Affordability, CA Health Care Access & Information

Bill Barcellona
APG Executive Vice President of Government Affairs (Moderator)

FOR E-MAIL ADDRESS CHANGE, ADD OR DELETE REQUESTS
For changes or additions, please email your request to: listmgr@HealthCareUpdateNewsService.com.

For removal of your e-mail address, please click the "SafeUnsubscribe" link located in the footer of this message below to automatically remove your address from the list.