Contact: Keri Boyce
Get the Medications Right Institute
571.276.3116
admin@gtmr.org
TYSONS CORNER, VA USA -- HEALTHCARE UPDATE NEWS SERVICE™ -- APRIL 17, 2023: Last week, North Dakota Governor Doug Burgum signed new legislation into law that requires health insurance companies to include comprehensive medication management (CMM) services in commercial health benefit plans. The law ensures that citizens in North Dakota will have access to coordinated, consistent, comprehensive services that optimize medication use. Its passage was supported by the Get the Medications Right Institute, a coalition of more than 1,700 stakeholders representing over 1000 companies across the employer and health care spectrum who support greater adoption of CMM.

"This legislation underscores our commitment to advocate for better health for North Dakota consumers and help drive down health care costs for everyone," said North Dakota Insurance Commissioner Jon Godfread, who testified in favor of the legislation. "This bill represents the intent of our state government to improve citizen access to needed health care services while keeping care affordable. Comprehensive medication management is a proven tool that gives patients in our state more options to ensure healthy outcomes while ultimately bringing down costs."

In 2021, the North Dakota General Assembly passed a bill authorizing a study on medication optimization, setting the stage for the current law's development and adoption. CMM has been implemented in large health systems and health plans to both improve health care outcomes and lower costs. It is a proven care process that involves a clinical pharmacist who works in collaborative practice with the physician, the patient, and others on the care team. The medication specialist maps out an individualized medication plan to optimize all medications the patient uses to ensure they are safe, effective, and appropriate. The medication specialist evaluates the plan with the patient based on the conditions the medicine is intended to treat. CMM includes ongoing follow-up care to ensure medication effectiveness while counseling the patient to ensure they are willing and able to take the medication as intended and prescribed.

"The state of North Dakota has shown keen insight and compassion in the passage of this law," said Katherine H. Capps, cofounder and board member of the Get the Medications Right Institute. "State leaders examined the peer-reviewed evidence for CMM, consulted with health plans and national leaders who have confirmed its effectiveness, and boldly enabled the criteria to ensure consistent, high-quality practice of this patient-centered service."

Evidence shows that CMM improves quality of care and has an average return-on-investment of 3:1 to 12:1 for patients with chronic conditions, primarily by reducing medication misuse, overuse, and underuse and their consequences.[1],[2] A 2018 study found that more than 275,000 people die and $528 billion is wasted every year because of treatment failures, new medical problems, or both, caused by medication that is not optimized.[3]

North Dakota's law requires that insurers serving its citizens through commercial plans provide CMM services. It defines essential criteria for the process and requires that providers are credentialed and able to advise patients on the best medication regimen to achieve positive health outcomes. Insurance providers must notify patients about availability of CMM services and cover patients that meet certain criteria, such as taking more than five medications for chronic conditions. It also allows CMM services to be delivered via telehealth.

The GTMRx Institute provides free publicly available resources that employers, health insurers, health care providers, and consumers can use to better understand CMM and raise awareness of its effectiveness to improve patient outcomes and lower health care costs. The information is intended to catalyze action for broader adoption of CMM practice nationwide.

"The human and financial toll of getting the medications right is enormous," Paul Grundy, MD, president of the GTMRx Institute said. "North Dakota has paved the way for other states to adopt standard CMM criteria and give patients everywhere the comprehensive, coordinated care to get the medications right that they deserve."

To read the most recent evidence document, click here. And for more about the value of CMM, check out our explainer video. See the recently published GTMRx article in Health Affairs Forefront: Comprehensive Medication Management: A Missing Ingredient In Value-Based Payment Models | Health Affairs.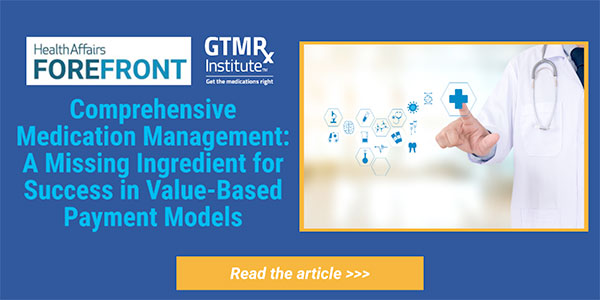 FOR E-MAIL ADDRESS CHANGE, ADD OR DELETE REQUESTS:
For changes or additions, please email your request to: listmgr@HealthcareUpdateNewsService.com.

For removal of your e-mail address, please click the "SafeUnsubscribe" link located in the footer of this message below to automatically remove your address from the list.