Published in HealthExecWeek: Managed Care
Includes eight pages each issue, 49 weeks per year
In addition you'll have online access to all back issues of every
Health Policy Publishing newsletter and all archived special feature content.
Click here to read the full article and learn more
Click here to purchase an annual subscription to HealthExecWeek: Managed Care for only $295 (regular rate $468)
CONTACT:
HealthExecWeek: Managed Care
e-mail: pattyj@mcol.com
SUBSCRIPTION DISCOUNT
Click here to purchase an annual subscription to HealthExecWeek: Managed Care for only $295 (regular rate $468).
READ FEATURED ARTICLE: NEW INCENTIVES TO
FOSTER DIVERSITY IN CLINICAL TRIAL RESEARCH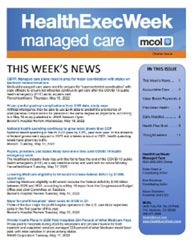 New Incentives Added to Foster Diversity in Clinical Trial Research
The American Heart Association -- the world's leading voluntary organization dedicated to a world of longer, healthier lives - has announced an additional $4 million grant to add a sixth scientific research center and bring total funding to its Strategically-Focused Research Network (SFRN) on the Science of Diversity in Clinical Trials to $24 million. The new center, led by a team of researchers at Johns Hopkins University and Morgan State University in Baltimore, is made possible through financial support from Care Access and the BRIDGE Initiative, which will also provide in-kind services to the Johns Hopkins center and to the clinical trials research network.
Click here to read the full article.
MODESTO, CA USA -- HEALTHCARE UPDATE NEWS SERVICE -- JANUARY 6, 2023: HealthExecWeek: Managed Care provides a weekly wealth of business intelligence and insights covering the spectrum of subjects filling the arena of managed care. Because doing business in the world of managed care today isn't siloed, neither is our coverage. You will be able to stay a step ahead in a healthcare business environment where all subject matter lines seem to blur and cross over to the next. Each weekly issue of HealthExecWeek: Managed Care includes pages with articles and features dedicated to coverage of Accountable Care, Value Based Payments, Population Health and Healthcare Analytics. What's more, throughout the month, rotating sections are included with articles and other features including the:
Health Plan Brief
Medicare Advantage News
Managed Medicaid News
Managed Market Rx News
Consumer Driven Care Dispatch
Tech Healthcare News
HealthExecWeek: Managed Care coverage is provided by seasoned editors as well as bylined articles and commentary from industry experts, and insightful content features from MCOL, your healthcare business digital media source since 1995. View the sample issue content.

Subscribers also have access to an online archive of all back issues, including predecessor publications Accountable Care News, Care Analytics News, Medical Home News, Population Health News and Value Based Payment News, going as far back as 2008.

HealthExecWeek: Managed Care provides eight pages each issue, 49 weeks per year*. There is no long-term obligation -- you can cancel at any time, at receive a pro-rata refund upon request. In addition you'll have online access to all back issues of every Health Policy Publishing newsletter and all archived special feature content.

Questions? Please contact us.

* No issues are published Thanksgiving week or two weeks around the year-end holiday period.

FOR E-MAIL ADDRESS CHANGE, ADD OR DELETE REQUESTS:

For changes or additions, please email your request to: listmgr@HealthcareUpdateNewsService.

For removal of your e-mail address, please click the "SafeUnsubscribe" link located in the footer of this message below to automatically remove your address from the list.