WASHINGTON DC USA -- HEALTHCARE UPDATE NEWS SERVICE™ -- FEBRUARY 22, 2023: Achieving health equity, eliminating disparities, and improving health for all is the ideal goal within an organization. Closing the gaps to improve quality of life, health, and overall well-being regardless of one's socioeconomic, cultural, or educational status, or the level of other social determinants of health is essential in establishing a solid program foundation. This activity will discuss how organizations must build health equity programs into their core business structure and develop strategies that are relevant, actionable, measurable, and based on the latest data - and the significance of an organizational strategy to close the healthy equity gap.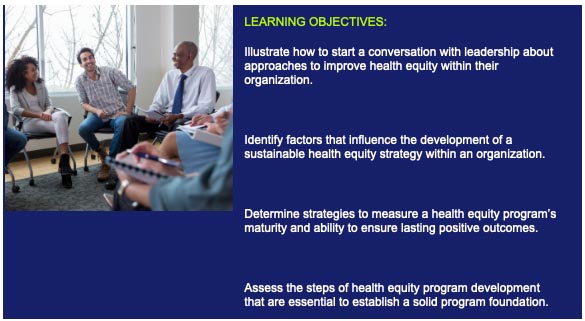 FOR E-MAIL ADDRESS CHANGE, ADD OR DELETE REQUESTS:
For changes or additions, please email your request to: listmgr@HealthcareUpdateNewsService.com.

For removal of your e-mail address, please click the "SafeUnsubscribe" link located in the footer of this message below to automatically remove your address from the list.